Iceland's beautiful landscape contains hundreds of waterfalls that offer you the opportunity to capture some amazing photographs. The only downside is that as there are so many waterfalls, it can be hard to figure out which are the best ones to photograph. Especially as you move towards Northern Iceland, where things are less touristy so there are fewer road signs and guides.
Disclosure: This post may contain affiliate links that earn me a small commission, at no additional cost to you. .
Waterfalls in The Golden Circle
One of the most popular areas in Iceland is The Golden Circle, with Gullfoss being the most popular waterfall in the circle (and Iceland). There are two car parks available at Gullfoss. The main car park is by the restaurant and you will need to take some very steep steps to get down to the waterfall. The other car park brings you out closer to the waterfall and is more suitable for those with limited mobility or in wheelchairs. During winter, access to the waterfall is limited and the main walkway is closed off. However, in summer, it is possible to walk alongside the waterfall (to a point).
Tips for photographing Gullfoss
Gullfoss is an extremely powerful waterfall, which results in a lot of spray being given off that comes over towards the viewing areas. To avoid you and your camera equipment getting wet is recommended to wear a raincoat, and to cover any camera gear with a rain cover. I use and recommend Op/Tech's Rainsleeves as I find these offer good protection, and fit all my lenses. However, you can DIY one out of a plastic bag. I also recommend using a filter to help protect your lens from water, and to make sure you have a lens cleaning cloth on hand to wipe off watermarks afterward. In my photograph above you can see where the waterfall sprayed my camera's filter.
Waterfalls along the south coast of Iceland
There are three main waterfalls along Iceland's south coast which tourists visit; Seljalandsfoss, Skógafoss, and Svartifoss. The first two are near to the car park and it is possible to view them from further away, making them more accessible to those with limited mobility. Whereas Svartifoss, is only accessible by a 1.5km hike, that takes approximately 90 minutes there and back. There is an alternative circular hike that is 5.5km. The hiking paths to Svartifoss can become inaccessible during winter.
Seljalandsfoss
Seljalandsfoss is one of the better-known waterfalls in Iceland. Most people recognize it as the waterfall that you can walk behind. Sadly in winter, the path behind the waterfall is closed off due to how dangerous the snow and ice make it hard to walk along. If you really want to get behind Seljalandsfoss, then I recommend visiting Iceland in the summer when the paths are clear. Better yet, catch the early morning sun by visiting Seljalandsfoss at sunrise. It is recommended to wear a raincoat when going behind the waterfall and make sure to use a rain cover to protect your camera equipment.
Near Seljalandsfoss are some smaller waterfalls, which can make for nice photographs like the one in the picture below.
Skógafoss
Skógafoss is another popular waterfall in Iceland. Chances are you have seen this waterfall featured in a movie or TV show, one of the most recent ones being the History Channels series, Vikings. The waterfall is stunning, and if you're lucky you may catch a rainbow going into the rainbow. As with previous waterfalls mentioned, Skógafoss does give off quite a lot of spray. So again, I recommend wearing a raincoat and using a raincover for your camera gear if you wish to get closer to the waterfall.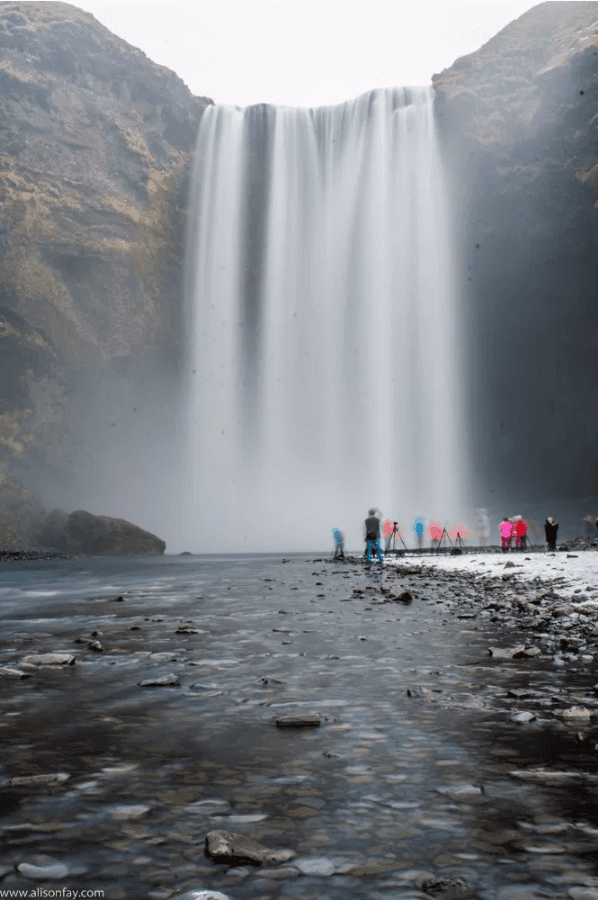 Tips on photographing Skógafoss
Due to its popularity, avoiding people in your shots at Skógafoss is difficult. While you can try to remove them by using techniques such as long exposures, and photo stacking, you may find other photographers standing in the same spot for ages. If you are self-driving, I recommend aiming to get to the waterfall before 9 am to avoid the crowds as by 9 am, the tour buses will have arrived and the area will be swarming with other tourists.
To help avoid people standing in front of you when taking shots, it is possible to stand in shallower areas of the river. Just make sure you have waterproof shoes, step carefully, and use a sturdy tripod.
Foss a sidu / Foss á Síðu
Along the south coast is a waterfall called Foss á Síðu. During summer, the waterfall slows up and becomes more of a trickle but in winter, the water is pouring over the edge. Foss á Síðu is located near a farm, which helps add interest to the picturesque scenery. The farm is mentioned in the Book of Settlement, meaning that it has been around since the 9th century when people settled in Iceland. The waterfall can be accessed via a steep walk, but due to the snow and my limited mobility, I chose to take a photograph from a nearby area of interest called Dverghamrar. Dverghamrar is a rock formation made out of hexagonal basalt rocks. According to Icelandic folklore, dwarves live inside Dverghamrar. Both Foss a Sidu and Dverghamrar are worth visiting when driving along the south coast.
Waterfalls along the East Coast of Iceland
As you drive along the ring road you will discover hundreds of spots near the road, to capture some amazing scenery. You will see a lot of parking spots and picnic areas marked which you can park up at. Most of these spots are not mentioned on any of the tourist guides, and tours won't stop at them, yet I found them to be some of the most promising places along the ring road for waterfalls. A lot of the waterfalls are visible from the road, so you can easily spot them when driving. Just remember not to pull over on the side of the road, and only into areas marked for parking as you may cause a car accident and car insurance doesn't always cover you.
Below is one of the waterfalls I spotted along the south-east coast of Iceland. This waterfall was visible from the road.
I discovered my favorite spot by pure luck. I just happened to pull over for a rest, as the waterfall itself wasn't visible from the road. But what I discovered after a short stroll from the car was a waterfall, leading down to a black sand beach with a lava rock and mountains.
Waterfalls in Northern Iceland
The North of Iceland is home to some amazing water
Godafoss / Goðafoss Waterfall
Godafoss is located in North East Iceland, about 50km East of Akureyi. It's name means Waterfall of The God's and comes from when Iceland converted to Christianity from Heathendom in the year 1000. Thorgeir Thorkelsson, a pagan priest and lawmaker who decided to convert to Christianity when Iceland did, threw his heathens gods into the waterfall. Since then it has been known as Godafoss.
While not one of the most powerful or tallest of waterfalls, Godafoss is still an impressive sight. With multiple streams of water all pouring into one, the waterfall makes for some amazing photographs.

A lesser-known yet still impressive waterfall in the North of Iceland is a waterfall called Kolufossar Falls, that flows over the Kolugljúfur Canyon. The waterfall is located in Vidhidalstunga, near Kolugil Farm. The water flows along the river Vididalsa (Víðidalsá) and plunges down as it reaches the Kolugljúfur Canyon. The waterfall plunges down powerfully into the river below. During winter, access around the waterfall is limited and there is a risk of falling in if you get too close. Luckily there is a bridge that crosses over the river, which you can stand upon to take photographs. Parking is available next to the bridge, but it is limited, especially during winter where most of the land around the canyon has been covered in deep snow. Luckily as parking is so close to the bridge, this waterfall is great for those with limited mobility as you only have to walk a few meters to get an amazing view, as shown in my photograph below.
Photographing Waterfalls in Iceland
How you photograph Iceland's Waterfalls will depend on the type of photographs you wish to create.
To freeze water, you will need to use a faster shutter speed. You will want to use a shutter speed of at least 1/1000 but make sure to experiment, trying out different shutter speeds to vary how "frozen" the water is. You can use your camera's shutter priority mode (Nikon and Sony) or Tv (Canon) to control the shutter speed and the camera will automatically set the aperture for you. You can also use manual mode, which will let you control the shutter speed, aperture, and ISO.
To smooth water, you will want to use a slower shutter speed. You will need to use a tripod, and most likely a neutral density filter (ND Filter). A ND filter works by decreasing the amount of light your camera receives, and will be needed if you are photographing the waterfall during the daytime. It is recommended to use a 10 stop ND filter such as a Lee Big Stopper. You can also decrease the amount of light by decreasing your ISO, and using a smaller aperture such as f22. To start smoothing the water, you will want to decrease your shutter speed to at least 1/2 second. This will create smoother water which still has some movement in it. If you want to create a milky water effect, you will want to get your shutter speed as close to 30 seconds as possible; hence why you will need the ND filter
As mentioned earlier, a lot of waterfalls cause spray. While the chance of damage occurring is low, there's always a risk of water getting inside your camera so I really do recommend using a rain cover. I personally use, Op/tech Rainsleeves. They are a good size allowing them to cover even long telephoto lenses. They are a decent thickness and strength so they won't easily get damaged. They cost me about £5 for 2 in London Camera Exchange but you can get them here on Amazon in most countries. You can also use a plastic bag as DIY rain cover if you have no other choice, but there is a risk of these failing due to air holes or thin material that can rip easily.
A good tripod and head combination is also recommended. You should avoid lightweight tripods that offer little support, as these can easily get blown over. I use a Manfrotto Tripod, combined with a Manfrotto ball head for landscapes. They are both sturdy and offer my camera good stability while not being too heavy. The table below contains the tripod and ball head I use.
For more tips on how to take photographs in Iceland, check out my guide to photographing Iceland here.
The Top Hotels in Iceland
If you need a hotel in Iceland, then check out some of these top hotels in Reykavik
[tp_hotels_selections_discount_shortcodes city="5044″ title="" paginate=true off_title=false type_selections="tophotels" number_results="20″ subid="" city_label="Reykjavik" type_selections_label="Top hotels" link_without_dates=true]
Need a flight to Iceland? Then check out my secrets to finding cheap flights.
If you found this guide helpful, then please share it on Pinterest.