Brixham, is a small fishing town located in Devon and is part of the English Riveria. It's located on a peninsula that juts out into the English Channel, that is surrounded by beautiful cliffs, caves, and beaches. The area is home to many seabirds and other wildlife including dolphins and seals. Brixham is also a great place to visit if you enjoy seafood, as you'll find restaurants, and fishmongers selling freshly caught seafood and fish daily throughout the town.
When you visit Brixham you'll be able to see why it's classed as one of the best seaside towns in England and loved by us Brits.
Visit the Brixham Heritage Museum
Chances are, there'll be sometime during your holiday where the weather sucks;it is England afterall. When the weather is miserable I recommend visting local museums. They're a way of still exploring the local area, by discovering it's history without getting cold or wet. Plus they're a great way of educating kids, and keeping them entertained.
Brixham Heritage Museum, is located about 5 minutes walk from the harbour. It's definitely one of the best things to do in Brixham when the weather isn't great, or just want to learn more about Brixham's history. The museum houses a variety of local artifacts that have been collected over the years, covering a range of historical time periods from WW2 to Devonian fossils from the geoloic period.
For a small museum, it's jam packed with tons of different artefacts so you'll be sure to learn something new and it'll keep kids entertained.
Tour the Brixham Fish Market
Touring the Brixham Fish Market is a great way to spend an afternoon in Devon. The market is located on the waterfront and has been operating for more than 400 years. It was originally built as a warehouse, but now it hosts open-air stalls that sell fresh fish and seafood straight from the boats that are docked nearby.
Visiting the fish market will give you insight into how the local fishing industry operates. The tours start at 6:20am so you have to be up super early, but it's well worth the effort and afterwards you'll be able to enjoy a breakfast at the Rockfish Restaurant that features local fish, scallops and more.
Tours are scheduled on specific days throughout the year and must be booked in advanced. I highly recommend booking well in advanced, as they have limited spots on each tour and they book out fast. Sadly tours are not accessible to wheelchair users, or children age under 14.
Tours can be booked via The Rock Fish website here.
Enjoy a walk around Brixham Break Water
Brixham Break Water is one of the most popular attractions in this coastal town. It's also a great place to get away from the busy harbour side area (especailly during the school holidays) and enjoy some stunning views out over Brixham Harbour.
The breakwater is a man-made structure that was originally built in 1843 to help protect the fishing boats that'd moar up in Brixham from storms. The original section was built in 1843, with the strucutre being expanded in 1909 and between 1912 and 1916. Nowadays you can enjoy a calm peaceful walk along the breakwater. Enjoying views over Brixham, and possibly spottnig some of the local wildlife such as seals, and sometimes even dolphins.
Breakwater also has a shingle beach. While it's not sand, it's still worth the visit and is one of the best and cleanest beaches in the area. The beach is a popular spot for kayaking and scuba diving, making it a good spot to visit if you're into water sports.
Breakwater is also a great spot for grabbing a bite to eat while enjoying the fresh sea air and views. So if you're hungry I recommend popping along to The Breakwater Bistro and grabbing yourself a takeaway to enjoy on the beach, or eating indoors with a view over the sea. Note: Indoor seating may be unavailable due to covid but they do have outdoor seating, and there's plenty of benches nearby.
Go Crabbing in Brixham Harbour
If you or your kids enjoy crabbing then Brixham is a great place to visit. Unlike many other seaside towns, crabbing is still something of a tradition here. Every year thousands of visitors come down to try their hand at catching crabs and it's easy to see why. If you've never done crabbing before it can seem hard to get your first catch but once you get your technique down, anyone can do it.
It can take anywhere from a few minutes to an hour or two of throwing traps before you see any success, but don't be discouraged—the payoff is worth it!
Crabbing lines, a net, bait and the buckets to place your crabs into are available for sale throughout Brixham at many of the harbourside stores. They're not too expensive and can give kids hours of fun.
Just remember that these crabs are not edible, and you cannot take them home with you! So once you're done, release them back into the water. If you want to enjoy some edible crab, make sure to pop to one of the restaurants such as Rock Fish or one of the seafood stores that are located in the harbour side.
Here's some tips to help you catch some crabs
Tips for Crabbing in Brixham
Firstly, make sure you are in a spot where crabbing is allowed. There are certain areas along the harbourside where you're not allowed to go crabbing, so please pay attention to the signs and maps to ensure you don't break these rules. This helps protect the local enviroment, and ecosystem. I also recommend finding a spot that has minimal sea weed, to ensure you can reach the bottom.
Once you've found your ideal spot, attach some bait to the end of your crab line and then reel it out until it reaches the sea floor. Make sure to avoid the seaweed.
Then it's just a matter of waiting. While you wait for a crab to take the bait, hold the line loosely in your hand so you can feel it go "tug tug" on the line. Soon as you feel that tug, start reeling in but go slow – you don't want to reel too fast or the crab will get spooked and let go. Get the net ready, and when you've gone your crab almost at the top of the water, pop the net underneath before you lift it out completely. It should then drop off into the net, so you can transfer it to the bucket.
I really recommend not keeping the crabs in the bucket for too long as they can become irritated, and end up being aggressive. Afterall they're used to having much larger space to roam. If you spot them being aggressive, or have had them in the bucket for an hour or two please release them back into the water. You can do this by gently ripping the bucket onto its side so the crabs can run out and go back into the water. If you have kids who want to keep tally of how many crabs they've caught, just write it down before releasing them. Then you won't have to make the crabs share a tiny bucket all day.
If you want to pick a crab up, make sure you do so by its back and avoid going near its pinchers. But I really recommend avoiding this, as they hurt if they bite. Whatever you do, let your kids touch them as tiny fingers are easy for a crab to nip at.
Please also make sure you take your crabbing net home with you. Do not release it into the water as this damages the enviroment, and they can become tangled around sealife and birds. Where possible please opt for eco-friendly crabbing lines such as those made from wood or bamboo. These are much more eco-friendly and if you did drop them by accident, they'll slowly break down over time rather than ending up being forever part of the ocean.
Take a dip at Shaolstone Seawater Pool
If you're visiting Brixham in the summer, and want to go for a swim then I recommend heading over to Shaolstone Seawater Pool.
Shaolstone Seawater Pool is open from May through to September, and is one of only few remaining seawater pools in the UK and offers beautiful views over Torbay; making it a really unique experience and one of the best things to do in Brixham. As the pool, is filled with fresh seawater, which means that you don't have to worry about chlorine or other chemicals irritating your skin.
Plus there's no entry fee although they do ask for donations to help maintain the pool. There's also deckchairs, and sun loungers available for hire.
The pool does close for special events and to clean it, so make sure to look at their website and Facebook page for any opening times/closure information so you don't arrive and find it's closed.
Discover wildlife at Berry Head Nature Reserve
Berry Head is a really beautiful nature reserve located just outside of Brixham. Berry Head Nature Reserve was originally an iron age hillfort, and while the fort is destroyed you can see some of it's remains.
Berry Head is home to a variety of birds, such as herring gulls and lapwings. You will also be able to catch a glimpse of some more common bird species, including robins and crows. If you're lucky you can also spot a range of marine life including seals, dolphins and more.
If you want the best chance at spotting seals, head down to Berry Head Fishing Point. This is to the left of the main path, and goes down a steep slope – past a giant crater/quarry area which makes for some nice photos. At the bottom of this slope, you should spot some people fishing. According to some local fisherman I met while I was photographing the area, the seals will come onto land and attempt to steal the fish off as they reel them in. Sadly, I was too late to see this as I was visiting during sunset so make sure to visit during the day for the best chance to spot the seals being crafty.
Beside the wildlife, Berry Head offers some stunning views over Torbay and towards Brixham. If you follow the main path, towards Berry Head Lighthouse you'll be able to enjoy calming views of the sea, and possibly spot dolphins. I also recommend, following other paths to explore the nature reserve as this will give you different views somewhat towards St Mary's Bay where you'll see jagged coast line. Another path, lets you see over to Brixham with a view of the lighthouse at Brixham Breakwater.
Berry Head has a few different historical buildings including the lighthouse, the Southern Fort and Saxon's Cove (located down below, by the fishing point) and a compass memorial.
If you're visiting with dogs, ensure they're kept on the lead at all times. Cliffs can be deceiving, especially when a dog is sprinting along so make sure to keep your furry friends on the leads at all time to avoid accidents. Also, keep children close by and make sure they know not to go near the edge.
The car park isn't free, and you must pay when you leave. Make sure to visit the machine on your way out to avoid getting a costly fine.
Enjoy Fresh Fish at Rockfish Brixham
For fresh seafood, head to Rockfish Brixham and dig into seafood that was freshly caught the same day. This restaurant's specialties include locally caught fish that aim to be sustainable. The restauarnt buys fish from local fisherman, as well as having their own boat.
Each day, they'll have a different variety of locally caught fish such as lin. Other fish varities available each day include haddock, cod, or rockfish.
If you'd like to dine at Rockfish, I highly recommend booking in advanced on their website. They do book out fast during high seasons, and on the weekends. If you do find that it's fully booked, then you can always opt for their takeaway where you can either order off the menu, or go into the fishmonger next to the takeaway and choose what fish you'd like to be fried (there is a charge for frying). Their takeaway was ranked in the top 10 fish & chip shops in the UK, so I really recommend giving them a try. When i visited, the local fish of the day was lin, which I'd never tried before and it was so good! Plus it came with a huge portion of freshy fried chips.
You can also eat at Rockfish, as part of the Brixham Fish Market Tour which I mentioned earlier on in this post. So make sure to check out whether there's a tour available during your visit and enjoy a fishy breakfast while learning more about the fishing industry.
Discover Brixham's local art galleries
If you love supporting local artists when you're travelling you'll be happy to hear that Brixham has a dozen or so local art galleries, that feature work from some really talented local artists.
In the harbourside you'll find Strand Art Gallery which was founded by William Stockman. The gallery features paintings from a range of artists local to Brixham and the surrounding areas. You can find a list of artists they feature, and view any paintings for sale on the Strand Art Gallery website.
Another art gallery, that features a range of artwork and crafts is The Colours of Brixham. The gallery is ran by Lynne Peets who is a self-taught local artist. You'll find the gallery on Middle Street, and you really cannot miss it due to it's colourful blue exterior. For more information or to place an order online, visit Lynne's website here.
Another art gallery located on Middle Street, is The Nicky Stevenson Gallery. Nicky sells a range of original art, prints, and homewares. So even if you cannot afford to buy one of her originals, you can enjoy her artwork in other forms. For more information, make sure to check out her website.
If you're looking for photo galleries, make sure to visit Chris Slack Photography which is located on near the Harbourside on The Quay (Just opposite Old Markethouse). Chris has a range of photos from Brixham, and other towns along the English Riveria available for purchase in his gallery. You can view some of his artwork, find prices and learn more about his work on his website here.
To find more art galleries in Brixham, and the surrounding areas I recommend visiting CreativeTorbay.com who have a directory full of local artists, and businesses for you to discover. They also have a list of art & theatre events that take place throughout the year so make sure to check that out to find more things to do in Brixham.
Take a dolphin sight-seeing boat trip
If you're visiting Brixham between April thorugh to October then I highly recommend takin a boat trip to see dolphins. You'll most likely get to spot common dolphins, but you may also see risso dolphins, bottlenose dolphins or white beaked dolphins.
If you're lucky you may spot some other sea life that lives around these areas such as porpoise, different varietyd of sharks (basking sharks, thresher sharks and even blue sharks) or minke whales. Plus there's normally some seals lazying around on the rocky pieces of land, and some sea birds.
When booking a dolphin boat trip, I highly recommend going with a company that cares about the sealife, conservation and the enviroment. As much as we want to see dolphins, we need to remember that we're entering their home and should do our best not to distrupt their lives. Make sure to avoid any companies that use things like bait, or do things like chase after dolphins as this can cause them to become reliant on humans or stress them out.
If you're visiting the area with young children, you may find a larger boat with a shorter sailing time more suitable such as Funfish Trips.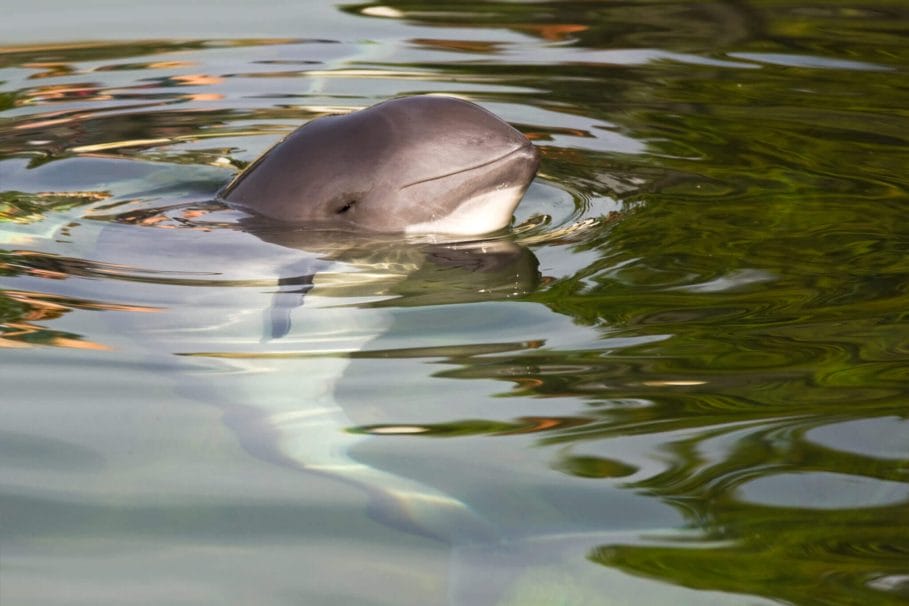 I personally opted to go with Dolphin Watch UK as they offered both a longer sailing time, and showed that they care about the dolphins. While out on the boat, they took the time to teach us about dolphins and the other sea life we might see. When we spotted the dolphins, they were careful to ensure that the dolphins were allowed to come to us rather than chasing after them and turned the boat off once near to avoid disturbing them.
No food was given to the dolphins, and they recorded how many we saw to report to the organisation that manages sealife conservation. During the trip there was a plastic skittles bag floating in the sea, which they fished out using a net they carry on board.
There was also only about 8 of us on board the boat, and although the boat is small there is space to sit down. The boat isn't wheelchair accessible and those with limited mobility may struggle to get on board. There's also limited toilet facilities, as while there is a toilet it's quite small so I highly recommend using the toilet before going. There are paid toilets available in the harbour where the Dolphin Watch meeting point is, so you can go just before getting on the boat.
It really felt like the people behind this company and it's staff care about wildlife, and had a genuine interest in teaching us. I'm not sure how the other companies like Funfish compare because I haven't used them but make sure to check their websites, read reviews and ask questions if you want to check how ethical a company they are.
During my trip I saw about 20 common dolphins, that came up really close to the boat and swam under us. It was really worth the wait. The dolphins were sooo close, that I could see them under the water. The water in this area is clear enough to be able to see the dolphins when they near the surface like in the photo below. It was an incredible experience.
Just to make you aware, there can sometimes be cancellations due to bad weather. So I recommend booking your trip for early on in your holiday, so if it is cancelled you'll have time for it to be rebooked. My trip was cancelled due to high winds, but I was rebooked on the following day without any problems.
Also, as this is a wildlife viewing trip and not a zoo/sealife park there is no guarantee you'll see dolphins. You most likely will see something but there's no guarantee of how well, and how much wildlife will turn up during your trip. Especially on shorter trips, so if possible I'd recommend going for at least 4 hours to increase your chances. But even if you don't see dolphins, it's worth the risk to avoid supporting the cruelty dolphins and other sealife goes through in zoos/parks. Either way, you'll probably see something and get nice views towards Brixham and Berry Head Nature Reserve.
I recommend booking online in advance, to guarantee your space on the boat. Also, take sunscreen as you will get sun burnt even if its cloudy. I also recommend taking a hat, or buying reef-friendly sunscreen for your scalp as well as otherwise you could end up with a sunburnt head like I did which turned out to be pretty painful.
Explore the Golden Hind Museum Ship
As you walk around Brixham Harbour you'll be sure to spot a wooden pirate-style ship. It's really something you cannot miss. As you approach you'll discover it's actually a museum called The Golden Hind Museum Ship.
The ship is one of two replicas, of the ship that Captain Sir Francis Drake sailed from 1577 to 1580. The ship was the first English ship that successfully sailed around the world. I highly recommend visiting, especially if you have kids as this ship is really fun and educational. You'll be able to explore the the deck, and also go below decks to explore further and learn more about the ships history. Children are given a trail to help them explore the ship, and peak their interest. After completing their trail, kids are given a reward of a certificate and something else such as chocolate. There's also an audio guide available which covers the ships history and Sir Francis Drake in more depth.
Sadly, the ship isn't suitable for those who use wheelchairs or have a mobility impairment as there's steep stairs that are hard to climb. During my visit, I was unable to go below deck. If you have issues doing stairs, I really recommend just viewing it from the harbourside and you can still see quite a lot of the ship as you walk around the harbour.