A lot of people visit Florida each year to enjoy the warmth, sunny weather, or even Disney Land in Orlando. But did you know there are some pretty scary places in Florida too? Key West is home to many of these places, so if you're interested in visiting some haunted places I highly recommend visiting this area of Florida.
Dubbed as one of the most haunted places in the USA, Key West is a great place to visit if you're looking to experience paranormal activity. Key West is loaded with haunted history and tales of hauntings that'll give you plenty of chances to experience paranormal activity yourself while visiting Florida.
Plus getting to Key West is fairly simple, with it's own airport (Key West International Airport) you can choose to fly to Key West or travel from other areas of Florida such as Tampa, or Miami by bus.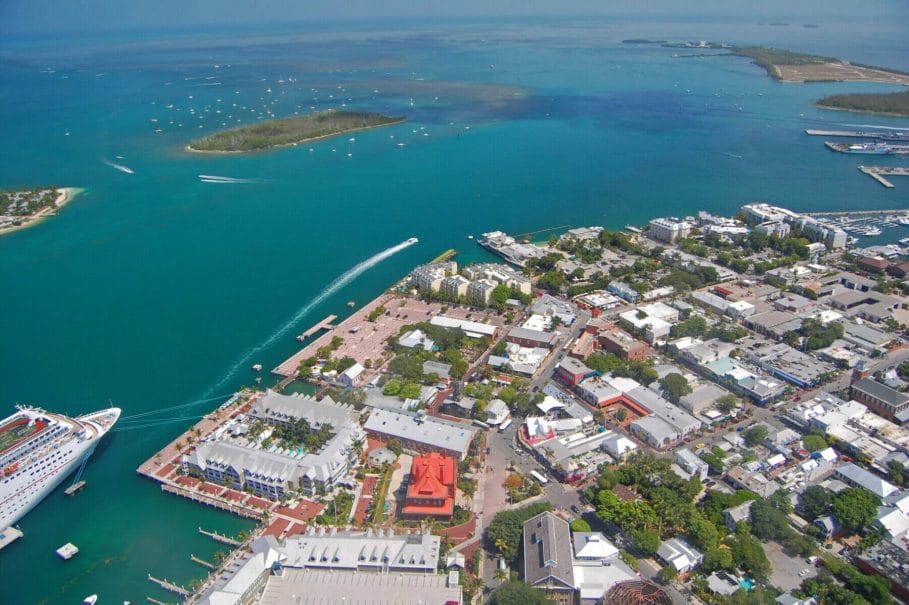 Fort East Martello Museum
One of the best places to visit is the Fort East Martello Museum. Located on a man-made island, Fort East Martello Museum is known as one of the most haunted places in Florida and is said to be one of America's most haunted places.
The fort was originally used as a Civil War prison camp, which left behind residual negative energy that has been reported by visitors ever since it was converted into a museum. Reports include doors mysteriously locking/unlocking on their own and cold spots being felt by visitors near specific exhibits.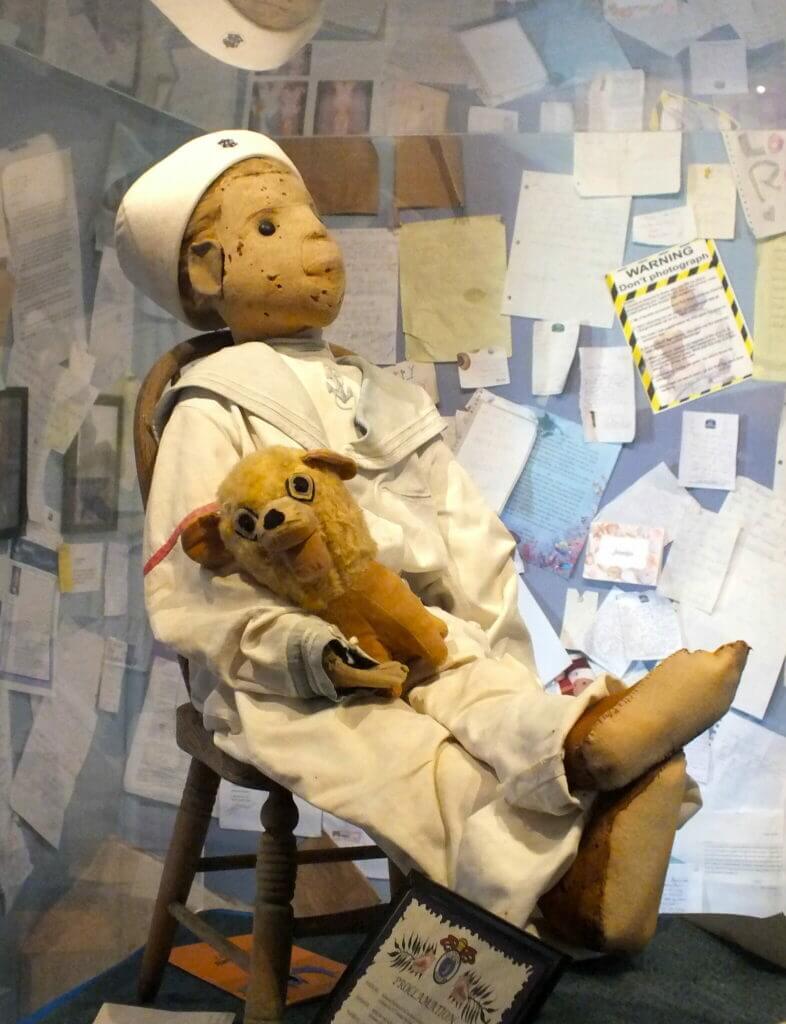 The ghostly experiences here might be due to it housing Robert the Doll. Created in 1904, the doll was orignally owned by a boy called Robert Eugene Otto who named the doll after imself. Back in 1904, Robert would blame the doll whenever he was in trouble but eventually evil spirits possessed the doll and it started causing trouble of it's own. Throughout it's 117 year existance, the doll has been blamed for many mysterious and sinister acts.
The doll, was orignially at the Otto family home, where it lived in a furnished room in the attic. Robert's wife, didn't like the doll and insisted that it be kept locked up. Robert the doll however, didn't like this and used to escape and get up to mischief.
This was the case until 1974 when Robert Otto died, and the home was pruchased by a woman called Mrytle Reuter. Mrytle cared for the doll, and lived it with for 20 years. In 1994, she donated the doll to The Key West Art & Historical Society, claiming that it had locked her in a room.
The museum acecpted the donation, and placed him on display in a casing at the Fort East Martello Museum. Soon after arriving, the museum started reporting weird things happening surrounding the doll. Visitors to the museum have reported Robert the Doll causing their cameras to stop wroking, or ruining their photos.
Visiting this haunted doll is a must for anyone interested in Florida's ghostly history. You can also read more about Robert the Doll in David Salon's book, where he covers the history and legends surrounding the doll. There was also a movie released in 2015 that was based on the story of Robert the Doll, called Robert.
Old Town Manor (aka Eaton Lodge)
Another haunted place with tons of paranormal activity is the Old Town Manor (previously called Eaton Lodge).
Today, Old Town Manor is a bed and breakfast with many of its guests reporting hauntings such as hearing footsteps, apparitions and knocking on their door with no one outside. Some believe that the cause is the ghost of Genevieve, the wife of the previous owner Dr William Warren. So if you want to stay somewhere haunted, I recommend checking into Old Town Manor.
Captain Tony's Saloon
Originally built in 1852, Captain Tony's Saloon is said to be the oldest saloon in Florida. It was originally an icehouse that was used as a morgue. Then in the 1890s, it was used as a wireless telegraph station. In 1912, as a cigar factory. After that, it became a bar, followed by speakeasies and a series of bars until 1968 when it was purchased by Tony Tarracino aka Captain Tony.
The saloon is said to be haunted by 75 people who were hanged from the tree, that grows through the bar and two tombstones you can find located inside the bar. The tombstones are for Elvira and Reba. Elvira's tombstone reads "Elvira, daughter of Joseph and Susannah Edmunds died Dec. 21, 1822 Age: 19 years 8 months and 21 days.", but no one seems to know why she's located here. Some say Tony found bones in drywall and had the tombstone created with a made-up name. But who knows?
Reba was said to have been having an affair with a married man, and after she died her husband discovered this secret. He had the tombstone removed from the cemetery, and placed on the sidewalk in front of the bar. When Tony bought the bar, he moved them inside.
Visitors have said that the pool room itself is colder than other areas – making them believe it's more haunted than other areas of the bar. They've also reported sightings of a woman wearing a bloodied blue nightgown, which is supposedly a woman that was hung from the tree by vigilantes.
There's also reports that the toilets are haunted, with people reporting that the women's toilet doors have been locked for no reason or feeling strange sensations causing them to leave.
As well as being haunted, the bar is popular with many celebrities. Jimmy Buffet also got his start here, and references Tony and the bar in "Last Mango in Paris". There are also some bar stools, painted with the names of the celebrities that visited the bar.
St Paul's Church Cemetery
St. Paul's Church Cemetery is a well-known haunt located in Key West, FL and is frequently visited by local ghost tour groups and paranormal investigators on a nightly basis due to its reputation as one of Key West's most haunted locations. Some have reported being bothered by a spirit of a man, wearing 19th-century clothes that is upset. Another of a Sea Captain, that helped keep pirates out of Key West. The Sea Captain's spirit is said to be angry, with violent winds being felt near his grave. Some have reported seeing spirits of children, who were killed when a pastor attempted to burn down the church.
The church itself was originally built in 1838, before being destroyed in 1846 by a hurricane and damaged again during the Great Fire of Key West in 1886. The church has since been restored and is actively used by the local community.
Fort Zachary Taylor State Park
Fort Zachary is a fort from the civil war era. It was used to help secure the southeast coast and house prisoners. During its time, the fort saw no hostile action but its soldiers and prisoners did see many different diseases – especially Yellow Fever which killed as many as 15 people a day. Prisoners were executed here, with hangings taking place on a daily basis.
The fort is said to be haunted by the ghosts of those who died of yellow fever, and a young girl's ghost has been sighted by the old hospital. The area is popular with ghost hunters who have said that the number of deaths has caused a high level of paranormal activity throughout the fort. This makes it a great place to visit if you want to experience paranormal activity, and also discover some of Key West's history.
The Crowne Plaza Key West-La Concha
Built-in 1926, The Crowne Plaza started life as a popular place to stay due to its beautiful sea views and private bathhouses. The hotel was even popular with the novelist Ernest Hemingway, despite living in Key West. He stayed in the same room each night, and this room is now known as The Hemmingway Suite.
There have been over a dozen suicides at the hotel, and a busboy also died after walking into an elevator shaft. Their ghosts are now said to haunt the hotel. Guests report hearing the waiter crying on the 5th floor, or meeting him in the elevator. They also report having their drinks snatched by one of the ghosts of those who committed suicide, as well as feelings of being watched, hearing voices and seeing ghosts in their room.
The Hemmingway Suite is also said to be haunted. Those sleeping in this room have reported things being moved around, the lights turning and bathroom taps turning on by themselves.
If you'd like to experience the hauntings for yourself, why not book a night at the Crowne Plaza Key West-La Concha.?
Old Monroe County Jail
The Old Monroe County Jail was built in 1892, to help with the ever-growing population in the area. In 1952, most of the original jail was demolished, leaving behind only the rear area. The rest was rebuilt and operated as a jail until the 80s when it was shut down.
The prison has housed a range of violent criminals including female killers, and executions have taken place on the grounds. There's also the death of Osilio Perez who possibly haunts the jail due to how he died. Osilio was not a criminal but a mentally ill person being detained at the prison for his own safety until he could be transported to a mental hospital. Osilio had been found trying to hurt himself and was placed in a room for safety. A nurse who was set to watch him went to fetch food and on her return found, Osilio had hung himself.
There was also a lynching, of a man called Manuel Cabeza who had fallen in love with an Afro-Cuban working girl called Angela. On December 23rd 1921, Manuel was attacked by a racist lynch mob due to his relationship with Angela. The next day, Manuel killed one of the mob and became wanted by the police. After being arrested under the agreement that he'd be protected, Marines stood guard in front of the jail where he was being held. But, a police officer in charge called Curry told them to go home – then went home himself, leaving no one to guard Manuel.
Without police protection, Manuel was taken from jail by the mob and dragged through the streets. He was then hung from a palm tree and after he died, his body was shot.
Angela left a curse on the men involved – possibly the entire island. The curse is believed to have caused 5 of the men involved in Manuel's death to be killed, including Curry who died on a fishing trip.
These events have led to the jail being haunted, with a higher level of paranormal activity reported than places around it.
Old Monroe Country Jail isn't currently open to the public, but you can still walk by and see the jail located behind the Jefferson B. Brown Courtroom off Flemming Street. You can just about see the Old Monroe County Jail in the Google Street view below.
Take a ghost tour of Key West
I highly recommend taking a ghost tour of Key West. There are a few different tours available, each covering different areas. On these tours, you'll hear ghost stories, hear about reported hearings and maybe experience some paranormal activity for yourself.
The Original Key West Ghost Hunt is a 90-minute tour of some of Key West's Paranoma Hot points such as St Paul's church.
6th Sense Haunted Tour of Key West covers locations such as The Crowne Plaza Key West-La Concha, which is a haunted hotel and Whitehead Street where you'll hear about a corpse bride.
As one of the most haunted areas in Florida, I highly recommend booking somewhere to stay in Key West. Looking for somewhere haunted to stay? Then make sure to book a room in the Old Town Manor or Crowne Plaza Key West-La Concha. If you'd prefer to stay somewhere without the risk of a ghost spooking you, there's still plenty of hotels in Key West that aren't haunted to choose from.