If you're visiting Ireland, or just passing through on your way to another European destination buying a sim card in Dublin Airport can help save you from spending money on roaming abroad. Most sim cards purchased within the EU, allow you to use roaming in other countries so grabbing yourself a sim card in the airport can be a great way to save on roaming costs and avoid the hassle of buying multiple sim cards in each country you're visiting.
There are tons of prepaid sim cards available in Dublin Airport and Dublin itself for you to pick from. In this guide, I'll cover the best sim cards available, that are suitable for both short and long term travel. Plus, some alternative options like eSims and mobile WiFi.
Information in this guide is accurate as of July 2022. I try to keep all sim card guides updated on a regular basis but offers can change quickly, so some information might be outdated. Always check what the sim card includes and please feel free to let me know if you do spot a better offer, or if something has changed.
Note: If you're visiting the UK, including Northern Ireland the Ireland sim cards covered in this guide most likely do not include roaming for these countries or may stop including it after a certain date with very little warning. Since the UK left the European Union, things have been a bit up and down with the free-roaming. I do include some tourist sim cards in this list that will cover the UK but these can be more expensive than a local sim card. You can also buy a sim card in the UK and I recommend checking out my guide on buying a sim card at Heathrow airport which also covers buying sim cards online, and in stores within London (and other UK towns/cities).

If you're planning on visiting Northern Ireland for a day trip such as doing a tour of the Giant's Causeway without buying a UK sim card, then I recommend turning off data roaming to ensure you don't accidentally eat up any phone credit or run up a bill on your home countries sim card.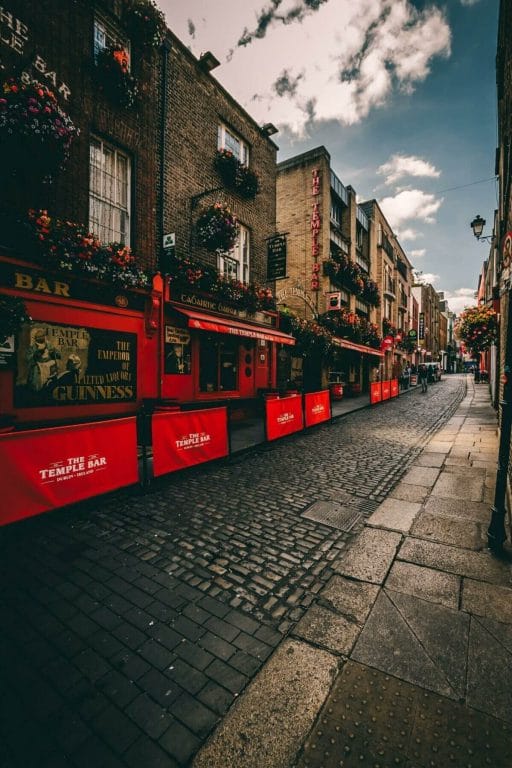 Buying an Esim Online for Use in Ireland the EU
eSims are digital sim cards, that you download onto your phone. So If you have a phone that supports using an eSim, you can save yourself the hassle of having to find a store and just download your sim before you travel or when you arrive using Dublin's airport WiFi. Plus, Ireland Travel eSims and EU travel eSims are quite reasonably priced.
If your phone was released in 2021 onwards, there's a higher chance it supports an eSim. If you use an iPhone, you can check if it's supported here. For Samsung – the 21 and 22 series all support eSims, plus some s20 models. For more specifics on which phones support eSims, make sure to check this list or ask your network provider if the model you purchased from them supports it.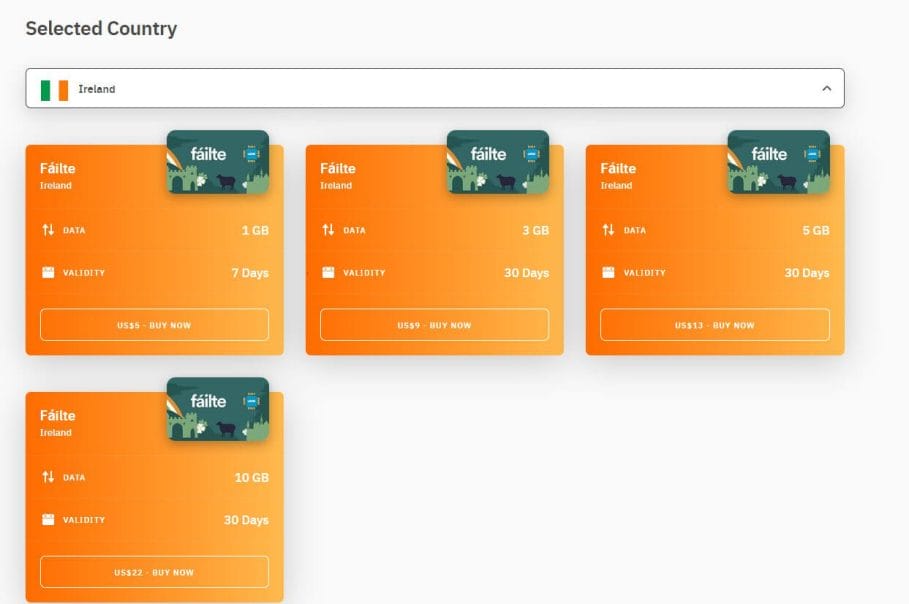 You can buy an Ireland eSim online from Airalo, which makes it super easy to set up. Once ordered, you just download the app and the eSim onto your phone. When your data runs out, you can just top up or purchase another eSim in the app so you don't have to worry about finding a store in Dublin to buy a new sim card/top up or figuring out how to top up online.
The following plans are available, all these plans can only be used in Ireland:
If you're visiting other EU countries, then you may want to consider buying an EU regional eSim instead of one specifically for Ireland.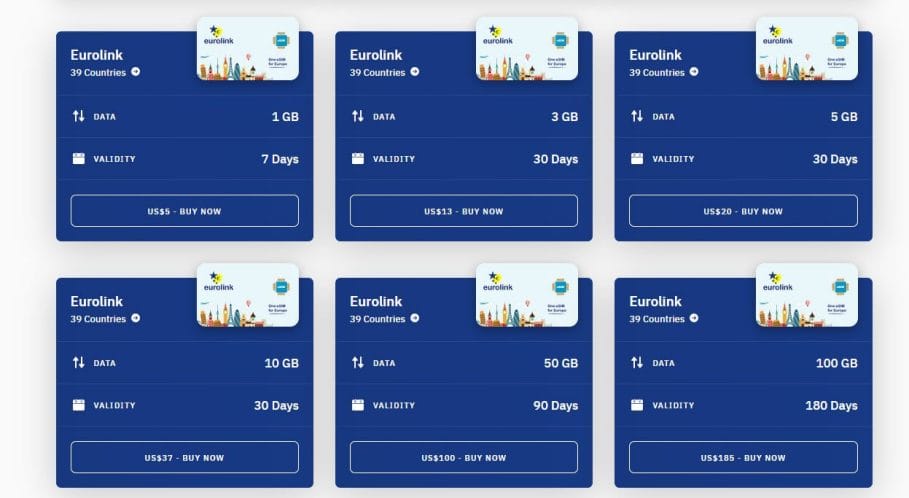 Airalo has a range of plans available, on their Eurolink eSims which work in 39 European countries such as Ireland, the United Kingdom, Norway, Iceland, and Spain. The Eurolink sim card plans, also go up to 100GB data allowance with a 180-day validity. Below are some EU eSim plans available from Airalo as of July 2022:
You can also buy an eSim supplied by TripRoaming that covers the EU and UK. There's a range of plans available, such as 1GB of data for 30 Days or 500MB of data per day for 7 days.
Airalo also offers a global eSim! So if you're not staying within the 39 countries supported by the Eurolink sim card you could always buy a global sim. These work in 87 different countries including the USA, China, Australia, Japan and Thailand. Although the data allowances are more limited on these, so I recommend still looking at individual sims or their other regional sim cards if you're a high data user.
Airalo has the following eSim global plans available:
Buying a Sim Card in Dublin Airport
Buying a prepaid sim card in Dublin airport is fairly straightforward but which store you use, will depend on which terminal you're landing in. All the sim cards sold at the airport do not require you to be an Irish resident to have ID, so they're tourist friendly. You can also top them up, so you don't need to worry about buying another sim card if you hit your data allowance.
Where To Buy a Prepaid Sim Card at Dublin Airport?
If you're flying into Terminal 1 at Dublin airport, you'll want to head to either the WH Smiths Store which is open from 4 am to 9 pm. You can also buy one at the Left Luggage Store which is located near arrivals in Terminal 1. If you're flying into Terminal 2 at Dublin Airport, then you should head to the SPAR store to purchase a prepaid sim card, the SPAR is open from 6 am to 10 pm. You can also opt to purchase a sim card from Sim Local vending machine.
The Sim Local vending machine in Terminal 1 Is located inside WH Smiths and is accessible between 4 am and 9 pm. The Sim Local vending machine in Terminal 2 is located by the SPAR store and can be accessed between 6 am and 10 pm. There's also a sim local machine located by Wrights, which is between terminals 1 and 2.
Sim Local vending machines sell sim cards for a few different networks including Vodafone, Three, and Lyca Mobile.
| | | |
| --- | --- | --- |
| Network | Plan | Sim Card Cost |
| Lyca Mobile | 20 euros credit to pick your own plan on the Lyca mobile site. Such as 6.99 euros for 5GB of data or 13 euros for 20GB of data. Plans include EU data roaming but have a cap on how much usage can be used outside of Ireland. | 25 euros |
| Vodafone | 20GB of 4G data, 100 minutes and unlimited texts to any network. | 25 Euros |
| Vodafone | Unlimited minutes and texts only to other Vodafone Ireland users. 5GB of 4G Data and a 10 euro top up. | 25 Euros |
| Three | Only from terminal 1: Unlimited 4G data in Ireland, 8GB of data within the European Union, unlimited texts to any network and unlimited calls only to other Three users. | 30 Euros |
If you can wait until you've left the airport, you'll have much more choice between sim cards outside of the airport. But if you cannot wait then I recommend buying either either the Vodafone plan that gives you 20GB of 4G data, or if you're in terminal 1 then the the Three sim card with unlimited data is a good buy. Especially if you're like me and use a lot of mobile data while travelling. But I also recommend checking the signal coverage if you're leaving Dublin as you may find Three and Vodafone has poorer signal in some places. If you're sticking to main towns like Limerick and Galway, you'll be fine but in the country side you may be limited to 2G signal at times. You can check Three's signal online here, and Vodafone's signal here.
Where Can I Buy a Sim Card in Dublin, Ireland?
If you can wait until you're out of the airport, you'll get a lot more choices between different networks and sim card plans. It's also really easy to buy a sim card in Ireland as you don't need ID. Sim cards are available in most supermarkets, and convenience stores. You can also pick them up from a network store, which can be found in Dublin City Centre. If you head to Henry Street, North City in Dublin you'll find one of the main shopping areas in Dublin which includes stores for Vodafone, Three Mobile and inside the Jervis Shopping Centre you'll find a Tesco store that has a Tesco mobile phone shop inside.
How much do sim cards cost in Ireland?
A sim card in Ireland doesn't normally cost anything for the sim card itself, but you may be required to purchase a top up or phone plan when you buy the sim card. Most sim cards require at least 10 euros top up, and phone plans normally start at 10 to 20 euros depending on the network.
Best Local Prepaid Sim Card Plans in Ireland
This guide covers the best prepaid sim card plans that are available as of July 2022. Offers can change so you may find that it's a different offer when you goto purchase the plan but they're normally similar in allowances and price
Prepaid Sim Cards in Ireland, outside of the airport normally cost between 10 to 30 euros. Most plans include a decent data allowance, but some are more suited for calls only. Some of these sim cards can also be used in MiFi devices (pocket WiFi) but I recommend checking with the network provider, when you're in the store to confirm they'll still work with your MiFi device.
Tesco Mobile Prepay plans in Ireland
Tesco mobile has a few different prepaid plans available, and they operate on the Three mobile network so you'll definitely get a good coverage within Ireland – especially Dubin. The plans last for 28 days, and they're one of the more generous networks when it comes to data allowances. You can pick up a Tesco mobile sim card in any of their stores, or order one online for delivery to your accommodation.

As of July 2022 they have two really good offers available: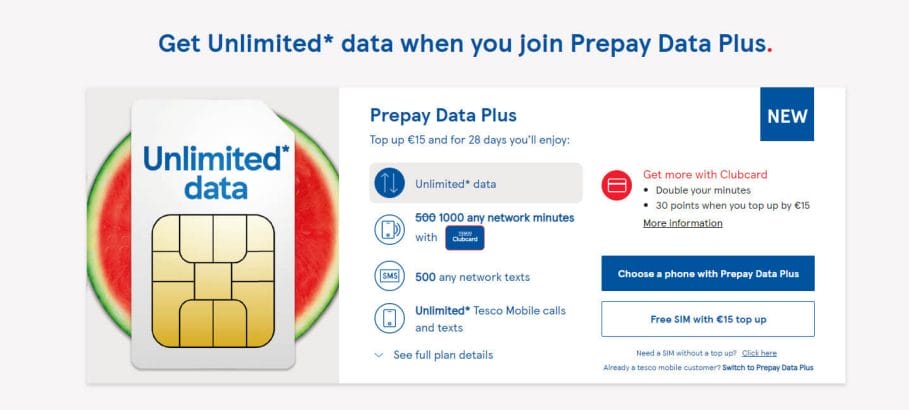 The above Prepay Data Plus Plan includes unlimited data within Ireland, and 12.2GB of data for use within the EU. You also get 500 minutes to any network, and 500 texts to any network. They also include unlimited calls and texts to other Tesco Mobile customers. If you're going to be staying in Ireland for a long period, then you might want to sign up for a Tesco Clubcard as this will upgrade your minute allowance to 1000 minutes.
If you need more minutes, they also have a Prepay 15 plan available that includes unlimited minutes to any network, unlimited texts to other tesco mobile users and 15 GB Data (of which you can use 12.2GB in the EU). If you're a Tesco Clubcard member they'll double your data to 30GB.
Tesco also lets you buy a standalone sim, without a plan but with 15 euros credit.These can be purchased online or in store.
How To Buy a Vodafone Ireland Pay-as-You-go Sim Card
Vodafone Ireland require you to purchase a top up when getting a pay-as-you-go (prepaid) sim card, they do not sell sim cards on their own.
Vodafone has the following plans available:
Chat Extra, for 20 euros giving you 10GB of 4G+ data and unlimited calls + texts to any network at any time. Includes roaming in the EU.
Vodafone X, for 20 euros giving you unlimited data (capped at 10Mbps), and unlimited weekend calls. Also lets you use 30GB of data for roaming in the EU.
Extra Unlimited 5G, for 30 euros giving you unlimited 5G data, and unlimited network calls and texts. You can also use 30GB of data for roaming in the EU.
Out of the above plans I'd recommend getting either the Chat Extra or Extra Unlimted 5G. The Vodafone X plan speeds are restricted to 10Mbps. If you're planning on doing things like streaming Netflix, playing video games or tethering devices to your phone the 10Mbps limit will probably be too slow. If you're only using it for internet browsing, and social media it's fine.
How To Buy a Three Prepay Sim Cards for Ireland
Three Ireland has good offers available, starting at 15 euros. All Three's prepay plans last for 28 days. They include roaming within Europe although this has a cap depending on your chosen plan. All 3 of their plans also support 5G although you may have to pay to upgrade to this.
Here is a list of their plans as of July 2022:
3 Prepay 15, for 15 eurso you get 1GB of data for use within Ireland and the EU, unlimited calls to any network and 60 tets. 5G speeds are available for 5 euro extra per 28 days.
3 Prepay 20, for 20 euros you get unlimited data, and it gives you 17GB of data that you can use in the EU. You also get unlimited texts, and 60 minutes to any Irish network. You'll also get unlimited Three to Three calls. 5G is available for 5 Euros extra.
3 Prepay 30, for 30 euros gives you unlimited data of which you can use 25GB in the EU. You also get unlimited texts, minutes, 5G data speeds included and 30 international call minutes.
I don't recommend getting the 3 Prepay 15 plan unless you're not really planning on using any data. The plans way too limited, and you could easily use up your data allowance within a few hours.
If you're going to be using a lot of data in Ireland, and don't want to call anyone within Ireland then the 3 Prepay 20 plan is your best option. Even with the 5G upgrade, if you're not calling anyone or visiting another EU country this would be your best plan. Although if you're visiting other places in Europe, then you may want to pay the extra for the 3 Prepay 30 plan to get access to 25GB data usage within the EU.
Eir Prepay Sim Card Offers for Ireland
Eir has two Irish prepaid sim card offers available, but only one of these includes data. You can buy these sim cards online and have it delivered to your accommodation, or visit one of their stores. There's a few Eir stores in Dublin but the one located on 24 Grafton Street is the most central one; it's about 5 minutes walk from Trinity College Dublin.
Their cheapest plan is 10 euros and only includes unlimited calls – no texts, no data, and only lasts for 14 days.
Their other plan is 30 euros, for unlimited 5GB data, calls and texts. They also give you 24.4GB of roaming within the EU. This plan lasts for 4 weeks. Note that at the time of me writing this, they have a limited offer on this plan bringing it down to 20 eruos instead of 30. Don't plan on this being available when you're visiting Ireland.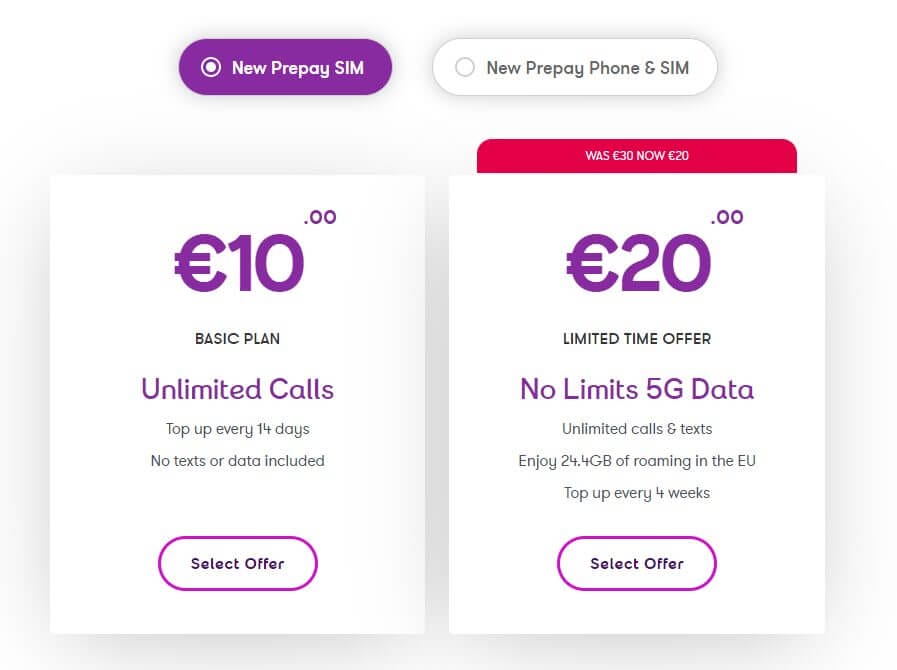 In terms of network quality, Eir has good coverage throughout Ireland. 4G is available in 98% of the country, and 5G is available in most major cities including Dublin. You can check their network coverage online here.
Buying an Anpost Prepaid Sim Card in Ireland
Anpost is one of Irelands main postal companies, but also offers a prepaid sim card that use the Vodafone network at 4G speeds. Their offer is normally cheaper than Vodafone, so you can benefit from Vodafone's 4G network coverage without the higher price tag. There is one downside with this phone plan though. If you're an iPhone user, you cannot use this plan to hotspot to your phone and share the data to other devices. So I recommend avoiding this network if you use an iPhone and want to share the data with other devices.
As of July 2022, they're offering the following plan for 15 euros per 28 days which includes unlimtied calls (3000 minutes fair usage limit) and texts (3000 texts fair usage limit) to any network plus 50GB of data. They also let you use 16GB data, 250 minutes and 250 texts within the EU.
AnPost sim cards can be ordered online, for delivery to your accommodation in Ireland. If you need to extend your plan, you can buy 15 euro top ups at Anpost post offices, and at shops with a Payzone or Postpoint logo including Spar and Londis. Although if you're staying in Ireland long term you can choose to opt for auto top-up which will extend your plan validity period from 28 days to 30 days. They also offer you 1 month free if you port a number to them, so if you already have an Irish sim card you could transfer your number to benefit from this offer.
Buying a Lycamobile Sim Card in Ireland
Lycamobile in Ireland uses the Three network, so you know you'll get decent coverage. However, from my experience, Lycamobile restricts its speeds and has poorer performance than any of the other networks covered in this guide. If you're staying within Dublin, then Lycamobile is fine but I find that soon as I leave the main areas they start slowing down.
They have a range of prepaid sim card offers available, which you can purchase in most convenience stores, supermarkets and as previously mentioned at the airport (with 25 euros credit). You can use credit online (which requires registering an account), to buy different bundles. If your plan expires, you can top up more credit in supermarkets, and convenience stores.
Lycamobile offers both data-only bundles and phone plans that include data and international minutes. These plans vary based on which country you'd like to call/text.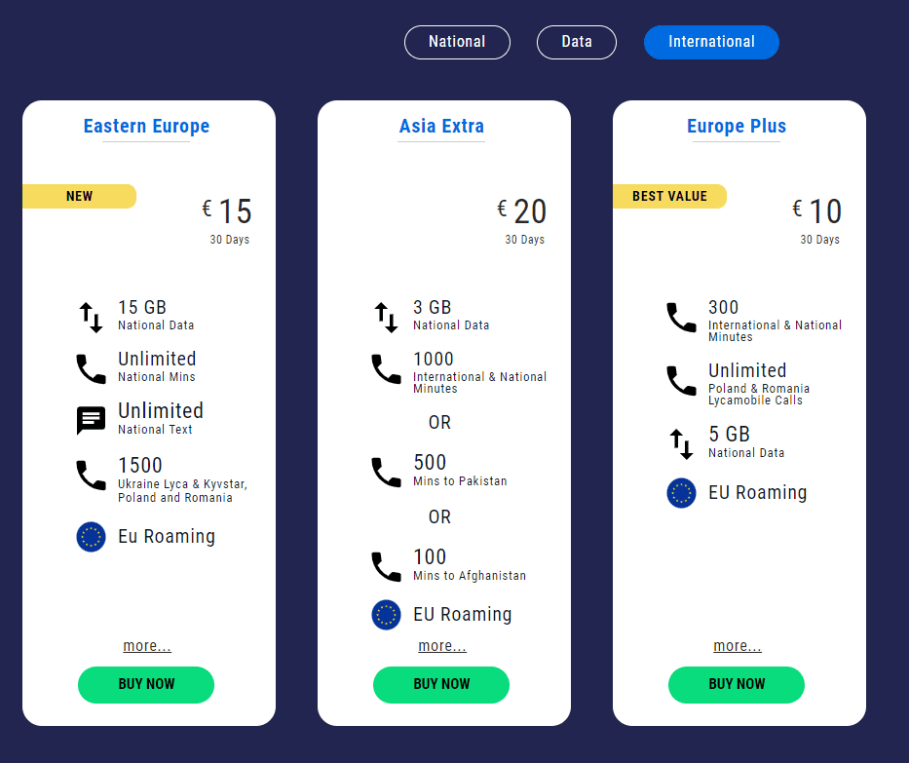 For 15 euros you can get a plan that includes 15GB of data in Ireland. This also includes unlimited minutes and texts within Ireland, EU roaming, and 1500 minutes to Lycamobile and Kyvstar users in Ukraine, Poland and Romania.
For 20 euros, you can get a phone plan that gives you 3GB of data within Ireland, plus 1000 international and national minutes. You can also opt to change the international & national minutes to 500 minutes to Pakistan, or 100 minutes to Pakistan plus EU Roaming.
For 10 euros, you can get 300 international minutes & national minutes, unlimited calls to Poland & Romania Lycamobile users and 5GB of data within Ireland. This plan also includes EU Roaming.
As the above 3 plans, aren't really that great when compared to other networks unless you're phoning abroad, I'd recommend looking at Lycamobiles data-only plans. These start at 6 euros for 3GB of data within Ireland + EU roaming for 30 days and go up to 13 euros for 20GB of data within Ireland + EU roaming.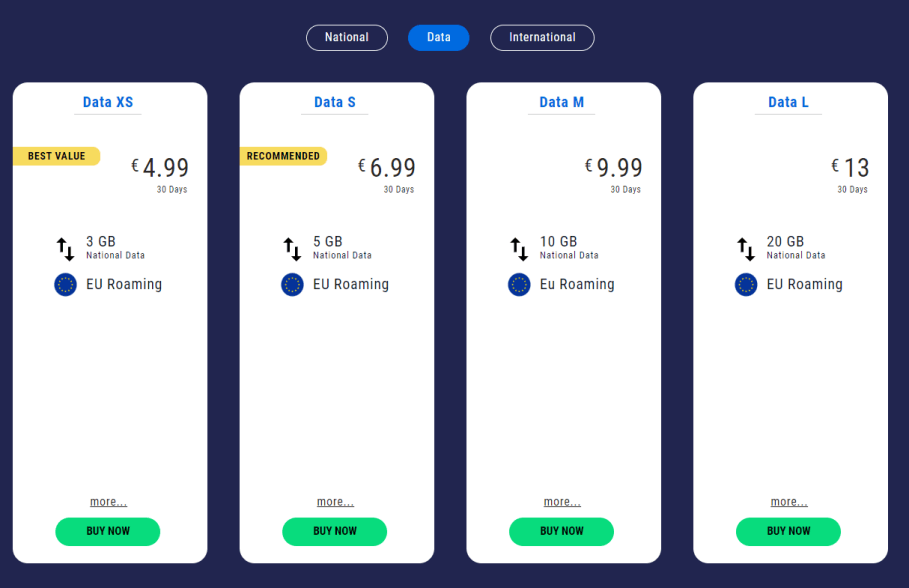 Lyca Mobile long-term plans for digital nomads/long-term visitors
If you're in Ireland for a long period (ideally at least a year) then you may want to check out Lyca Mobiles long term plans. These plans do require a contract which is usually 12 months. These contracts are good if you're planning on phoning abroad a lot as they give you access to affordable international calling whereas other networks tend to charge a lot for this. They have the following plans available online: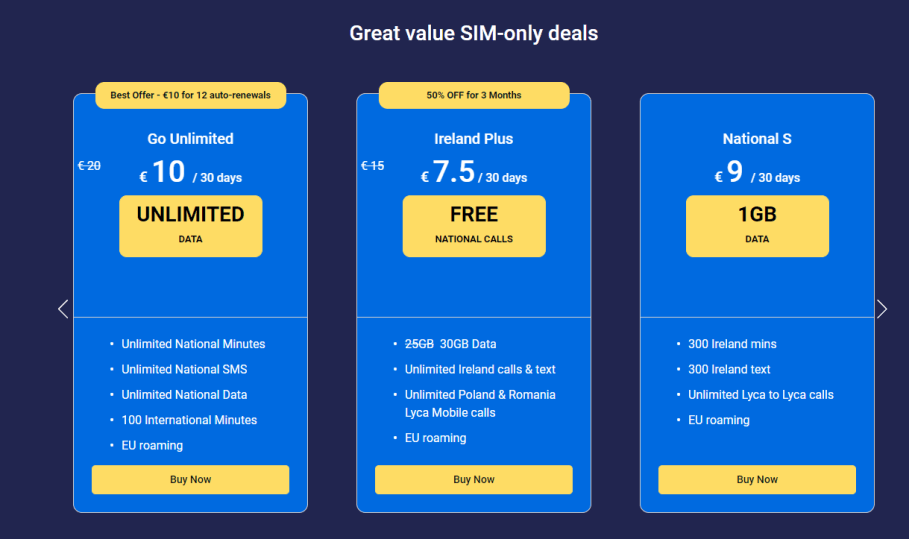 20 Euros gets you unlimited minutes, data and texts within Ireland. 100 international limits and EU roaming (subject to fair usage limits).
15 euros get you 25GB of data, unlimited calls and texts within Ireland and unlimited calls to Poland and Romania. Plus EU roaming (subject to fair usage limits)
9 euros gets you 1GB of data, 300 minutes and tets in Ireland, and unlimited Lyca to Lyca calls. Plus EU roaming (subject to fair usage limits).
How To Buy a Tourist Sim Card Online for Ireland
Buying a sim card ahead of time isn't always the cheapest option but it can save time, and help reduce the stress of having to find a sim card when you arrive. Plus, most travel sim cards can be used throughout Europe and sometimes other countries. So this is a good option if you're visiting multiple places.
Here are some of the best tourist sims available if you're travelling from the USA or Canada:
Orange Holiday Europe – 20GB Internet Data at 4G/LTE speeds plus 120 minutes, 1000 texts. Usable in 30 European countries including Ireland, Northern Ireland + rest of the UK
Orange Holiday Europe – 8GB Internet Data at 4G/LTE speeds plus 30 minutes and 200 texts. Usable in 30 European countries including Ireland, Northern Ireland + rest of the UK
Three UK PrePaid European Sim card – 25GB data, unlimited minutes and texts for 30 days with free roaming in the EU including Ireland – Also works in Northern Ireland as it's a UK sim card!
WiseSim European travel sim card – includes 12GB Data, 3000 Minutes and 3000 Texts for 30 Days with Free Roaming in Europe including Ireland, Northern Ireland and the UK
If you're visiting from the UK, make sure to check whether your network includes European roaming. Some networks still include EU Roaming but others may offer it as an add-on to your normal phone plan.
If your phone network doesn't include the roaming, depending on how long you'll be staying in Ireland it can work out cheaper to buy a sim card rather than pay for the addons.
Here's a list of prepaid UK sim cards that include roaming in Ireland and other EU countries.
Orange Holiday Europe Prepaid SIM Card – 20GB 4G/LTE data, 120 minutes and 1000 texts. Includes roaming for 30 EU countries including free roaming in Ireland.
DROAM Prepaid Data SIM card for Europe & North America – Includes 2GB of starting data that can be used in Europe and North America. You can add more data as needed.
Vodafone Data Sim Card Preloaded with 25GB of data that can be used for roaming in 70+ countries including Ireland.
How to Rent a Pocket WiFi in Dublin, Ireland
Instead of getting a sim card, you could rent a pocket wifi. A pocket WiFi lets you connect multiple devices, and if you're travelling as a group this can work out cheaper than buying multiple sim cards. If you have a phone that doesn't support multiple sim cards or eSims then I recommend getting a portable WiFi, as you might need your normal sim card in your phone to receive verification texts or to receive texts/calls from family or work. Verification texts are normally needed when you log in to things like your online banking, Instagram and Facebook for the first time on a new IP address. Changing a sim card when you're out exploring Dublin isn't exactly an ideal situation.
You can pick between renting a pocket WiFi, or purchasing a Pocket WiFi and buying a phone plan. If you travel a lot, buying a pocket WiFi can work out cheaper than renting in every country you visit. If you're only travelling once or twice a year, then I'd recommend going with the rental option.
The best option is to get a pocket WiFi from Rent n Connect. They'll deliver these to any address within Europe, and some airports – including Dublin Airport. You can order these through their GetYourGuide listings, or their website. They'll deliver the pocket WiFi device to the Excess Luggage Store, and you can also return it here when your vacation is finished.
If you're visiting Ireland from the UK, you can also hire a Pocket WiFi from Rent n Connect in the UK which works throughout the UK and Ireland. They will deliver the Pocket WiFi to your accommodation in the UK, and you can return it to them via post, at Dublin airport or to an airport in the UK.
How to Buy a Pocket WiFi For Use in Ireland
If you'd prefer to buy a Pocket WiFi, there are a few good devices to pick from and some of these include roaming. Such as GlocalMe 4G Pocket Wifi which includes data roaming for 140 countries. You'll initially receive 1.1GB of global data, which you can use in 140 countries plus 8GB of data for use within the EU. You can also top it up as needed.
Another option is the NETGEAR 4G Router which supports up to 20 devices. This one doesn't include a sim card so you'll need to select one from the list of travel sim cards above that supports MiFi devices such as the OneSimCard universal travel sim that works in over 200 countries.
If you're in the EU or UK, you can get a Huawei portable WiFi online. These portable WiFIs support up to 16 devices. They don't include a sim card so you'll need to pick one up or you can order it with a Smarty Sim Card that includes data roaming in Europe. Another option for those in the EU or UK is the TP-Link 4G LTE pocket WiFi. There is a range of models available, the cheapest being around £40, but doesn't include a sim card so you'll need to make sure you order one (such as the Smarty Sim card) that does support EU roaming.
I hope you found this guide to buying a sim card for use in Dublin, Ireland useful. If you're visiting other countries as well, make sure to check out my other sim card guides such as how to buy a sim card at Amsterdam Airport.
More Travel Tips & Resources