Buying a prepaid sim card when visiting Copenhagen or other areas of Denmark can help you save a fortune on roaming costs. Denmark is one of the most expensive countries in the world, so saving money on things like data roaming really helps you stay within budget. If you're traveling to other places within Europe, mainly those within the European Union you'll also be able to use these sim cards in those countries as well. Plus some of the sim cards covered in this guide, are usable in other countries.
If you're only visiting Copenhagen you may think you don't really need to buy a sim card, as there's free WiFi everywhere. But the problem with this WiFi is, it can be slow, unreliable and insecure. If you do choose to use free WiFi, sign up for a VPN. I personally use Proton VPN as they don't track you and their premium plan offers a fast connection speed. Proton VPN does have a free plan available if you're ok with the slower connection speed.
In this guide I cover how to buy a sim card in Copenhagen Airport (CPH), in Copenhagen city center, online, and in chain stores around Denmark.
How To Use a Prepaid Sim Card in Denmark
There are some restrictions on which sim cards you can use as a traveler/tourist. The 3 main smart phone companies: Nettalk, OiSTER and OK Mobile do not sell prepaid sim cards anymore and you can't sign up for their network without a CPR-Number (A personal registration number for people who live in Denmark). Even if you did get one of their sim cards, you wouldn't be able to complete the registration.
Due to that, you'll need to pick between Lebara and Lycamobile. These are both virtual networks (MVNOs) and use the Telia & Telenor Networks in Denmark. Both Telia & Telenor Networks have great coverage so d despite being restricted, you don't have to worry about a poor signal quality.
Will my phone work in Denmark?
The next thing is you should check whether your phone works in Denmark. Most phones will especially if you purchased them a new one in the last few years but it's still worth confirming you can connect to the Danish phone network just to be safe.
Denmark uses GSM networks which the majority of phones can work with, and Denmark has a range of frequencies. These frequencies are typically used in ITU regions 1 and 3.
Region 1 is Europe, Africa, Mongolia, The Middle East west of the Persian Gulf (includes Iraq) and the Commonwealth of Independant States. Region 3 is made up of most of Oceania, and non-FSU Asia east of and including Iran. Check this Wikipedia page for more information. Region 2 is the Americas, Greenland and the Eastern Pacific Islands. If you live in Region 2, definitely check your phone will work on any of the below frequencies. You may get limited to some of the slower network speeds, but to be safe make sure you'll be able to connect (otherwise you may want to rent a portable WiFi).
Here's a table showing the frequencies.
Network
Band Type
Three Denmark
3G: Band 1 (2100Mhz) and Band 8 (900Mhz), 4G: Band 3 (1800Mhz), Band 7 (2600Mhz), Band 38 (2600Mhz).
5G: 700Mhz, 900Mhz, 3.5Ghz
TDC
3G: Band 1 (2100Mhz) and Band 8 (900Mh). 4G: Band 3 (1800Mhz), Band 7 (2600Mhz), Band 20 (800Mhz) 5G: 3.5Ghz
Telenor DK and Telia DK (TT Network)
3G: Band 1 (2100Mhz), Band 8 (900Mhz). 4G: Band 3 (1800Mhz), Band 7 (2600Mhz), Band 20 (800Mhz). 5G: 700MHz, 900Mhz, 3.5Ghz
Next, check your phone is unlocked. If you're visiting Denmark from the UK or an EU country your phone will most likely be unlocked. If you're visiting from the USA, there is a higher chance your phone is locked so check to be safe. Some such as Verizon unlock their phones after 60 days (if purchased directly from them) but others require you to request that it is unlocked. You'll need to contact your network to check, and ask them to unlock the phone.
Also check how long the sim is valid for. Most of the sim cards in this guide give you a plan that'll work for 30 days, but some can be as short as 7 days. You can extend most of the prepaid sim cards by topping them up either via an app, or in a store. Some can be topped up online or using an app.
If you have a dual sim phone or choose to enable an eSim as a secondary sim, make sure you setup your phone to only use the data from the sim you purchased for traveling in Denmark. Otherwise you can be hit with a huge daa roaming bill!
How To Get a Free Lycamobile Sim Card in Copenhagen Airport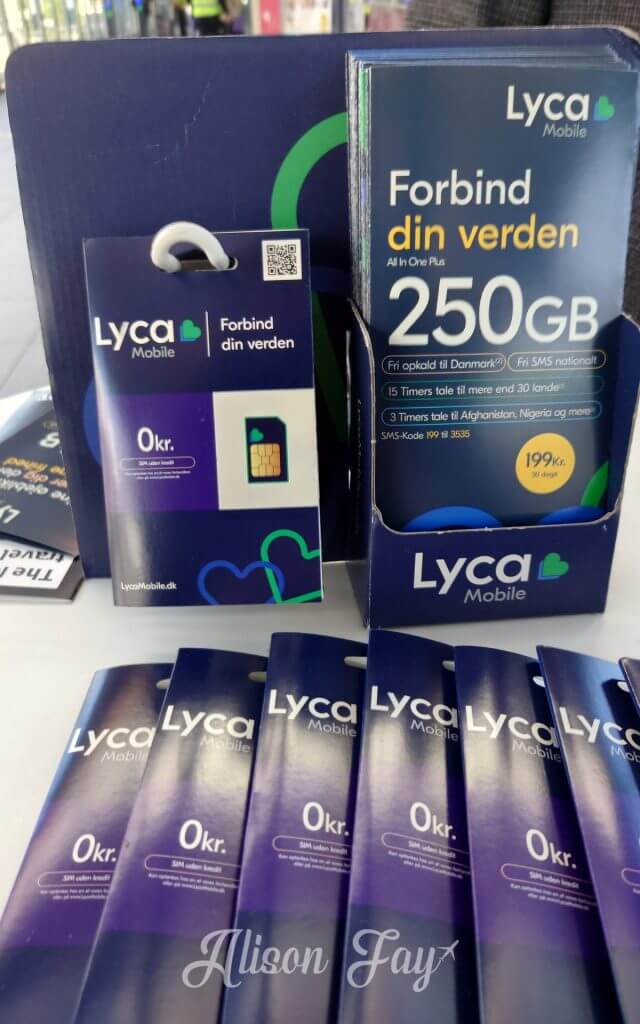 If you're flying into Copenhagen Airport, and want a sim card as soon as you land there's a few good options. My recommendation is to get one of the free Lycamobile sim cards from one of the stands. Lycamobile is a fairly reliable and reasonably priced.
These stands are normally located in the baggage claim area, and by the entrance to the metro. Taking the metro into Copenhagen is really easy, and affordable so I recommend opting for this over paying for an airport transfer. When you're walking to the metro, you'll see a blue stand advertising Lyca Mobile with sim cards for you to pick up. These sim cards are free, whereas if you buy the sim card in 7/11 or another store you'll pay around 29 Danish Krone (about $4.20 USD / 3.90 Euros). When you get the sim card, you can activate it and add credit via the Lycamobile website.
Lycamobile has a good selection of plans, starting from 19 Danish Krone (about $3 USD / 2.55 euro) per 30 days for 5GB data (for use within Denmark, 2GB of this can be used in the EU) and includes 2 hours of international calling to 50 countries + 5 hours to Denmark, the US, Canada, Australia, New Zealand and EEA countries.
If you want unlimited data within Denmark, I recommend getting the "All In One 179" plan which costs 179 Danish Krone ($25 USD / 24 Euro). This plan includes unlimited data and unlimited calling within Denmark. You'll also get unlimited calling to the EEA, USA, Australia, Canada and New Zealand. Plus 900 minutes international calling to 50 countries. The plan also includes 19.25GB of EU Data Roaming.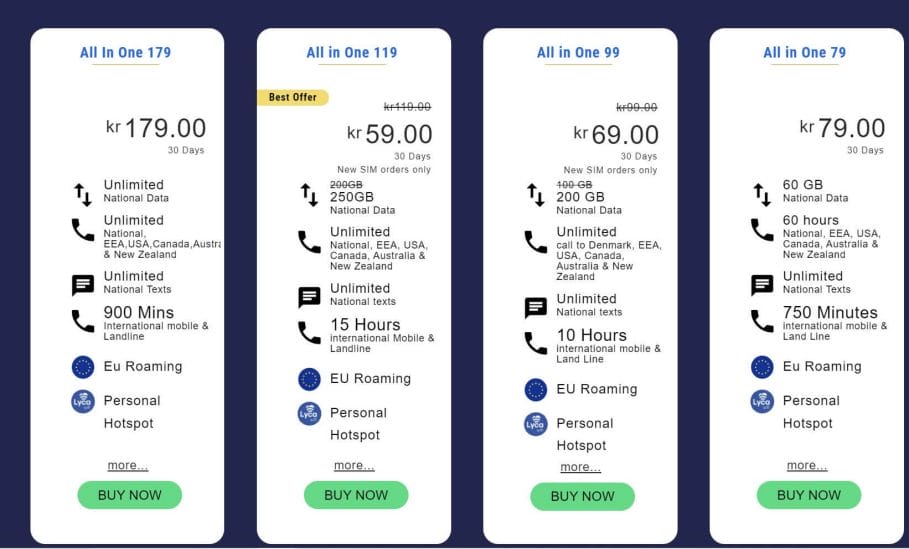 Note: You can only use Lebara sim cards in Denmark. They don't include any EU Data Roaming.
You can also get a sim card from the vending machine in the baggage collection area. There is a sim card vending machine here which sells Lycamobile sim cards and Orange Holiday sim cards. But if you're going to use Lycamobile then I recommend getting the free Lycamobile Denmark sim card from the stand near the metro station.
Orange Holiday sim cards are a European sim card, that can be used in 48 countries. This sim card is normally only available online from Amazon, but it is also available in Denmark in the airport. Although these cost more than they do on Amazon so if you do want one, I recommend just buying it before you come to Denmark. You won't get a Danish phone number with this sim card though so this isn't the best prepaid sim card if you need a local number.
The sim card comes with a 14 day plan, such as 20GB of 4G data and 120 minutes + 1000 texts from Europe to worldwide. After the plan has ran out, you can buy a top up online. There's a few different top-up options but they're quite expensive:
20GB of data + 1 hour calling + 1000 text messages within Europe is 43.4 Euros ($46.5 USD / 322 Danish Krone). The cheapest option is 20MB data, 2 hours calling and unlimited text messages within Europe for 5.5 euros ($6 / 40.90 Danish Krone). So these aren't really an affordable option.
All Orange Holiday sim cards are only active for a maximum of 30 day days unless you register. If you register as a customer, then they stay active as long as a top-up is made every 6 months.
For information on topping up your Orange Holiday sim card, go to their website here.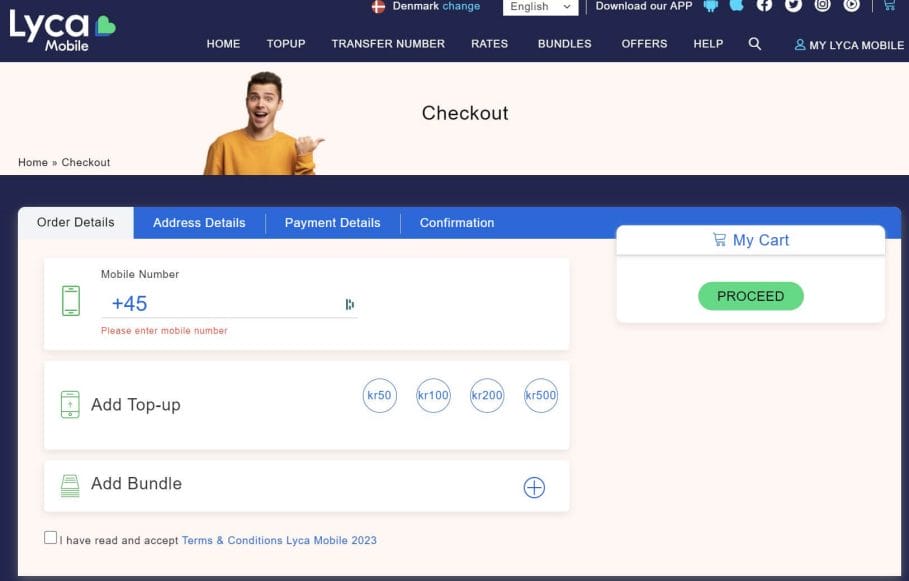 Buying an eSim for Denmark
eSims are a digital sim card, that are downloaded onto your phone. They're really easy to setup and are an affordable alternative to a prepaid sim card. If you have a newish phone (typically 2020 onwards), you most likely have eSims support especially if you're using a high end phone such as iPhone 13, Samsung s21/22 or Sony Xperia 1 IV. If you're unsure, you can check the list of supported phones here or just check on the manufacturers website if your phone can use one.
I personally love using an eSim in Denmark. If you only have 1 sim card slot you don't need to worry about changing out your home countries sim card for the travel sim. So less chance you lose/damage your main sim card, and you can still receive texts, phone calls etc to the main sim card if needed (which is great in case you need to receive a text/call from your bank).
Most eSims are data only though, so if you'd like to still call people you'll need to use something like WhatsApp or get a physical sim card that includes calling.
When it comes to prepaid eSims, I always use Airalo. Airalo sells eSims online for almost every country as well as regional & global sims on their website, and you can download them to your phones settings using their app. The cheapest sim cards last for 7 days, with up to 180 days for the longest duration. But you can top up/reload the eSim to continue using them.
For Denmark, they offer the following plans:
If you're traveling to other countries in Europe, you could consider buying their Europe regional eSim. They work in 39 countries and can be used in Denmark. They're really affordable, and Airalo is one of the best sim card options when it comes to price and ease of use for traveling within Europe.
Here's the list of Europe plans as of 1st Jan 2023: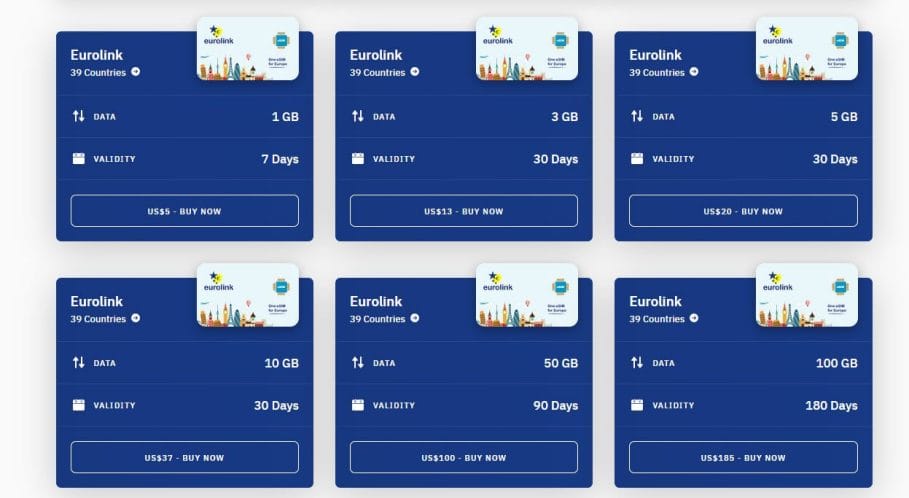 If you're not staying in Europe then you might want to consider their global eSim. These are a bit more expensive, but still more affordable than most international sim cards. But the cost per data is much higher than country/regional eSims so if you're a high data user you're better off purchasing individual eSim cards for each country you visit or regional eSim cards.
Here's the list of Global eSim plans Airalo has available as of January 2023:
Remember though, that these eSims are not "local sim cards" so you won't receive a phone number and cannot make calls.
How to Buy a Sim Card for Denmark Online
Another good option is to buy get a sim card online before you head to Denmark or to order one to be delivered to your accomodation. Getting a prepaid sim card online is a great idea as you research the best sim card for your needs and stay within your travel budget. Plus it saves you from wasting your vacation time finding a sim card store.
You can hire this unlimited 4G pocket WiFi and connect your phone to this. This is a great option if you're traveling as a group or with multiple devices, as it'll save money over buying multiple sim cards. The pocket WiFi can be hired for 3 to 10 days, and connects up to 10 devices. They'll also ship it to your accomodation so it'll be there when you arrive (just remember to confirm its OK to receive parcels).
You could also order a free Lycamobile sim card online from the Lycamobile Danish website. The sim card itself is free, but you must top up with at least 50 Danish Krone (about $7 USD/6.7 Euros). There's also 100, 200 and 500 Danish Krone top up options.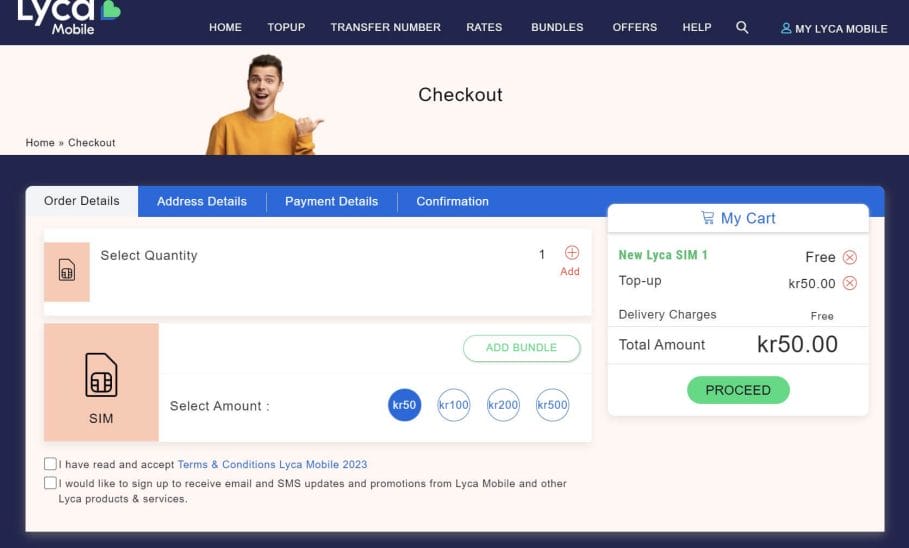 The top up can be redeemed against one of their plans. You can pay for this sim card using your credit or debit card, or American express but you may have to pay international transfer fees. To avoid these fees, I recommend using Wise for international payments.
You can also pick up an international sim card or European sim card from Amazon. You could buy this Orange Holiday Sim Card that has 20GB of data, 120 minutes and 1000 texts. This works throughout the EU so is a great option for roaming.
If you want an international sim card, you could purchase this OneSimCard Expedition International SIM Card which includes $5 credit and for Denmark (and most of Europe) the following packages are available:
$12 for 1GB data that lasts 30 days
$20 for 2GB data that lasts 30 days
$40 for 5GB data that lasts 30 days
Another good option for international sim cards is, Simify. They sell sim cards that can be used in Europe & the UK that includes both phone call minutes and data. They have the following sim cards available:
They also sell a prepaid global sim card that works in 120+ countries, includes 6GB of data, and lasts for 15 days. You can order the Simify Global Sim Card Here.
Using a Mobile WiFi Device in Denmark
If you're a digital nomad or traveling as a group, you may find it is cheaper to use a mobile WiFi (also called a portable WiFi or Mifi) device over buying individual sim cards for each device.
As mentioned before you can hire an unlimited 4G pocket WiFi, that can be used for 3 to 10 days. But if you're staying in Denmark for longer or travel a lot it can be cheaper to buy a device outright. So you could consider some of these options instead:
I hope you found this guide helpful and have a great time in Denmark. If you're still looking for accomodation in Copenhagen I recommend checking out the Urban Camper Hostel & Bar in the Nørrebro district of Copenhagen.
You could also consider some of the following tours:
More Travel Tips & Resources