The Cotswolds are an Area of Outstanding Natural Beauty and for a good reason. If you've never been before, think of honey-coloured houses, chocolate-box villages, breathtaking scenery and lots of history. Of course, the Cotswolds is a vast area, encompassing 6 different counties, so you won't be stuck for something to do.
The fabulous scenery means that you can do as much or as little as you like and still have the best time. And there really is something for everyone, whether you're younger, into history, walking or just a simple pub lunch.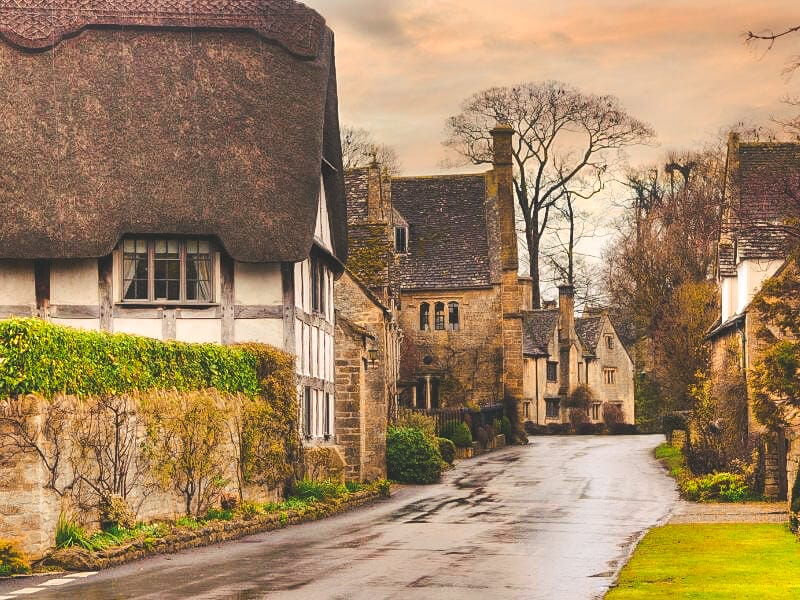 Countryside Walks in The Cotswolds
The Cotswolds are one of the most beautiful places to go for a walk. If you've got a lot of time and stamina, the Cotswolds Way is a great option.
This covers over 100 miles of breathtaking views, starting in Bath and ending in Chipping Camden. A similar length of water is the Gloucestershire Way which is 94 miles long and goes all the way from the Welsh border of Chepstow to Tewkesbury.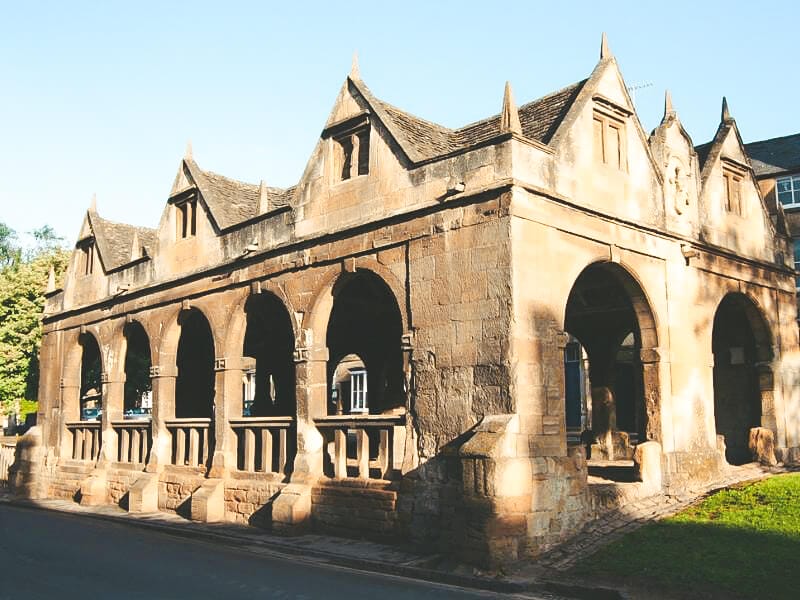 If you're strapped on time and energy, The Five Valleys Walk is much shorter, being a 20-mile circular walk. This covers a number of popular Cotswold towns and villages such as Chalfdord, Slad and Painswick. Of course, if all of this sounds slightly exhausting, a gentle stroll in any Cotswold village is an idyllic way to spend an afternoon.
Bibury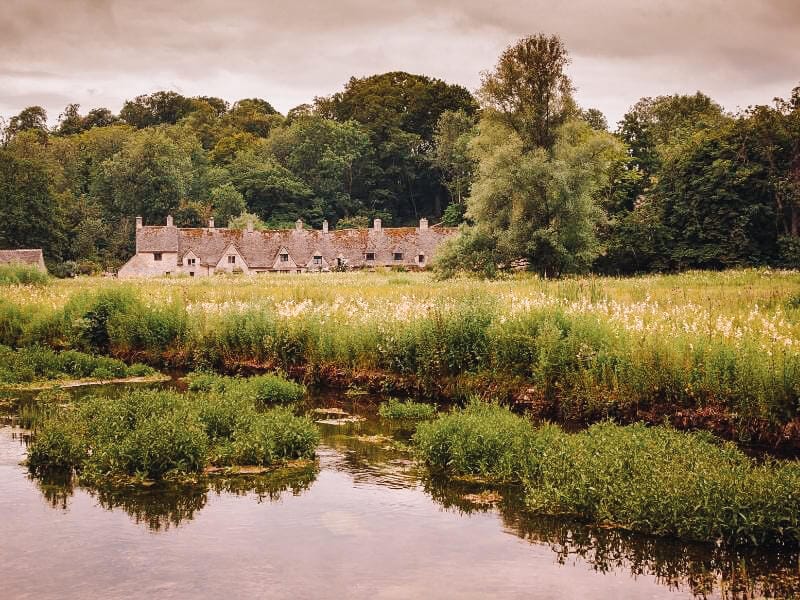 You've most certainly heard or seen Bibury before, especially as its key feature, Arlington Row features on the British passport. It is also said to be one of the most beautiful places in England. For a small village, there is a surprising amount to do here. Arlington Row is a small 14th-century wool store that was then turned into weaver's cottages in the 17th century.
This is a must-see as it's not only incredibly historic, it's also very beautiful. However, this is said to be the most photographed place in the Cotswolds so be prepared for other tourists.
If you're looking for something to do as a family, I would suggest visiting Bibury Trout Farm, is one of the oldest and most well-preserved trout farms in England. Here, you can catch your food and then have it cooked for you as well. The Swan Hotel is also the perfect place to end your trip and they have the best roast dinner on a Sunday.
Blenheim Palace
If you like history and architecture, Blenheim Palace is a must-see place. It's a UNESCO World Heritage site and the birthplace of Winston Churchill. Here, there are various gardens to visit and of course, a visit to the palace and all of its glorious rooms is a must.
You can even see the room that Winston Churchill was born in! Don't forget to visit the downstairs area and see what life was like for the servants of Blenheim Palace. Plus make sure to visit The Marlborough Maze, which is located in the palaces Walled Gardens and contains 2 miles of yew trees and makes for a fun activity for kids.
Tetbury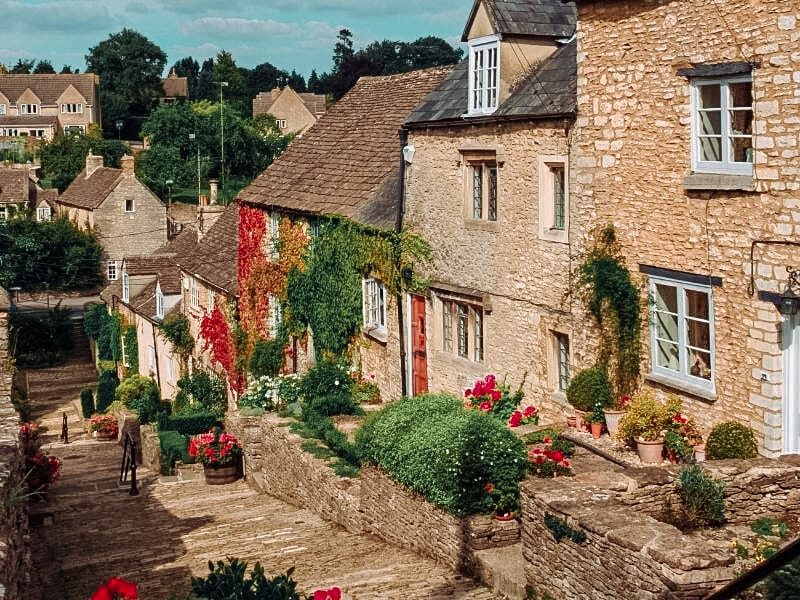 Tetbury is a Cotswolds town with oodles of history, 1300 years to be exact. The Chipping steps even date back to the medieval era. Now the Cotswolds isn't always the quietest area to visit, especially in the height of the summer. If you're wanting to avoid the crowds of Bibury and Blenheim Palace, Tetbury is the perfect place for a quieter trip whilst still keeping all of the Cotswolds appealing characteristics.
Tetbury is also a great place to stay, with it's selection of beautiful hotels and holiday cottages in Tetbury and it's surrounding villages. If you love the idea of staying somewhere historical, then why not why at The Bothy at The Bothy Beverston Castle? The Bothy has been converted into a beautiful holiday home with 1 double bed. There's also The Butlers Bungalow, which has a large double bed and a single bed.
The castle was originally built in 1225 by Maurice de Gaunt without permission, then in 1229 Henry 3rd of England signed a document allowing the castle to stand and remain forever. Previously, the castle has been the site of great battles and there is even some indication that the Romans once inhabited the area. So if you love history, I'd highly recommend staying here so you can see what this castle has to offer.
Another option, is The Hare & Hounds Hotel which is just down the road from Tetbury in Westonbrit. This hotel is a traditional style country house hotel, and is surrounded by beauitful countryside. They also have rooms available with disabled access, so if you have any access needs I'd recommend contacting them to discuss this option.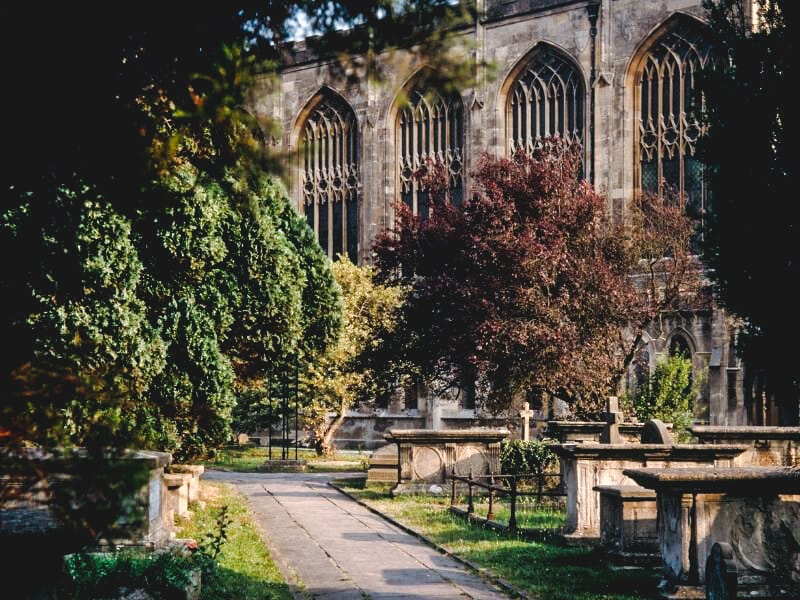 Tetbury is in fact an old historic wool town with some houses dating back to the 16th century so combined with the medieval Chipping Steps, there is lots of history to soak up. The Tetbury Police Museum is a great free attraction which is situated in the town's original police station. Not only can you have a look inside the police cells but it's also a great place to teach any budding police officers about the police in the local area. On the outskirts of Tetbury is Chavenage House, built in 1576. Inside, one of the rooms even contains a tapestry from the 17th century. Most famously, this was a filming location for the TV show, Poldark.
Highgrove Gardens near Tetbury is a popular place of interest among fans of the Royal family. It is the private home of the Prince of Wales and The Duchess of Cornwall. The gardens have been developed over the past 40 years and have now become an important place for both flora and fauna. Whether you are a fan of the Royals or not, you won't regret a visit to these incredible gardens.
Bath
This UNESCO World Heritage city is the perfect place to visit if you're coming to the Cotswolds. Not only does it have beautiful architecture and history but there is also just so much to do. Begin your day off with a stroll around Bath, taking in the magnificent Georgian buildings. Shopaholics will love the shopping here with all of the popular high street shops as well as lovely independent ones. A tour of the Roman Baths should be an essential part of your visit which contains the well-preserved remains of an ancient bath complex from Roman Britain.
If you're a fan of Jane Austen, you should definitely visit the Jane Austen Centre. Here you can learn more about the author's life in Bath, dress up in period costume and have your photo taken with the Jane Austen wax model. You could also combine this visit to the Regency Tea Rooms to sample one of Bath's best afternoon teas. Plus, if you book tickets for the centre online through GetYourGuide you'll receive a 10% discount on your food at the Regency Tea Rooms.
Book your tickets to the Jane Austen Centre
If you're looking for a more relaxing way to spend the day, then the Thermae Bath Spa in Bath is perfect. This really is a next-level spa experience with a Georgian and Roman steam room, Infrared Room, Ice Chamber, Relaxation Room and Experience Showers. This isn't even including any treatments you might like, the indoor pool and of course, the famous rooftop pool. This has stunning views over the rooftops of Bath and is overall a very special way to spend the day. When you've finished with the Spa, you can head over to the restaurant (still in your robe!) for a delicious meal. Next, you could hop on a 1-hour boat trip along the River Avon whilst enjoying a glass of prosecco whilst admiring the beautiful architecture and other sights along the river.
You can also choose to explore Bath with a guided walking tour that'll let you explore the Roman Baths to get a glimpse into how the Romans lived. You'll also visit the Royal Crescent, and the Pump Rooms and get a chance to admire Bath Abbey, Pulteney Bridge and more of Bath's historic sights. During the tour, you'll learn about Bath's history and learn about its Georgian architecture.
Bath is a great place to stay, offering easy access to both the Cotswolds and Somerset. There are tons of hotels and B&Bs for you to choose from. If you'd like to stay in an area that Bath is famous for, then you should stay at The Royal Crescent Hotel & Spa, which is located in Bath's Royal Crescent. This 5-star hotel is really stunning, and offers you access to a spa, gym and beauitful gardens. Plus there's a great restaurant and cocktail bar on site.
If you're on a lower budget, then I'd recommend staying at The Z Hotel. It's in a great location, right across the street from the Bath Theatre Royal and is right by The Circus and Roman Baths. They include free WiFi. Although some rooms don't have a window, so you might want to pay for one of the better rooms. But if you're like me and are out exploring all day this isn't really a problem.
Another budget friendly option is the YHA Hostel, which offers female-only and male-only dorms. Breakfast is available for an extra £9.95 a day, or you can make use of a shared kitchen. The hostel is located a bit further out from the centre, on Bathwick Hill. But there's a bus stop nearby and it only takes a few minutes to get into the city center by bus. Plus, you're right by Bathwick Meadow which gives some stunning views over the city.
Oxford
Oxford not only has incredible architecture but also history and shopping. It makes for a great day trip from The Cotswolds or Bath. It is most well-known of course, for Oxford University, the oldest English-speaking University along with its extraordinary architecture. Why not take an Oxford University tour followed by a cruise down the river in the afternoon?
If you'd love to learn more about Oxford, I recommend taking a private tour that'll let you explore the beautiful city and really delve into its history. During the tour, you'll see the best of what Oxford has to offer including the Carfax Tower, the Tom Tower, Sheldonian Theatre, and many of Oxford's colleges plus the tour includes entry into one of Oxford's colleges. If your budget can't quite stretch for the private tour, there's always the Official Univerisity and City Tour which also covers many of Oxford's sights, including Trinity College, the Sheldonian Theatre and Bodleian Library.
For Harry Potter fans, I recommend taking the Harry Potter Insights tour which covers many of the filming locations throughout Oxford plus you'll visit the Divinity School.
If you're planning on staying in Oxford and are on a budget then I recommend checking out the EasyHotel. These are budget hotels, so they tend to be quite basic but from my experience with staying in EasyHotels in multiple locations they're always clean, and the bed are comfortable. They also offer rooms with disability access, and these are at the same price as the rooms without disability access so definitely check the EasyHotel out if you have any access needs. The EasyHotel is a bit further from Oxford's city centre but there is public transport nearby and they do offer parking (at £12 per night as of August 2022).
If you're on a higher budget and would love to stay in the heart of Oxford, then why not check out the The Randolph Hotel? Built in 1864, this hotel has become an iconic building in Oxford with it's Victorian Gothic architecture. Plus it's in a great location, right by the University of Oxford colleges, and across the street from the Ashmolean Museum. They also include private parking, free WiFi and have a spa and wellness centre available.
Daylesford
Daylesford Organic is the perfect place to spend a day. Not only does it have amazing gardens and shopping, but 2 restaurants as well that could well be some of the best in the whole of the Cotswolds. Spend the morning here wandering around the gardens and picking up a few deli items in the shop and finish it off with a delicious lunch. You won't regret visiting here!
Cirencester
Cirencester was not only the capital of Roman Britain but also said to be the Capital of the Cotswolds. There's a surprising amount to do in Cirencester despite it only being a small town. If you're a shopaholic, you have to visit the small boutiques and homeware shops here, French Grey is a favourite. Knead bakery, a few metres down the road from French Grey is a superb bakery which rivals the likes of London bakeries.
For history buffs, the Corinium Museum is a must if you're interested in Roman history. It houses the remains of many mosaics as well as many collections of Roman items. The amphitheatre is also a great way to combine history and a scenic stroll. Although it has not been uncovered, you can easily judge just how large and magnificent it would have been, with the capacity to hold up to 8,000 spectators.
There's also the Chedworth Roman Villa, about 20 minutes drive from Cirencester and is a must-visit for any history buff. There are lots of Roman remains from this area, and Chedworth Roman Villa is one of the best Roman villa's standing today. Circencester itself was the second-largest town in Engalnd during the Roman times so there's tons of roman history throughout the area.
If you're looking for somewhere to stay near Circenceters town center on a low budget, then you should check out The Barrel Store. This is a hostel that offers a range of private rooms including family rooms, and is one of the best rated places to stay in the town center when on a budget. The hostel gives you access to a shared kitchen, and free WiFi. Plus, it's only a few minutes walk from the Corinium Museum and the Bathurst Estate & Circenster Park.
For those on a higher budget, in the town center you'll find The Kings Head. This 4-star hotel, has a restaurant, bar, and treatment + relaxation rooms available. The hotel is located meters from The St. John Baptist Church and Circenester Abbey Gardens. Plus the Corinium Museum is just a few minutes walk away, and there's tons of pubs, shops and restaurants nearby.
Lacock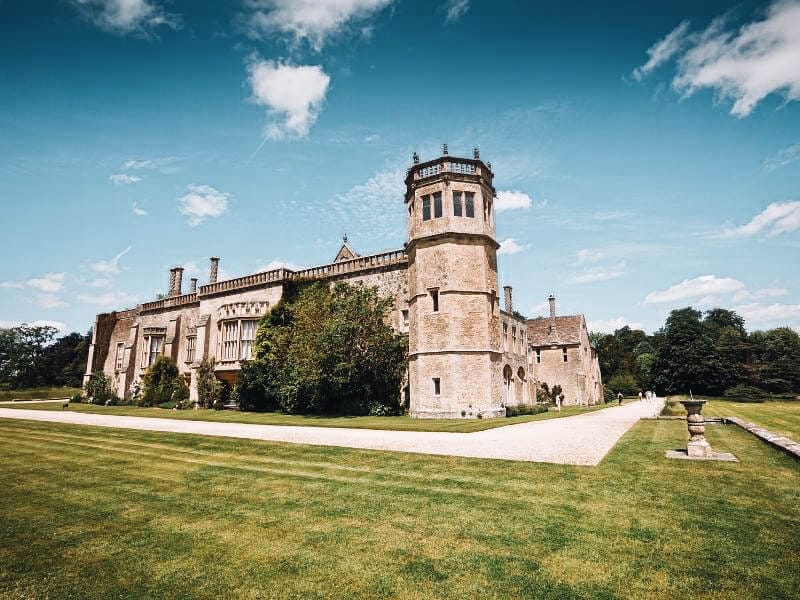 Lacock is one of the oldest villages in England with it even being recorded in 1086 in the Domesday Book. Lacock Abbey is a point of interest here as not only does it date back to the 13th century but it was also used as a filming location for Harry Potter. It's not just Harry Potter that was filmed here as it also boasts Pride and Prejudice, Cranford, Wolf Hall and Downton Abbey the movie. You can see why such a small place has a rich cinematic history when you see the buildings of which many date back to the 15th century.
From thatched cottages to timber buildings, you'll be in awe at just how beautiful Lacock is. If you're looking for a lunch spot, make sure to check out The Red Lion. Not only is it historical, dating back to 1875, but it also serves great food right by a cosy fireplace and offers a selection of rooms for guests to stay in. Another good place to stay, is The George Inn which offers adults-only accomodation plus free private parking.
Book a day trip to Bath, Lacock and Avebury Stone Circle
If you're planning on visiting the Cotswolds from London, then I recommend booking a tour that includes a trip through Lacock. There are a few tours available such as one that visits Bath, Lacock and also Avebury stone circle. Avebury is quite like Stonehenge but I personally think it's better, and it's quieter with fewer restrictions so you'll be able to explore more.
Book a day trip to Windsor Castle, Stonehenge, Lacock & Bath
If you'd like to visit Stonehenge then I'd recommend a tour that includes Stonehenge, Lacock, Bath and Windsor Castle. This way you get to see one of the best castles in England, as well as some of the South West's beautiful sights.
Cheltenham
Cheltenham is a spa town that was founded in the 1700s due to the discovery of the town's mineral-rich natural springs. This led to its rapid expansion during the Regency Era and is now said to be the complete Regency town. Cheltenham is known for its exquisite shopping, with the Montpellier district being well-known for more luxury shops and boutiques. There is also the Regent Arcade which has all the main high street shops. If you've got kids, you can't miss the Wishing Fish Clock in the Regent Arcade that blows bubbles at intervals throughout the day – they will love it. You can't miss out on the various festivals that Cheltenham puts on throughout the year. Music fans will love the Cheltenham Jazz Festival and Music Festival.
Cheltenham Literature Festival is the world's first literature festival and is spread out over an impressive 10 days. The Science Festival attracts the world's best scientists to Cheltenham to try and learn more about the world. This one is great for kids and is very interactive.
If you'd like to stay in Cheltenham, The Citrus Hotel is a budget-friendly hotel that is located just a few minutes walk from the town center. The hotel is quite basic (which is normal for budget hotels) but you do get a continential breakfast and free Wifi, plus private parking is available for £8 a night. Another great option near the town center is the Crossways Guest House, which is one of the best rated guest houses in Cheltenham. This guest house includes a private bathroom, free WiFi, breakfast with each room plus a free parking permit for on street parking.
Bourton on the water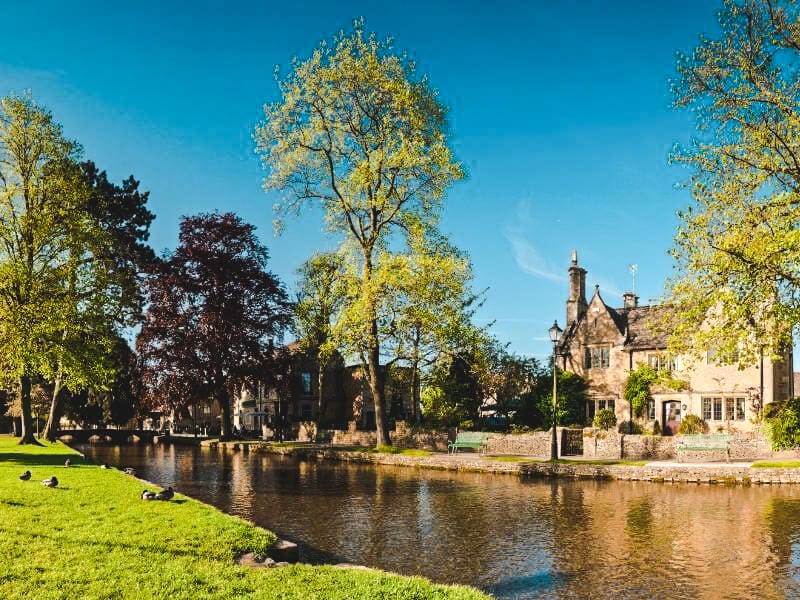 When you think of the Cotswolds, Bourton-on-the-Water is surely one of the first places that you think of. From pretty houses to a shallow river, perfect for children to paddle in on a hot summer's day, it's an idyllic place to spend the day. If you're wanting to take advantage of the beautiful view of River Windrush, afternoon tea by the river is the way to go. Various tea rooms offer it by the river, offering delicious delicacies as well as stunning views of the river and its various bridges.
If you're looking for something to do, the Model Village at the Old New Inn is a great way to spend a morning. The Model Village is based on the town in the 1930s and it's made from the same Cotswold stone that all the actual buildings are made from.
Ultimately, a walk along the pretty river and taking in the beauty of the architecture is a lovely enough way to spend your day if you're looking for something more relaxing. Just one caveat, however, is that you're unlikely to be without other tourists here, so avoid it in peak season if you're looking for a more stress-free experience.
Bourton-on-the-Water is a great place to stay, with it's relaxed atmopshere and beautiful countryside. If you're looking for a well located, budget-friendly hotel then check out the Old Manse Hotel. The hotel has a riverside terrace, and Greenie King bar available serving real ales. Full English breakfast is available for an extra cost, or you can upgrade your room to include this at booking. The hotel is located along the River Windrush, and is only a few minutes walk from Bourton-on-the-Water High Street, The Model Village and many of it's public footpaths.
Another good option, is the Halford House that is one of the best-rated guest houses in Bourton-on-the-Water. The guest house is located right by the high street and The Model Village. Plus Birdland Park & Gardens is only about 10 minutes walk away.
Slad Valley
If you're a fan of Laurie Lee and the BBC adaptation of 'Cider with Rosie' then you'll love the Slad Valley. You can walk in the footsteps of Lee with the Laure Lee Wildlife Way which is a 5-mile circular walking route. Experience exactly the same landscape and views that made up Laurie Lee's life during the early 20th century. The Woolpack Inn also makes a great stopping-off point for lunch on this walk.
Downton Abbey Filming Locations
The Cotswolds is home to various filming locations that were used during the making of Downton Abbey. There are 3 must-visit locations if you're a Downton Abbey Fan; Swinbook, Burford and the nearby Bampton (where Highclere Castle is located). Whilst Burford isn't actually in Downton Abbey, it is one of the prettiest towns in England and is located right on the border between the Cotswolds and Oxfordshire. This makes it really well worth visiting plus you'll most likely pass through on your way to/from Highclere Castle, so make sure to stop and explore the town.
Swinbook was used in Downton Abbey to film a major scene during season 2 at The Swan Inn, when Lady Sybil and Branson stayed here the ngiht before they attempted to elope to Gretna Green.
Bampton is one of the UK's oldest villages and many locations throughout the village, were used during the filming of Downton Abbey. The Churchgate House was used as Isobel Crawley's Home, the Church View housed The Grantham Arms and The Dog & Duck pubs. The Bampton Community Archive was used as Downton Hospital and has a shop plus exhibition open to the public. You can also visit St. Mary's Church which was used to film many important moments in the Crawley family's life in Downton.
Near Bampton, you'll find Highclere Castle which is a must-visit for Downton Abbey fans and history fans alike. It is, of course, a major filming location for its TV series and movies but the inside is also equally as interesting. From extravagant staterooms to the servant's quarters, and between 250 and 300 rooms, there is so much to see. Highclere Castle is very rich in history with the first records of the estate dating back to 749 and it was also converted into a hospital for soldiers during the First World War. During the Second World War, it was also home to many children who were evacuees from London. If you follow the stairs down to the cellars you will find the Egyptian Exhibition which celebrates the 5th Earl of Carnavon's discovery of Tutankhamun's tomb.
If you're staying in Oxford, then I highly recommend booking a tour that covers the Downton Abbey filming locations. During this tour, you'll take a day trip that covers Bampton, Highclere Castle and also Burford and Swinbook. You'll see many beautiful locations throughout The Cotswolds and Oxfordshire plus see where Downton Abbey was filmed. For Downton Abbey fans staying in London, I recommend booking a full day tour that covers the main filming locations including Bampton, and Highclere Castle as well as a visit to Oxford.
Food in The Cotswolds
If you're a foodie, whilst visiting The Cotswolds there are a few local dishes that you should definitely try out. These include Bilbury Trout, Stinking Bishop cheese, and Tewkesbury mustard, and of course enjoy a cream tea (especially if you're visiting Bath). You could also do a food walking tour or partake in classes where you can learn to bake things such as waffles and scones.
The Cotswolds also has some locally made spirits produced by The Cotswold Distillery, which specializes in whisky and gin but also some other spirits like vermouth and summer cap. The Cotswold Distillery has a visitor center in Stourton, that is open most days from 9 am to 5 pm. They also have some shops in Stourton, Burton-on-the-Water, and Broadway. For more information, visit their website.
Outdoor Activities in The Cotswolds
Whilst the Cotswolds is a great place to unwind, and enjoy it's peaceful tranquility if you're looking for some more exciting, adrenaline pumping activities do whilst visiting you should check out my suggestions below:
Go Paddleboarding – there are a few different options for paddleboarding in and around The Cotswolds. If you're new to paddleboarding then you could take part in this Learn to paddleboard class which takes place in Defford, where you'll receive guidance on paddleboarding and be able to build your confidence. You could also go paddleboarding in Bath, along the Kennet and Avon canal. During this tour, you'll paddle see the city's Georgian architecture from a different point of view, and possibly spot some wildlife.
Go mountain biking – Mountain biking is a great way of getting to see The Cotswold's beautiful landscapes whilst getting an adrenaline rush. If you don't have your own bikes, then I recommend checking out this mountain biking for two experiences where you'll be supplied with an eBike and guided offroad through the Cotswolds by an experienced mountain biker.
I hope you found this guide helpful. Please let me know in the comments below how your trip to The Cotswolds went.
More Travel Tips & Resources