Beautiful Georgian architecture, Roman & thermal baths, a double UNESCO world heritage site, and the home of Jane Austen – the beautiful city of Bath offers a treasure trove of experiences. With a more relaxing atmosphere than the nearby city of Bristol, Bath is a beautiful vibrant city with a vast history, and lots to offer.
Located in the heart of Somerset, you'll find the beauitful city of Bath. With it's blend of ancient history dating back to the Romans and it's modern charm the city offers a treasure trove of experiences. Renowned for its stunning Georgian architecture, Roman Baths, a double UNESCO World Hertiage site and the home of Jane Austen, the city offers an unforgettable journey through time.
From the famous Roman Baths to the opulent Royal Crescent, this guide covers the top things to do and see in Bath and discover what Bath and the surrounding areas has to offer.
Visit The Roman Baths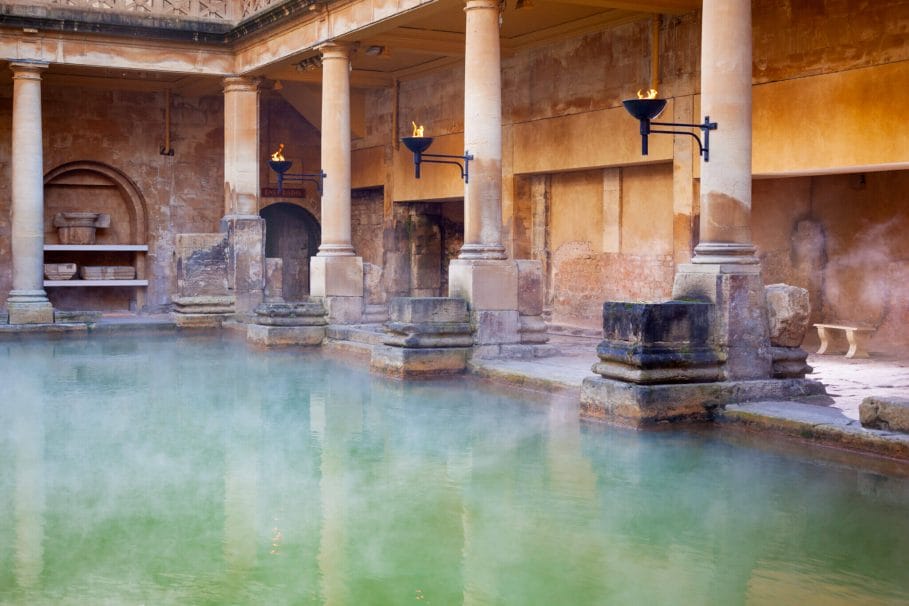 One of the most popular attractions in Bath, England is The Roman Baths. This historic site is an important part of the city's cultural history and is recognised as a UNESCO World Heritage Site. This well-preserved historical site offers a unique glimpse into Roman history and architecture. You'll have the chance to see how the Romans once lived, and relaxed in the city and learn more about the city of Bath as a whole.
During your visit you will get to walk around the ancient baths, see the hot springs and understand how the Romans used them for relaxation and their health. Though sadly, you can't take a dip in The Roman Baths. But if you do you want to indulge in a spa treatment, then the Thermae Bath Spa is just next door, allowing you to continue your relaxation journey in the heart of this beautiful city.
Relax At The Thermae Bath Spa
If you're looking to relax whilst in Bath you could visit the Thermae Bath Spa. The Thermae Bath Spa is the only natural hot springs in Britain and combines ancient healing traditions with modern luxury. Treat yourself to relaxing therapies, go for a dip in the mineral-rich waters, or ease your tension in the saunas and steam rooms. Additionally, the open-air rooftop pool offers jaw-dropping views of the city's historic architecture, including the striking Royal Crescent.
You can also relax in the open-air rooftop pool, which offers breathtaking views of the city's historic skyline, especially the iconic Royal Crescent. The Thermae Bath Spa features many experiences ranging from massages to hydrotherapy, and even a steam room, making it the perfect destination for a day of complete relaxation. Learn more about visiting the Thermae Bath on their website here.
If you're a wheelchair user, the Thermae Baths are wheelchair accessible with lifts, ramps and sloping corridors. They have poolside wheelchairs available for you to borrow for you to access the spa facilities. They also have a unisex accessible changing room with a shower and toilet (but no adult changing table). They can lower the therapy beds but here's no hoists to help you transfer. They have more information in their Accessibility Information PDF here. If you/someone in your group does have accessibility requirements I recommend contacting them first. You can find their contact details here.
Enjoy a picnic at Bath's Parade Gardens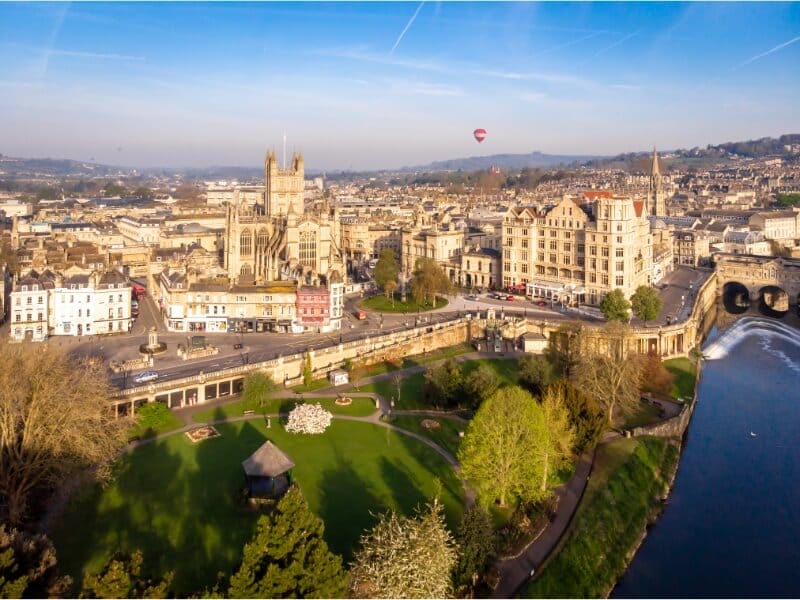 Located in the heart of the city, Bath's Parade Gardens offers a peaceful place for you to relax, enjoy a picnic or a quiet walk away from the busy Grand Parade that runs alongside the park. You'll find a bandstand, plenty of benches and some historical statues such as the King Edward VII Memorial which was relocated here in 1933.
The gardens were originally known as "St. James's Gardens", and was originally created to accompany an Assembly Room that was used by visitors to Bath. The gardens were originally only accessible to subscribers, but in the 1930s the park changed ownership, a ticket booth was added and the park became open to the public (for a small fee). When visiting the park you can enjoy relaxing on the greenery, enjoying views over the River Avon, towards Pulteney Bridge and the weir.
Park entry fee:
£2 for Adults
£1 for students and senior citizens
£1 for children aged 5 to 16 years old
Children under 5 enter for free
Free entry for Bath and North East Residents with a Residents' Discovery Card
Walk Along The Grand Parade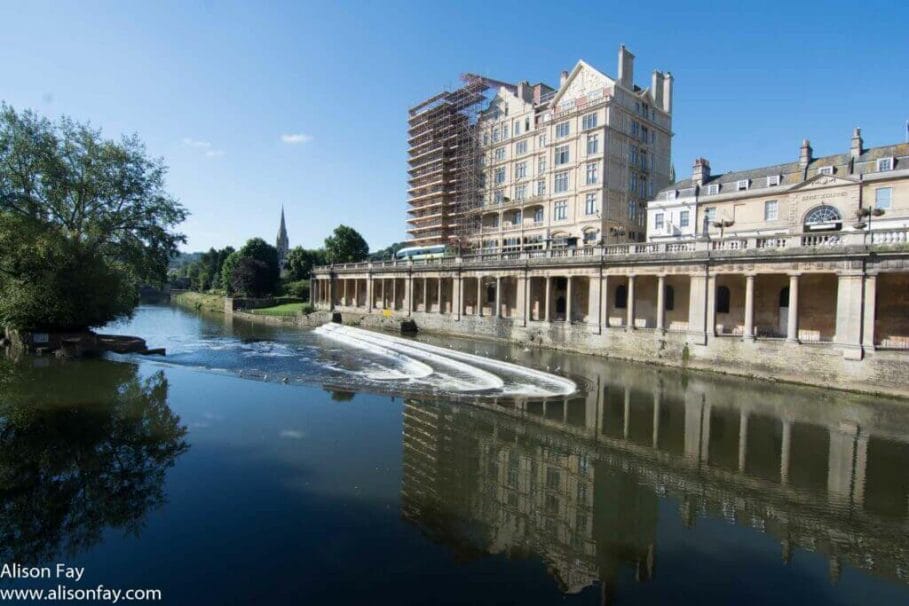 The Grand Parade is one of the most famous streets in Bath, and is a great starting point for a trip to Bath. The street is home to many of Bath's famous historical buildings such as the Victoria Art Gallery; which opened in 1900 to commemorate Queen Victoria's diamond jubilee. The Grand Parade offers views and access to the Parade Gardens, and Pulteney Bridge. Infact the Grand Parade offers one of the best photo spots for taking pictures towards Pulteney Bridge, and is easily one of the most Instagrammable locations in Bath.
If you'd like to stay near The Grand Parade, Bath Backpackers offers beds in mixed or female-only/male-only dorms from $22 a night. The hostel is located only a 3 minute walk from The Grand Parade and 2-minutes walk from Bath Spa train station. Alternatively if you want a private room, the highly rated Abbey Hotel Bath is only a 3-minute walk away and offers stylish modern rooms, with free WiFi and private bathrooms.
Go Shopping on Pulteney Bridge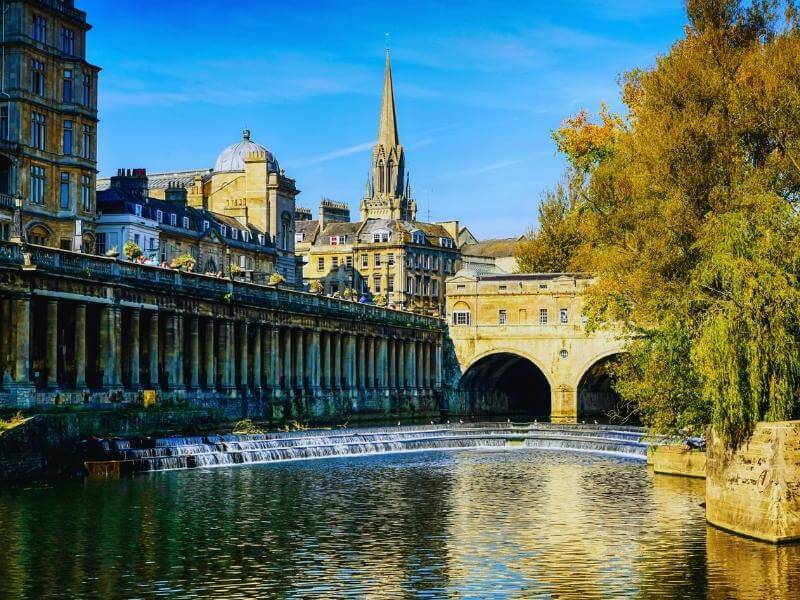 Pulteney Bridge was built in 1774, and is one of only 4 bridges in the world that have shops built into the bridge. The bridge was designed by a famous Scottish architect, Robert Adam who was most known as the leader of first phase of the classical revival architecture and helepd infulence the development of Western style architecture across Europe and North America.
As you stroll along the bridge, make sure to explore the shops such as The Antique Map Shop where you can purchase authenticated antique maps, and vintage globes. After some shopping, you could grab a bite to eat at the Pulteney Bridge Coffee Shop and enjoy views over the River Avon whilst you eat.
The bridge also offers access to the east side of the river. Just follow the signs to the steps that will allow you to get closer to the water's edge and stroll alongside the River Avon. If you are disabled, there is an accessible entrance signposted as well so everyone can explore this area of Bath. Once down by the water's edge, you'll be able to enjoy the view of the Grand Parade, and its magnificent buildings.
You can also choose to follow the canal and riverside walk, which takes you alongside the river until you join onto the Kennet and Avon canal. Here you can enjoy a peaceful walk, before ending up back at the city. The entire circular loop taking the exit at Bathwhick Hill is around 1.55miles (2.5km) long. During this walk you'll also get to stroll along Great Pulteney Street which is the longest and widest street in Bath.
If you're a wheelchair user and wish to do this loop you'll need to exit the canalside before Bathwhick Hill as there's only steps at this exit. There is a step-free exit across the bridge by Lock 13 just before Top Lock Cottage or earlier on at Pulteney Bridge Gardens (before Pump House Chimney).
You could also choose to continue to follow the canal path further into Bath. There's a selection of trails on Alltrails which you can download to your phone and follow such as this 16km long hike that'll take you along the canal through Bathhampton, Claverton and Bathwhick.
Cruise along the River Avon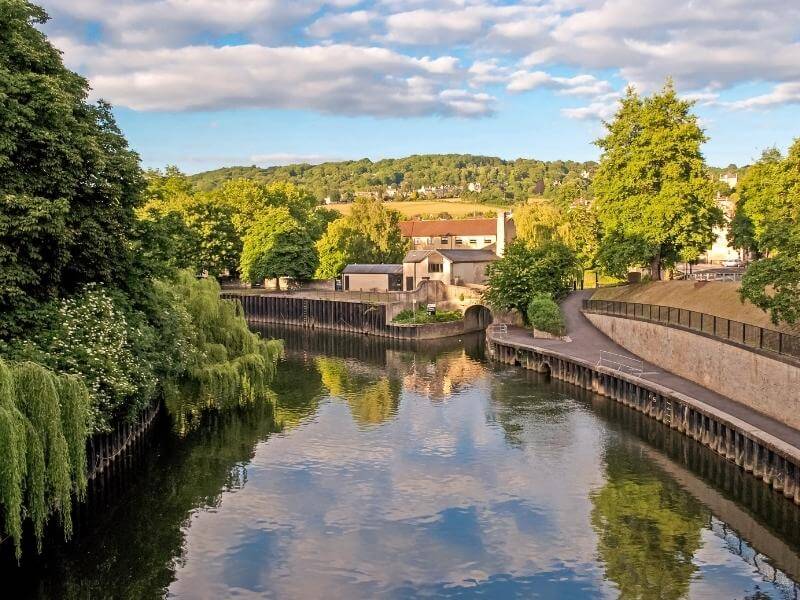 A great way of exploring the city and one of the best things to do in Bath is to take a sightseeing cruise along the River Avon. You could consider this highly rated sightseeing cruise, where you'll ride along the river in a 1960s river cruiser boat, and enjoy Prosecco as you passby the Bath Abbey, Putleney Bridge, and more of Baths famous landmarks.
Walk along Great Pulteney Street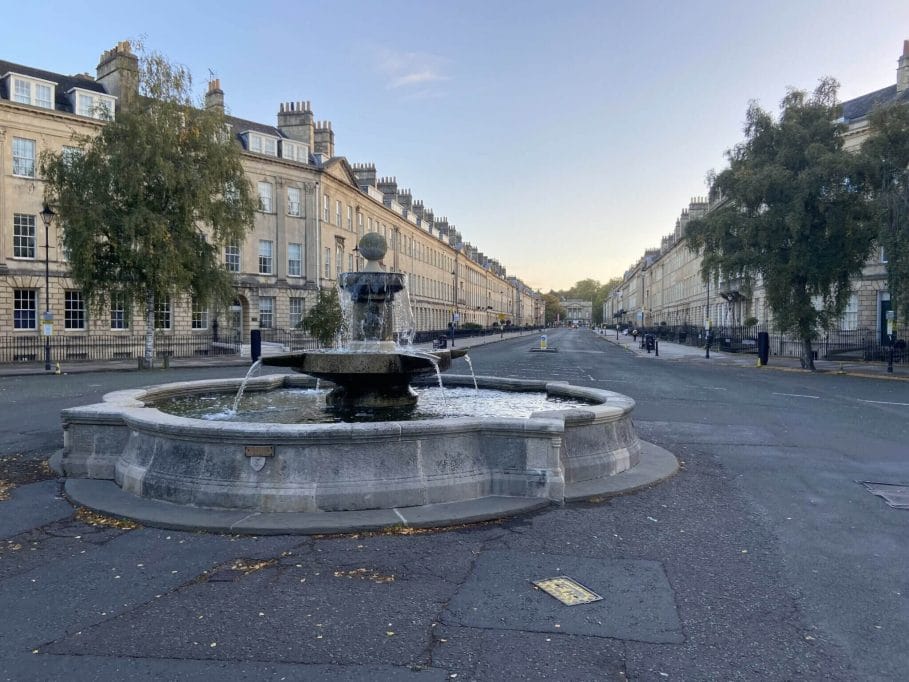 Great Pulteney Street is over 1000 feet long and 100 feet wide (304 meters long, and 30.4 meters wide). Making it the longest and widest street in Bath. Each side is lined with buildings from the Georgian period, giving you the chance to view some of the greatest examples of Bath's architecture. At the end of the street, you'll find a fountain and the Sydney Gardens; the only 18th century park to remain in the UK plus the Holburne Museum which is located in the gardens.
Visit the Holburne Museum
The Holburne Museum was used as the filming location in Bridgerton, and is Lady Danbury's house. So if you're a Bridgerton fan make sure to add this to your list of filming locations to visit whilst in Bath.
The Holburne Museum was the Bath's first public art gallery, and is still operating today with a collection of over 4,000 archiacts and different exhibitions being held throughout the year. Whilst at the museum, you can learn more about Bath as well as the Holburne's family life in the city. Through the newest collection you can learn about their involvement with the slave trade and their carribean plantations. As well as the anti-slavery resistance that built in Somerset, and the work done by those who helped abolsih the slave trade such as Charles Ignatius Sancho, an African-British literary, political and cultural figure.
For more information on "The Holburne Family and Carribean Plantation" exhibition, visit the museums website here.
Tickets for the museum can be purchased online, and it costs £11 per adult (or £12.50 if you wish to donate). Click here to get your tickets.
Visit Bath Abbey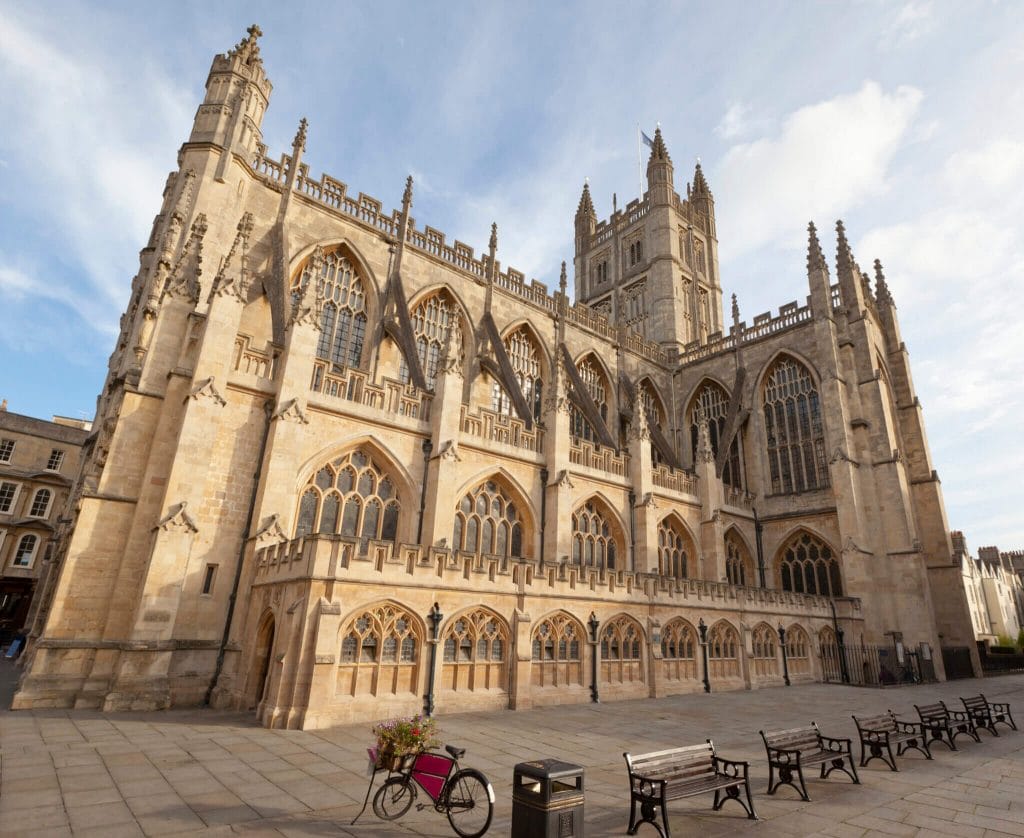 The Abbey Church of Saint Peter and Saint Paul, or in short Bath Abbey was the last great Cathedral to have been built in England. The Abbey is said to have been founded after the Bishop Oliver King arrived in Bath in 1499. He dreamed about angels descending and ascending above him which were included in the design. When you look at the outside of the abbey, you'll see ladders with angels climbing up and down them; which were designed using inspiration from Oliver King's dream. In 1539, King Henry the 8th ordered for monastries across England and Wales to be dissolved and this led to Bath Abbey being stripped of its valuables including the stained glass windows and the lead roof. Bath Abbey was left in ruins for 70 years, before work restarted and the construction was eventually finished in 1611.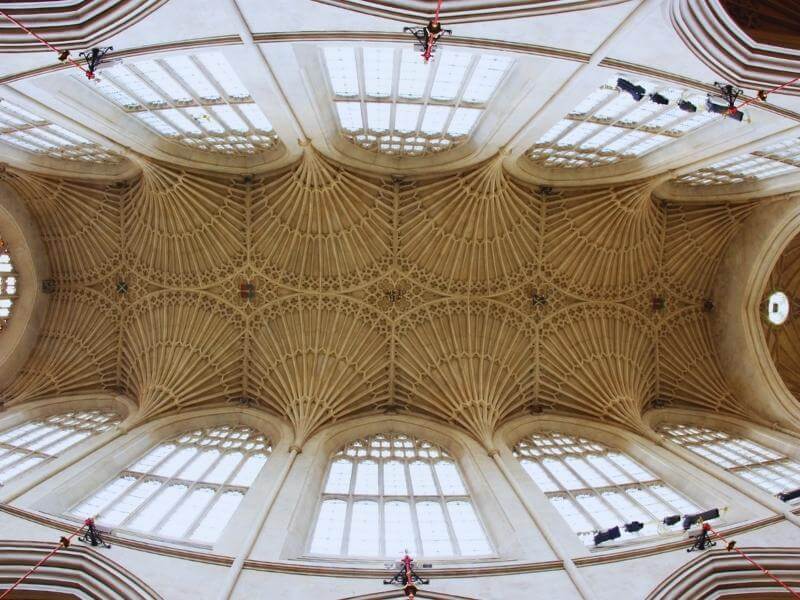 Today, the Abbey is a great example of Gothic Architecture due to it's beautiful stained glass windows, and fan vaulting on the cieling. The Abbey itself is open almost daily to the pubilc, as a place of worship with services scheduled throughout the day. Bath Abbey will close at certain times such as the yearly Unversity Graduation Ceremony or during funerals. I recommend checking the opening times on the Bath Abbey website here before visiting.
You could also climb the 212 steps to the top of Bath Abbey's Tower. During your climb, you'll get to stand above the fan vaulted ceiling and visit the bell chamber where you'll get to go behind the the clock face, and then continue further to the top where you can enjoy a view across the city.
Access to Bath Abbey used to be free, but as of 2023 there is now a charge. Adult tickets cost £6.50, and children age 5-15 cost £3.50. There's a 10% discount for family tickets. If you'd like a guided tour of Bath Abbey you could consider booking this walking tour of Bath that includes a guided tour around Bath Abbey.
The Royal Crescent, Bath
One of the most iconic landmarks in Bath is the Royal Crescent; a row of 30 terraced buildings laid out in a crescent shape. Built in 1774, this is a beautiful example of Georgian architecture making it one of Bath's most famous residental areas. You may have spotted The Royal Crescent when it was featured in Bridgerton, as a scenery backdrop. Such as in Season 1, Episode 4 "An Affair Of Honor" you can see the Royal Crescent as the Duke of Hastings rides past on a horse.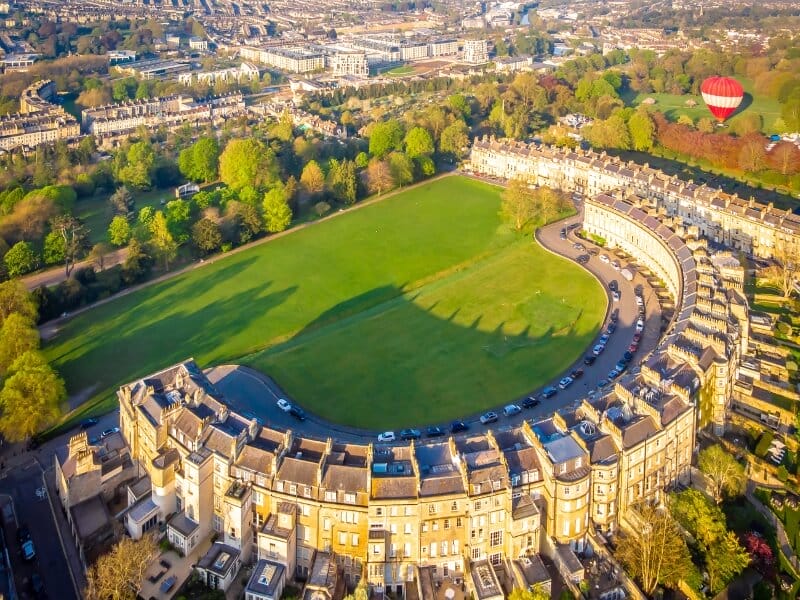 You could also visit the No. 1 Royal Crescent Museum where you'll get to see the restored Georgian townhouse as it would have been decorated and furnished back in the 18th Century. The house was built in 1767 to 1774 and was designed by John Wood, a famous architect. But over time alterations were made by the different resdients until the 1960s when a new owner decided it wast time to restore it and create a historical town-thouse.
The museum is in an old building so accessibility isn't amazing. But if you are neurodivergent (autism, ADHD etc) they have created resources such as visual stories and quiet zones. For those with limited mobility, there is limited step-free access available to some parts of the museum through a step-free entrance. You'll be able to see areas such as the dining room, the parlour, the servent's hall and more. For more information on accessibility visit their site here.
For information & ticket prices visit the museum website.
Whilst visiting the Royal Crescent you could also enjoy the adjoining park, that is a massive greenery offering views of the historical architecture and a place to relax. It's also one of the best photo spots to get a photograph of the entire Royal Crescent.
If you like the idea of staying in one of Bath's most famous landmarks, you could book a room at The Royal Crescent Hotel & Spa or visit the hotel's restaurant for some afternoon tea.
St Michael's Church
Built in the mid-1700s, the church is a beautiful example of Georgian architecture. The church is open to the public, with free entry; however, donations are welcome to help keep the church running. There's a cafe inside, so if you're feeling peckish this is a good place to get some food while supporting the church. The inside of the church is beautiful with stain glass windows, and red and gold decor.
The Bath Assembly Rooms
Built in the 1771 century, the Bath Assembly Rooms served as a hub for the elite and high society of Bath to gather and socialize. The Bath Assembly rooms, are split into two floor; the Lower Assembly rooms and the Upper Assembly rooms. These rooms were once used for entertaining visitors in various ways including concerts and dancing. When the assembly rooms were built, they were described as "the most noble and elegant of any in the kingdom".
The Assembly Rooms also feature in Jane Austen's novel, Persuasion such as when Anne Elliot hopes to visit the rooms and meet Captain Wentworth.
These days, the assembly rooms are partially open to the public, with a fashion museum and cafe. The fashion museum is open daily from 10:30 am until 5:00 pm. During a visit you can explore the Great Octagon, the Tea Room, the Ball Room and even the Card Room, all of which evoke images of the grandeur and sophistication of Georgian society. Often referred to as a museum of Georgian elegance, the Bath Assembly Rooms are a must-visit for anyone looking to uncover the history and beauty of Georgian architecture and the society it represented.
Tickets for the museum can be purchased online at https://www.fashionmuseum.co.uk/tickets-prices.
Royal Victoria Park
Why not take a stroll through the Royal Victoria Park? The park was opened in 1830 by the then 11-year-old Princess Victoria and was the first park to be opened in her name.
The park offers a peaceful tranquillity away from the busier areas of the city and makes a nice area for an afternoon picnic on a summers day. It's a nice place to enjoy quiet walk, letting you enjoy nature while away from the busy city centre. Most of the park is wheelchair accessible with tarmaq/concrete paths throughout and plenty of benches to rest on.
The park is huge, spanning 57-acres with plenty of things to see and do such as the botanical gardens, bowling greens, crazy golf, duck ponds, a children's play area and more. There's plenty of picnic benches as well, but if you didn't bring anything to eat with you there is also a café in the southern area of the park.
Sally Lunn's Historical Eating House
Sally Lunn's Historic Eating House & Museum is one of the best museums in Bath especially if you're a foodie or history buff. Located in the heart of Bath, this iconic establishment has been serving its famous bunns (or bun) for over 300 years.
The eating house is named after Sally Lunn, a French Huguenot who arrived in Bath in the late 17th century and began baking her famous buns. Today, Sally Lunn's is both a museum and a restaurant, so you can explore the museum before enjoying a meal in the restaurant.
I do highly recommend trying one of the bunns. They're similar to brioche, but they're also sort of like a cake and bread. It's quite a unique texture and flavor that's hard to describe. You can order them with sweet or savory toppings, such as cinnamon butter, lemon curd or smoked salmon. You can also buy a sally Lunn Bun in the museum gift shop for you to take home, and can also be purchased online (for delivery within the UK).
Learn more and book your tickets here.
Take a Bridgerton Walking Tour
If you're a fan of Bridgerton then one of the top things you should do while in Bath is to take the Bridgerton film-location walking tour. The tour takes you to the different filming locations used for Season 1 and 2.
You'll get to see the homes where Lady Danbury, and the Featheringtons lived in the TV series, as well as The Royal Crescent and Gunter's Tea Shop and more. Your Blue Badge certified tour guide will also teach you about life during the Regency period and society's rules. Book your tickets here.
Alternatively you could consider this tour, which takes you on a guided walking tour to many of Bath's attractions that were used as key filming locations in Bridgerton such as Lady Danbury's House. During the tour, you'll be given headphones so you can enjoy listening to music from Bridgerton to help set the scene at each of the locations you'll visit. Book your tickets here.
Visit The Jane Austen Centre
Another top thing to see and do in Bath is a visit to the Jane Austen Centre, where you can learn about Jane Austen's life in Bath. The world famous author who wrote books such as Pride and Predjuice, spent part of her life in bath; from 1801 to 1806. During this time period, she wrote two novels; "Northranger Abbey" and "Persuasion", which are both set in Bath and were infulenced by her life here.
The museum covers her life, and what infulenced her including the food, fashion and society. You'll also be able to taste biscuits that are made using a regency-period recipe, dress up in a period costume and have your photo taken with the Jane Austen waxwork. You'll get to learn more about the historic city and how life was here in the regency period through Jane's experiences. The museum is well worth a visit if you're a fan of any of Jane Austen's works; both written or movie/TV adaptions.
Tickets can be purchased online, start at $15.97 per adult. Check availabilty here
Visit The Herschel Museum of Astronomy
Did you know that the planet Uranus was discovered from a house in Bath? Back on March 13th 1781 William Herschel, was able to discover Uranus as the 7th planet. He recorded that he had observed a faint object in the Gemini constellation. The Herschel Museum of Astronomy is dedicated to many of the families accomplishments, such as this. During a visit to the museum you'll get to learn about the families accomplishments and how Caroline Herschel assited William in his discoveries and how William became the King's Astronomer.
Tip: You can get a combination ticket that lets you visit both The Herschel Museum and No. 1 Royal Crescent Museum for only £22 per adult.
Learn more about the museum here.
Explore The Prior Park Landscape Garden
The Prior Park Landscape Garden is a beauitful garden that was created in the 18th century by Ralph Allen, and is located just outside of Bath in Somerset. It's easily one of the top attractions in Bath and Somerset.
The gardens were designed by poet Alexander Pope, and capability Brown; a garden architect. While the main house, and The Porter's Lodge were designed by the famous architect John Wood. They're now owned by The National Trust, which cares for the gardens and ensures all the historical buildings are maintained.
The gardens are mostly known for the beauitful Palladian Bridge which is one of only four of these bridges left in the world. The bridge makes for a great landscape photography location. Infact its easily one of the most popular photography spots in Somerset. But besides the bridge, there's also a serpentine lake, three pools with curtain walls, a Gothic Temple, gravel cabinet, Mrs Allen's Grotto, a lodge and the ice house.
You can get an amazing view of the Bath Skyline from the park. If you love landscape photography, I highly recommend doing the 6-minute walk to get the amazing view.
For disabled travelers, the park doe have some accessible parking but there are steep, uneven paths throughout and the Palladian Bridge has steps. You may want to look into hiring an offroad wheelchair for the trip, as the park is going to be inacessible to most wheelchairs and mobility scooter. Offroad wheelchairs ca be hired from Mobility Hire with nationwide delivery.
Enjoy high tea at the Pump Room
If you'd like to enjoy a high tea, I highly recommend heading to the iconic Pump Room for a luxurious experience. The Pump Room is situated in the heart of the city and is an architectural delight of Georgian and Regency styles. Sipping on a steaming cup of tea, while munching on finger sandwiches, pastries, and scones with clotted cream and jam, is a timeless tradition.
The interior of the Pump Room boasts high ceilings, shimmering chandeliers, and elegant decor that exudes a sense of sophistication and luxury. While the Pump Room is one of tthe best tourist attractions in Bath, it also attracts plenty of locas who enjoy their afternoon high tea's. It really is a must-do for anyone who wishes to enjoy an authentic English high tea.
Shopping in Bath
Bath offers a wide variety of modern and contemporary shops, which makes it the perfect place for shopping. Whether you're looking for a designer brand or a smaller local shop, Bath has something for everyone.
Throughout the year, there are dozens of markets held in Bath. Some of these are permament, such as Walcot Artisan Quarter Shopping Area which features a range of stalls from local artisans and is defintely worth visiting. Here, you'll also find St Swithin's Church where is where Jane Austen's parents were married and where her dad is buried.
Each September, The Great Bath Feast is held which is a food festival featuring food from the South West of England. This festival is free to attend.
If you visit at Christmas, I recommend visiting the Bath Christmas Market. You'll find hundreds of different christmas shops, and a selection of christmas food including German sausages. It's easily one of the best Christmas Markets in the UK.
Old Bond Street, Bath
Located in the centre of Bath, Old Bond Street is easily accessible and perfect for a day out with friends or family. So why not take a stroll down this iconic street and indulge in a spot of shopping?
This charming street is lined with high-end designer fashion stores, offering the latest trends and styles from the top fashion houses such as Ted Baker Radley and Harvey Nichols. There are plenty of other shops as well, including antique shops, art galleries, and bookstores.
When you're ready for a break from shopping, stop in at The Bertinet Bakery for a delicious pastry or cup of coffee or stop by the "The Fine Cheese Co. Bath" to sample some of the best cheese available in the South West.
Walcot Artisan Quarter
Annother shopping area that's just a short walk from central Bath, is the Walcot Artisan Quarter. This vibrant quarter is full of independent boutiques and shops selling unique handmade goods. You can find everything from ceramics, jewellery, and textiles to vintage clothing and original artworks.
The area has a real community feel, with friendly shop owners happy to share their knowledge and passion for their crafts. The atmosphere is relaxed and welcoming, making it a perfect spot to spend an afternoon browsing and picking up some souvenirs. So if you want a break from the mainstream shopping scene, head over to Walcot Artisan Quarter for a truly unique shopping experience.
Milsom Street
Located near St Michael's Church, Milsom Street in Bath is a must-visit destination for those who love high-end beauty and fashion. Milson Street was build in 1762 by Thomas Lightholder, and was originally designed be grand townhouses. Over the years, these were converted into stores and the street is now home to a wide range of luxurious boutiques, trendy stores, and exquisite designer shops. Although the buildings have been converted into stores, the street is home to some of the best architecture in Bath and is easily one of the grandest shopping areas in the city.
Milsom Street is also home to the UK's first department store, which opened in 1823. Back then, it was home to a store called Jolly's, but nowadays it contains House of Fraser. Although the original store is long gone, you can still admire the buildings historical architecture. If you need a bite to heat, you could choose to eat at Vero's Spanish Cafe & Deli which is a independant cafe serving Spanish inspired dishes. If you'd like afternoon tea, you could eat at The Ivy Bath Brasserie which offers an upscale, luxury afternoon tea. So, if you are looking for the perfect place to indulge in some retail therapy, Milsom Street is the perfect place to go shopping in Bath.
Bath Guildhall Market
Visiting the Guildhall in Bath is a must when visiting this beautiful city. The centerpiece of the Guildhall is the magnificent ballroom. The room has been beautifully restored and is truly breathtaking, featuring a stunning ceiling and a grand chandelier.
The Guildhall is also known for the Guildhall Market which offers a unique shopping experience and is one of the best places in Bath to go shopping. The markets held here are a shopper's paradise, offering everything from handmade crafts and artisanal foods to vintage clothing and antiques. A trip to the Guildhall in Bath is a must-see attraction filled with history and culture, and a great place to spend some time soaking up the city's charm.
How to get to Bath & Parking
Due to limited parking and traffic, I recommend travelling to Bath by public transport. Direct trains from London to Bath Spa train station take about 1 hour 30 minutes whereas a train from Bristol takes about 11 minutes. If you do want to use the train, make sure to book in advance online.
Buying train tickets on the day or from a ticket machine is really expenisve. Ticket machines tend to only offer the most expensive type of ticket available. Single or day return tickets from Bristol to Bath should cost around £9 to £11 if purchased online through The Train Line.
But trains from London can be really expensive but booking trains in advance (up to 3 months before travel) can help save money. For budget travellers, I recommend using the Megabus which offers cheap travel across the whole of the UK incuding London to Bath.
If you do decide to drive to Bath, sites such as Parkopedia.com or the Bath & North East Somerset Council website allow you to find information on car parks, on-street car parking etc.
Disabled Parking: If you're disabled and have a disabled parking badge then you'll be happy to hear that Bath does have some free parking available.
Free disabled parking includes; on-street parking in pay and display zones, resident and business permitted areas, bath park and ride and by the entrance to Charlotte Street Car park. Free disabled parking is not available in car parks. For more information on disabled parking visit Bath & North East Somerset Council website here.
Where to stay in Bath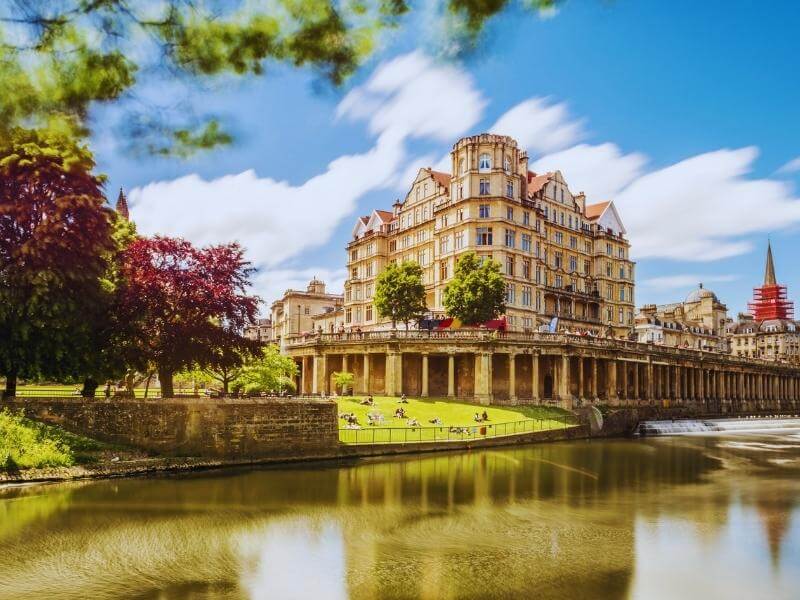 If you wish to stay in Bath, then it is best to stay central as most attractions are within walking distance. Most accommodation in the centre will set you back about £100 ($135/€115) a night.
If you have a high budget and want somewhere extravagant while experiencing the historical side of Bath then there is The Royal Crescent Hotel & Spa with rooms starting at £360 a night.
For budget travellers, there are hostels such as The Bath YMCA. Mid-priced places at around £100 a night are normally B&Bs and there is a lot to pick from such as Henrietta House, and Brocks Guest house.
More Travel Tips & Resources