Escaping to the seaside is a traditional British holiday. The bucket and spade, amusement arcades, enjoying a Mr Whippy while walking along the pier, and the smell of the sea air, forms my childhood memories of these short weekend trips away with my parents. Seaside resorts are the perfect place to go for family holidays, offering a quieter more relaxed pace than English cities.
In this guide, some of the best travel bloggers recommend what they think is the best seaside towns for a weekend break in England.
Worthing, West Sussex
With a travel time of 1 hour and 20 minutes from London's Victoria Station, Worthing in West Sussex would have to be one of the top choices for a weekend break by the sea. If you want to get away from the rat race and recharge, you will find nothing more relaxing than watching the sun sparkle off the turquoise waters as you walk along Worthing's timeless Art Deco pier. For music lovers, Worthing Pier's South Pavilion hosts a wide range of live Jazz, Rock and Blues events throughout the year. At the entrance to the Pier is the Pavilion Theatre which stages a selection of stage plays, musical acts, and entertainment. The South Pavilion Café is the perfect place for an afternoon in the sun with a leisurely lunch and a glass of wine. Stroll through the town and visit one of the many restaurants and pubs scattered near the foreshore. Step back in time to the 1920s when going to the movies was an event with a visit to the Dome Cinema. While there, try a traditional cream tea at The Dome Vintage Tea Room. Commune with nature and head to the South Downs and walk the trail to the Cissbury Ring, an Iron Age hill fort. Marvel at the history, peaceful natural settings and views that make up this extraordinary region of England.
Disabled access information:
The beaches in Worthing are all shingle, making them unsuitable for those using wheelchairs or scooters. Worthing pier is wheelchair accessible. The Pavillion Theatre is wheelchair accessible, offers performances in British Sign Language and films with subtitles, they offer hearing assistance and allow registered assistance dogs access to all areas. The Dome Theatre has lift access available for screen 2, and step-free access for screens 1 and 3. Worthing council allows disabled parking badge users to park for free in their surface car parks when parked in dedicated disabled parking spots, with their badge shown correctly. Charges apply outside of dedicated parking spots and in multistory car parks. Free on-street parking is available for disabled badge holders in some cases. For more information on disabled parking visit the council site here.
There are accessible toilets with adult sized changing places available at the Brooklands, Western Road carpark (open 9 am to 5 pm in winter, and 9 am to 9 pm during summer) and on the Promenade opposite the Dome Cinema (open 9 am to 5 pm year round). To access these toilets you need to use a RADAR key, these can be bought online here.
Where to stay in Worthing
[tp_hotelmap_widget coordinates="50.81448, -0.37126″ width=500 height=500 zoom=12 subid=""]
Brighton, East Sussex
Suggested by Fiona Maclean at London-Unattached
Just an hour from London by train, Brighton is the quintessential Victorian seaside town. Popularised in the Georgian era by George IV, while he was still Prince Regent, he was responsible for building the fantastic Royal Pavilion, built to look like an Indian Temple. Brighton now has a wealth of Victorian buildings including the Palace Pier, still somewhere to visit for fish and chips and to enjoy the amusement arcades and fairground games. Despite the pebbly beach, Brighton is an exceptionally popular seaside destination. It's packed with great seafood restaurants and trendy bars, the nightlife is excellent, partly thanks to the presence of a large student and gay population.
If you bore of the beach, there are a whole wealth of independent shops, from top end boutiques and specialist jewellers through to vintage and junk shops. For top end shopping try the Laines – while the Parallels offer a diverse set of artisan shops and workshops. A walk along the promenade will give you some idea of how popular Brighton was in times past, with a network of Georgian, Regency and Victorian streets and garden squares, where possible designed to ensure everyone had a sea view from their parlour. I love the quirky shabby chic of Brighton and recommend it as the ideal weekend break where you can take your pick from the luxurious boutique hotels on the seafront, in the Laines and Kemp Town or stay in Victorian style splendour at the Grand Hotel.
Disabled access information:
Brighton's pier has wheelchair access, braille menu's available in the restaurant, and a wheelchair accessible toilet. There is step-free access to the entrance from the nearest car park, via a ramp that has a handrail.
While Brighton's beach is covered in pebbles, they do have two all-terrain beach wheelchairs available for hire from the seafront office. You will need to book this in advance and need to bring along ID and a £25 refundable deposit. For more information on hiring the off-terrain wheelchairs, visit the beach accessibility website here.
Brighton has two accessible toilets with changing facilities for adults. One of these toilets is located in the Madeira Colonnade on the Volks Railway, you will need to ring a bell and sign a disclaimer to access this toilet. The disclaimer can be downloaded here. The other changing places toilet is located s located at The Level, a park accessible from Lewes Road, Union Road and Ditchling Road. There are plenty of other accessible toilets throughout Brighton which do not have changing facilities, some of which may require a RADAR key. The location and facilities of these toilets are available in this PDF. 
Disabled parking is available throughout Brighton for blue badge holders. Charges apply in certain situations, always make sure to read the signs when entering any carpark to confirm whether the parking is free. For more information on where you can park visit the council website here.
Where to stay in Brighton
[tp_hotelmap_widget coordinates="50.828385, -0.139475″ width=500 height=500 zoom=12 subid=""]
Aldeburgh, Suffolk
Suggested by Anisa, Two Traveling Texans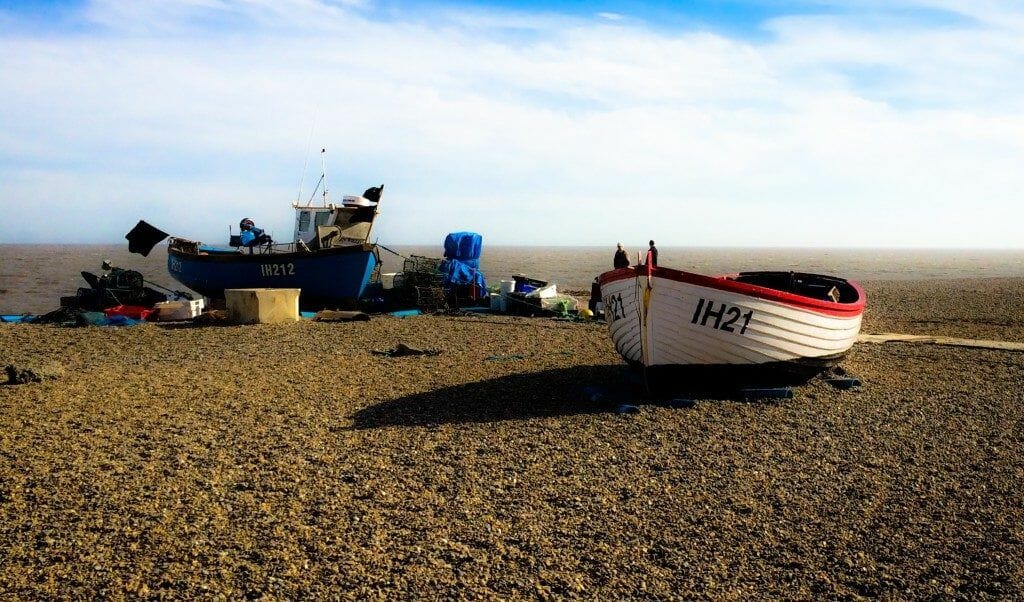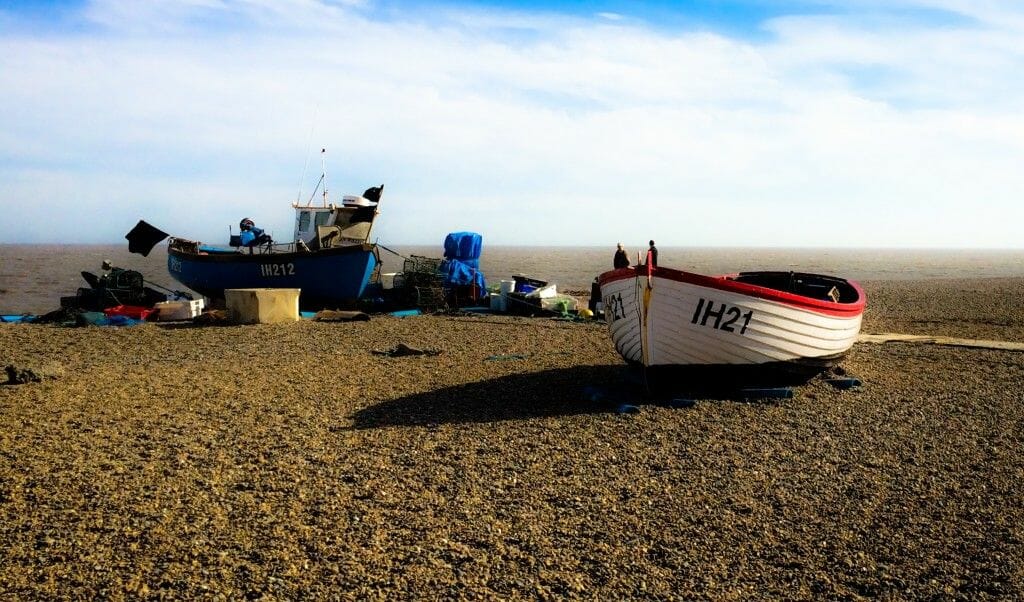 Aldeburgh is a pretty little seaside town located along the Suffolk Coast about 20 miles south of Southwold.  It's a popular destination because of its famous fish & chips shop, boutique shops, public art, beach, and historic pubs.  You may have also heard of the Aldeburgh Carnival which has been held each August for the last 170 years. Golfers will enjoy the challenge of the Aldeburgh Golf Club, which has one of the highest rated courses in England.
Be prepared for a line at both Aldeburgh Fish & Chips and the Golden Galleon.  The fish & chips are worth the wait! Next, check out some of the boutique shops along Aldeburgh High Street.  Then take a walk along the pebble beach to the infamous Scallop sculpture. Don't be surprised to find kids on it, climbing is actually encouraged. If you are still hungry, you can have afternoon tea at the Brudenell Hotel later. There are also several traditional English pubs to choose from including the Mill Inn and Ye Olde Cross Keys.
Disabled access information:
Aldeburgh Golf Club allows registered guide dogs on site and says that they are disabled friendly, but it is recommended to contact them to confirm how they can accommodate access needs. The Aldeburgh Fish & Chips and The Golden Galleon do not have step-free access. Some of the shops along the high street may have wheelchair access or ramps available. Aldeburgh cinema has a hearing loop and wheelchair access. If you'd like to visit a traditional English pub, The Railway Inn on Leiston Rd has facilities for people with disabilities.
Disabled parking bays for blue badge holders are available in the following car parks: King Street, Oakley Square, Fort Green and Thorpe Road. Accessible toilets are available at 3 councils operated car parks; Fort Green, Moot Hall, West Lane. These toilets require a RADAR key. and are open 6.00am to 8.00pm between Easter and October, and 7.00am to 5.30pm between October and Easter. There are no adult changing facilities in any of these toilets. The nearest accessible toilet with an adult changing facility is located in Martello Park in Felixstowe.
Where to stay in Aldeburgh
[tp_hotelmap_widget coordinates="52.15259, 1.60124″ width=500 height=500 zoom=12 subid=""]
Herne Bay, Kent
Suggested by Alice Teacake at Teacake Travels
Nestled between Margate and Whitstable, Herne Bay is a seaside town of rustic charm! Having, for the most part, escaped the gentrification that swept its neighbours, its attraction is in its unassuming simplicity. A walk along the pier and a dip in the sea during the warmer months are both small pleasures I look forward to when visiting Herne Bay. For nature and history lovers the Reculver Walk will hit the spot for sure so bring your binoculars, look out to sea and you might just spot some dolphins and seals! I then recommend checking out the medieval ruins of St Mary's Church and the Reculver Towers. You can still see remains of the Roman fort that the site started off as way back in the 3rd century!
For such a small town, Herne Bay has its fair share of decent cafes. Two of my favourite new additions are the Cosy Cat Cafe, where you can chill with a latte in one hand and feline friend in the other. And the Very Vintage cafe, oozing with vintage charm is a delight. Its sofa by the window is the perfect spot for a tasty snack while reading the Sunday paper or a good book. No visit to a British seaside town is complete without a trip to a fish and chip shop too eh? Luckily Herne Bay isn't in short supply of places serving up battered goodness. Get it to go, wrapped up in paper with plenty of salt and vinegar, then head to the beach and tuck in. Just watch out for those pesky seagulls!
Newquay, Cornwall
Suggested by Julianna at The Discoveries Of
Newquay is one of my favourite seaside towns in England – not only does it boast some stellar beaches, but it's also a cool and quirky town that's an absolute joy to spend time in. Start by trying your hand at a true local passion – surfing. Consistent swells and warmer temperatures mean that it's one of the best places in the UK to surf. There are plenty of surf schools to teach you the ropes and have you surfing like a pro (kind of) in no time. Newquay has a plethora of beaches to choose from – it would be a shame to visit and not spend some time exploring them. Fistral Beach is right in the centre of town, while the gorgeous Crantock Beach and Watergate Bay are a little further away. Of course, there's more to do than spending time on the beach – local National Trust property Trerice is well worth spending some time in, or you can strap on your hiking boots and tackle the local section of the South West Coast Path.
Disabled access information:
Newquay has off-terrain wheelchairs available for hire on some of its beaches. One off-terrain wheelchair is available at Towan Beach, and two available at Fistral Beach. You need to reserve these wheelchairs in advance to ensure they're available for your visit. These wheelchairs are free to hire but you need to leave either Photo ID or the wheelchair you're temporary replacing as a form of security, which you get back when you return the wheelchair. More information on how to hire these chairs can be found here.
A disabled toilet is located around 100 meters from the Visit Newquay Tourist Information Centre, there is a 20p charge for this toilet. Newquay does not operate on the RADAR scheme, and most public toilets do charge a fee. Non-self propelling wheelchairs can be tired from the Visit Newquay Tourist Information Centre, for £7 a day or £35 a week with a £50 cash deposit. Information on how to hire these wheelchairs is available here.
Blue badge holders can only park for free at council-run car parks, in Cornwall if they have registered with the Cornwall Council beforehand, and their car is tax exempt or has been adapted for the driver. If you are a non-EU citizen and wish to use your blue badge to park, you can supply information to Cornwall Council to get permission to use your badge while on holiday in Cornwall. Information on how to do this can be found here. On-road disabled parking is available in for up to 2 hours as long as you are not causing an obstruction, in loading bays or private permit areas. You can find disabled parking bays located at Grovenor Avenue, Beachfield Avenue and Newquay Harbor.
Where to stay in Newquay
[tp_hotelmap_widget coordinates="50.41317, -5.08186″ width=500 height=500 zoom=12 subid=""]
Marazion, Cornwall
Suggested by Suzanne at Meandering Wild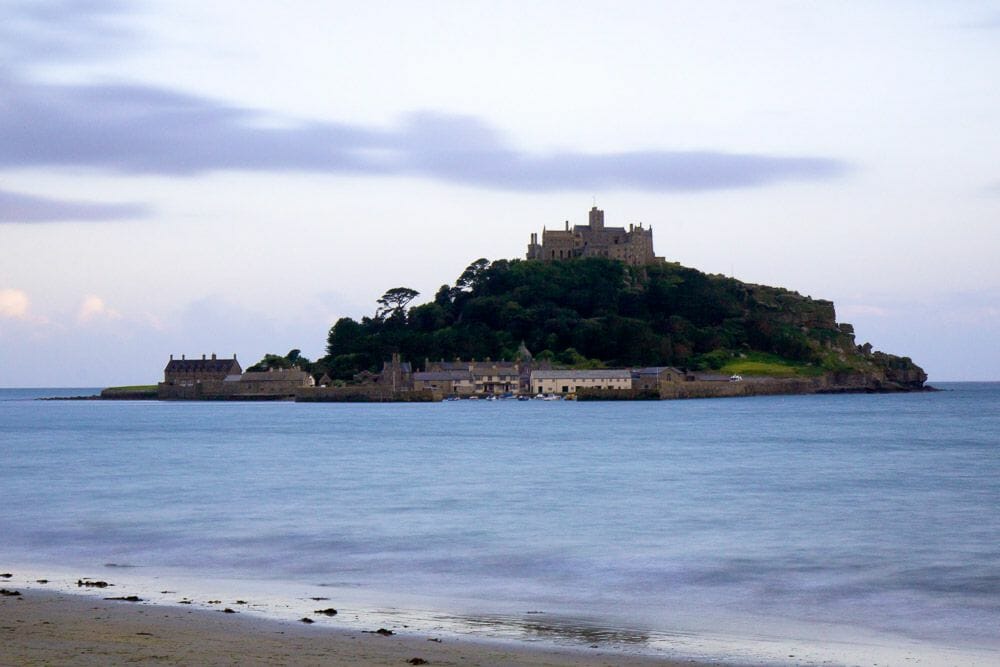 Marazion is small seaside town in the far southwest of Cornwall.  It is just a few miles from the larger town of Penzance but has much more character.  There are some small independent shops and little cafes plus pubs so finding food, somewhere to stay and browsing is easy.  The main road through the village runs parallel to the large sandy beach which is perfect for body boarding and paddling or just sitting in the sunshine and watching the world go by.  However, the biggest draw to Marazion is St Michaels Mount.  At low tide, you can walk across a stone causeway to the castle on the island and at high tide, a small ferry boat will take you across to the island.  The castle is restored with a small village by the harbour.  It is like stepping back in time as you explore the island. To get to the castle itself there are some steep steps, but there are seats all the way up so you can pause and admire the views.   Marazion is also a great base for exploring the tip of Cornwall.  It is just a short drive from Lands End as well as the rugged north Cornish coast with the remains of tin mines and secret beaches.
Disabled access information:
The best way to get to St Michael's Mount is using the causeway although it is covered in cobbles so it can be difficult to navigate over.  The paths around St Michael's Mount are rough, uneven and rocky, with no handrails available so it is not recommended to try to navigate over them when using a wheelchair or if you have limited mobility. It's not currently possible to go access the summit when using a wheelchair. You can still visit the village and many of the shops and cafes have portable ramps available, and the garden's lawn is accessible. However, there are cobblestones, steps and uneven pathways as you try to go towards the summit making it inaccessible. During high tide, it is possible for wheelchair users to take the boat, but there is step only access at both the mainland and harbour landing points. Guide dogs are allowed at St Michael's Mount.
There is currently one motorised trampler available to hire in the village at St Michael's mount, for more information go here. Disabled parking for blue badge holders is available at the slipway car park and at Follyfield. Accessible toilets are available at the harbour front and east side of the island. There is currently no changes places toilet available in Marazion, if you need to use adult changing facilities you'd need to travel to of these locations: Poppies, Belgravia Street, Penzance TR18 2BL or The Lescudjack Centre, Penmere Close, Penzance TR18 3PE. Marazion Beach has ramp access from western car park, but it is not recommended to go on a sandy beach with a normal wheelchair.
Where to stay in Marazion
[tp_hotelmap_widget coordinates="50.12556, -5.47505″ width=500 height=500 zoom=12 subid=""]
Bournemouth, Dorset
[tp_hotelmap_widget coordinates="50.72048, -1.8795″ width=500 height=500 zoom=12 subid=""]
Exmouth, Devon
Disabled access information:
Portsmouth, Hampshire
Suggested by Ryazan at Everything Zany
Swanage, Dorset
Suggested by Helen, Helen on her Holidays
One of my favourite places for a seaside break in England is Swanage. Whether you're looking for windswept beaches, quaint villages or quirky attractions, there's something for everyone in this little corner of England.
If you're fascinated by abandoned places, you have to visit Tyneham ghost village. Tyneham was once a small but thriving village but was requisitioned by the army in 1943. Today, curious visitors can walk around the ruined houses and post office, and hear stories from the people who used to live here in the restored schoolhouse.
Skegness, Lincolnshire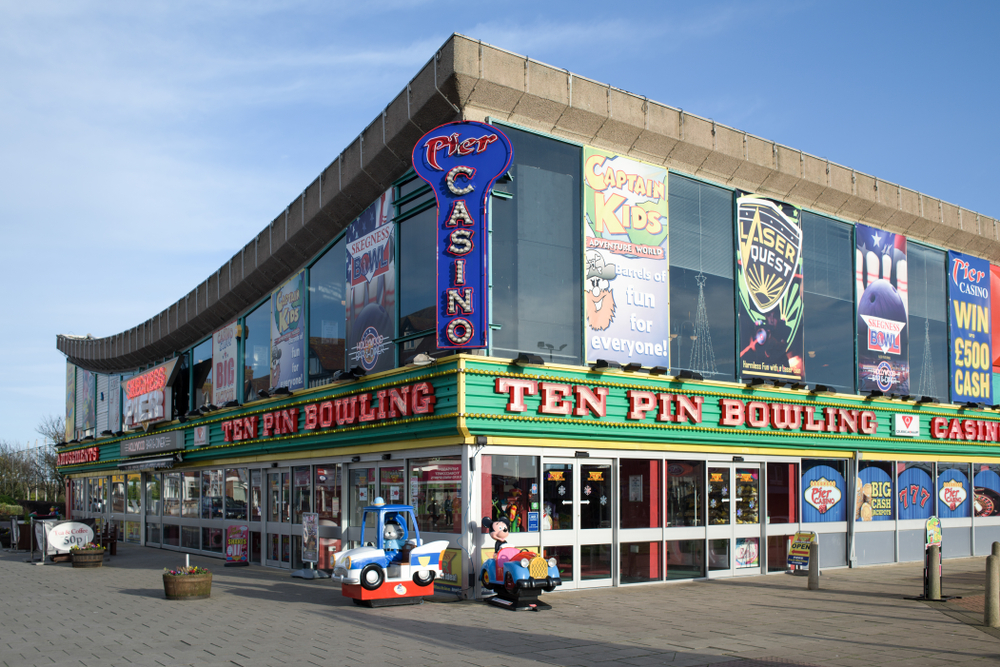 Suggested by Daniel James, Layer Culture
The beach has something for everyone, even if you're travelling with dogs; they'll absolutely love it, there are even dedicated areas to let them run and play off the lead. The beach is usually well looked after so if you visit in-season, you'll not be disappointed by its presentation. One of the greatest points about the beach at Skegness though is the great selection of fish and chip shops you can find by the beach side. Fish, Chips and mushy peas is a must and you should not be allowed to leave without trying them first.
If sitting in a deckchair with the sight of the sea chomping on hot fish and chips isn't quite enough to keep your weekend entertained. You can always stroll over to the boardwalk at Skegness Pier. It's one of the traditional seaside activities that still exist and a great way to spend a few English pounds as you try your luck at winning one of the many prizes.
Disabled access information
Scarborough England was immortalized by Simon and Garfunkel and is a perfect weekend getaway. This resort town in North Yorkshire has two bays. The North Bay is full of colourful beach boxes facing England's North Sea coast. The harbour sits on the South Bay. It has a Ferris Wheel, lighthouse and is full of fishing boats. There is a Coney Island-esque boardwalk along the South Bay full of amusement games and fish and chip stands. A funicular train next to an Italian garden connects the town centre and harbour making the city very easy to get around. Scarborough Castle sits up on the hill overlooking the city and is a must visit. Directly below the castle is St Mary's church and English cemetery with the grave of author Anne Bronte. Go for a donkey ride on the beach, spend an evening out on Bar Street, visit the cute souvenir shops in the Town Center or browse the vintage fairground rides at the Scarborough Fair Collection. There's something for everyone in Scarborough England!
Disabled access information:
Most of Scarborough Castle is accessible to wheelchair users, and an accessible toilet is available. The only exception is the keep, which is only accessible via steps. Disabled parking is available for blue badge holders. The castle has tour transcripts, and braille guides available. They also allow registered guide dogs on site. Some of the shops, cafes and bars in Scarborough have disabled access or ramps available. The Scarborough Fair Collection has level access throughout and plenty of room for mobility scooters and wheelchair users to move around. A disabled toilet is on sight. 
On-street parking is available for blue badge holders throughout Scarborough, and at off-site car parks within designated parking bays. Charges may apply. Public disabled toilets in Scarborough operate on the RADAR key scheme. On-street disabled parking is available throughout Scarborough and can be located using this map.
Where to stay in Scarborough
[tp_hotelmap_widget coordinates="54.27966, -0.40443″ width=500 height=500 zoom=12 subid=""]
Brancaster
Suggested by Jennifer Dombrowski & Tim Davis, Luxe Adventure Traveler
Foodies will love Brancaster, too. The village is known for its mussels and excellent seafood. Try some of the delicious eateries in the area, or just purchase mussels and seafood from the stalls that line the staithe.
Disabled access information:
Blackpool, Lancashire
Suggested by Chris and Heather Boothman, A Brit and A Southerner
When you think about stereotypical British seaside towns, it's fair to say that Blackpool will likely be near the very top of many lists. Located along the Fylde coast in Lancashire, Blackpool epitomizes everything there is to love about the traditional seaside experience. Whether you are intrigued by the thought of sampling "Blackpool rock" or perhaps heading over to the Pleasure Beach to test your fear levels on some of Britain's tallest rollercoasters, Blackpool is a place that is ideal for a weekend getaway.
For many, Blackpool will provide a love-hate relationship. If you are looking for a relaxing getaway, perhaps you would be better opting for one of the alternative seaside resorts along the Fylde Coast (e.g. Lytham St. Annes). But if you visit Blackpool with an open mind, it's one of those places you can quickly fall in love with. You are going to see everything from families enjoying an action-packed weekend to romantic couples wining and dining at the top of Blackpool Tower. Don't forget, Blackpool is home to the iconic "ballroom" infamous for being centre stage for the aspiring celebrity dancers on BBC's "Dancing With The Stars."
Take a stroll along Blackpool beach or the newly renovated promenade while reading about all of the infamous British celebrities that frequently saw Blackpool as the place that made their careers. Dependent on the time of year you are visiting, this is a seaside town that attracts people from across the globe and for very good reason!
Disabled access information:
There are a lot of car parks available in Black Pool, and all of them have disabled parking spots available for those with blue badges. Some of these car parks may charge or limit how long you can stay for free.
Whitby, North Yorkshire
by Haley Pugh at BorderLass
Disabled access information:
Captain Cook Memorial Museum has access for wheelchair users to the ground and the first floor using a newly installed lift. The nearest car park is on Church Street, about 100 yards from the museum. They have ramps connecting the street entrance to the courtyard and ground floor of the museum. They have one disabled accessible toilet on site. Registered guide and assistance dogs are allowed on site but you may need to show proof that they're registered, and they need to be wearing a jacket.
Accessible boat trips are available through Wetwheels Yorkshire, who specially design boats to make them accessible to disabled passengers. Check their site here for more information on their boats and how to book. Goathand station has some level of accessibility via steep ramps, and a foot crossing connecting the up and down platforms. They have a disabled toilet on the down platform, and one parking space available for blue badge holders in the station car park. Catering facilities and a gift shop with wheelchair access is available on the down platform, although you have to manoeuvre over cobbles.
Where to stay in Whitby
[tp_hotelmap_widget coordinates="54.48774, -0.61498″ width=500 height=500 zoom=12 subid=""]
If you enjoyed this guide, please share it on Pinterest.