Georgian architecture, Roman & thermal baths, a UNESCO world heritage site, and the home of Jane Austen – the beautiful city of Bath makes for the perfect day trip or weekend city break. Slower paced than the nearby city of Bristol (only 11 miles apart), Bath is a beautiful vibrant city with a vast history, and lots to offer. My guide covers the top things to do in Bath, during a one-day visit. So if you're visiting Bath, keep reading.
Bath's Parade Gardens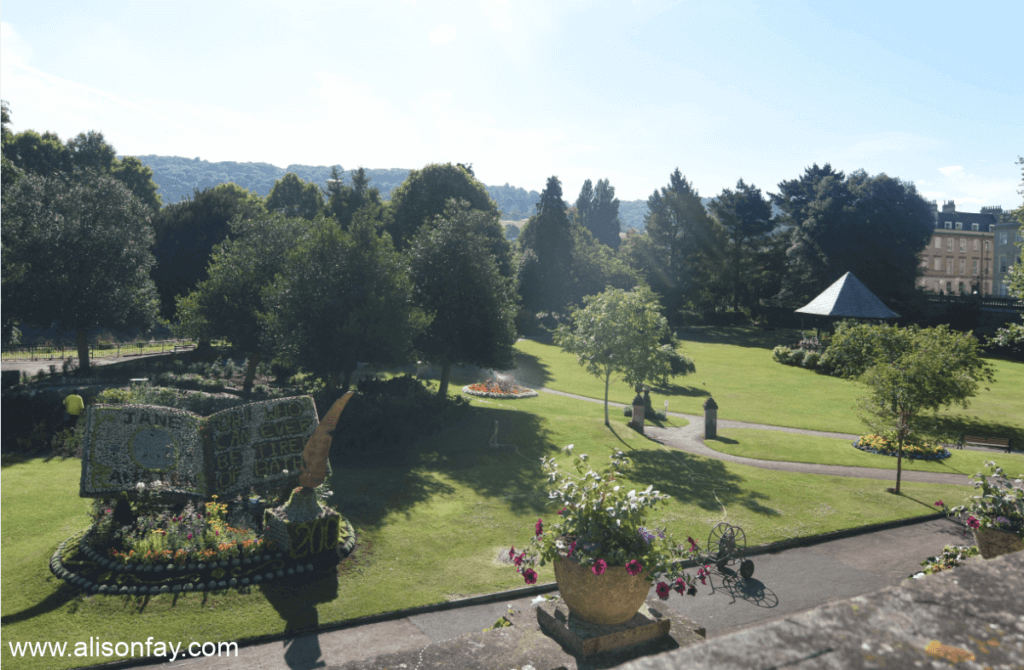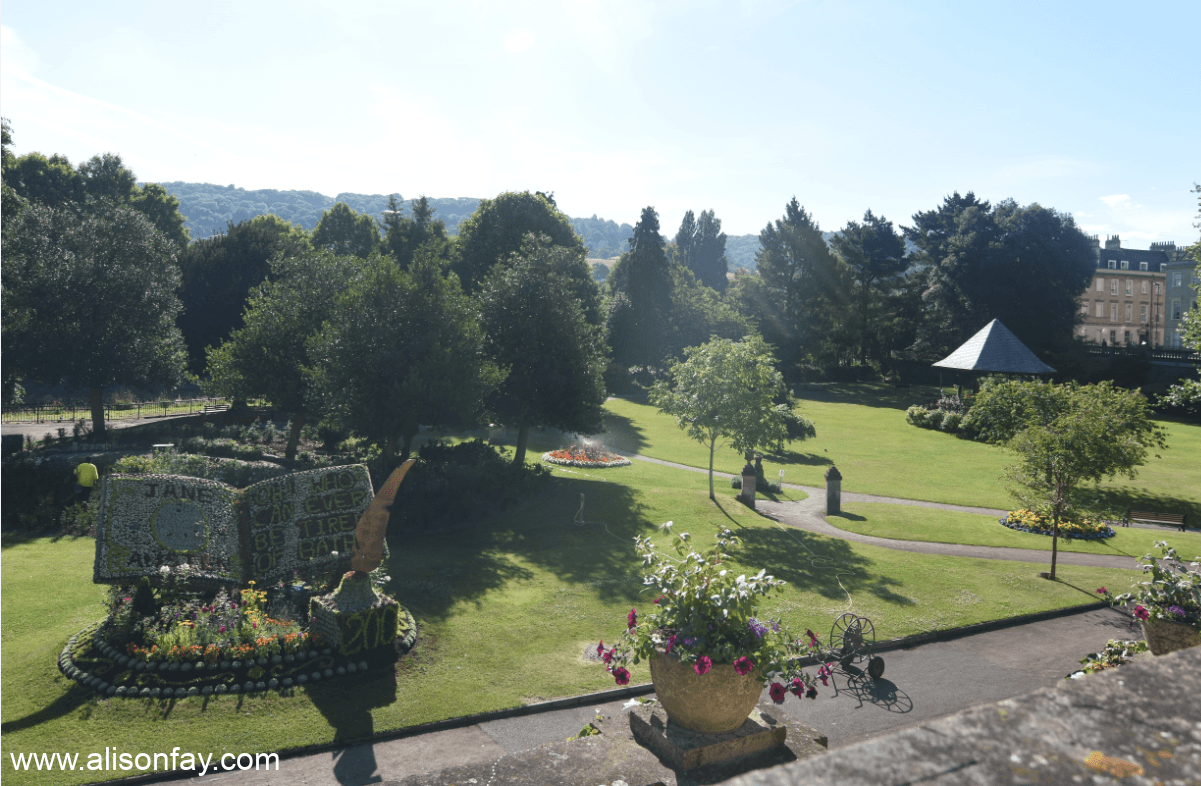 My journey to Bath started early morning with a 10-minute train journey from the nearby city of Bristol. A short walk from Bath Spa train station brings you to the Parade Gardens, that runs alongside the River Avon.
Sadly, during my visit, the gardens were closed but most days they are open from 10 am to 7 pm (there is a small entrance fee).
Although you can still view the beautiful gardens from above, so even if you can't enter it's still a nice thing to do in Bath as you can enjoy the view. If you're a Jane Austen fan, this is defintely somewhere you want to visit as you'll be able to view the book made from flowers that is dedicated to the author.
The Grande Parade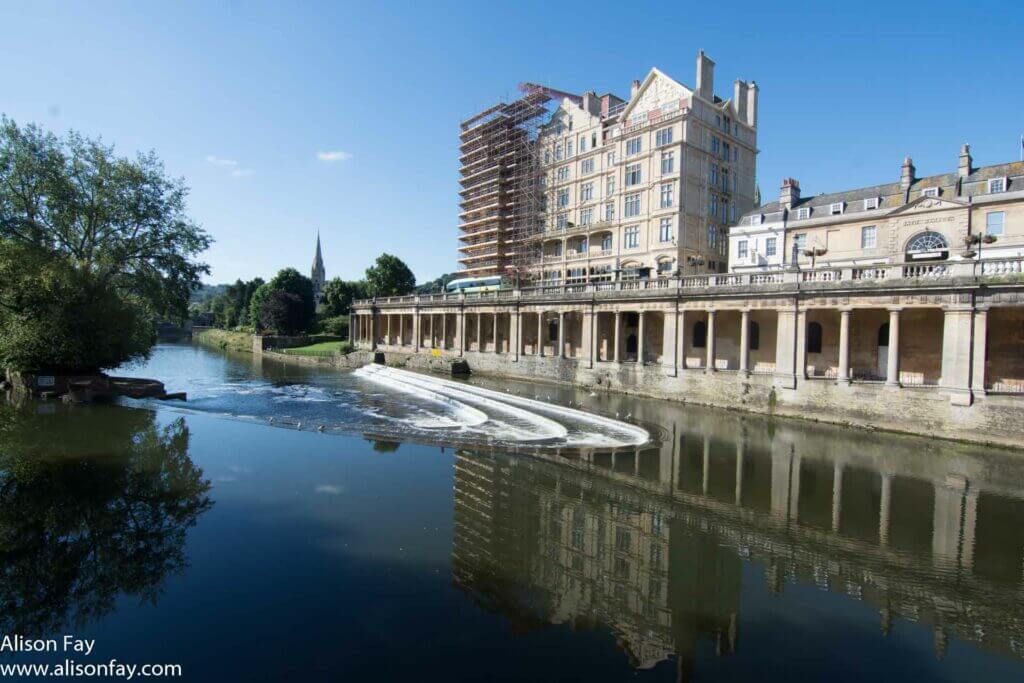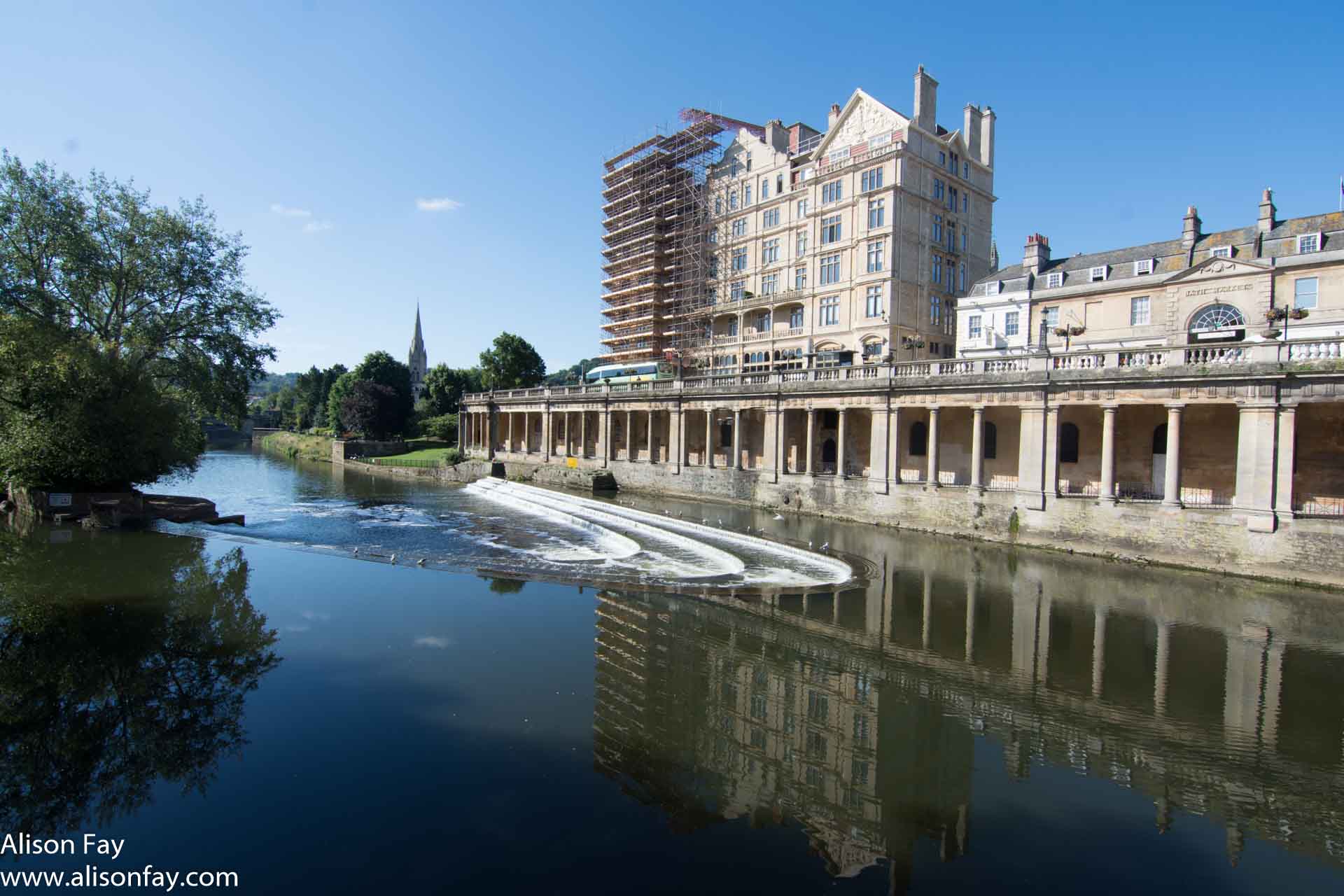 Next, I stopped off on the Grande Parade for a view of Pulteney Bridge, and the River Avon. Pulteney Bridge is a popular photo spot in Bath and lets you view some of the more interestnig Georgian architecture. The bridge itself is quite unusual as it is one of the few bridges in the world with shops built into it, making it a unique thing to do in Bath.
As you stroll along the bridge you can explore these shops, and follow the signs to the steps that will allow you to get closer to the water's edge and stroll alongside the River Avon. If you are disabled, there is an accessible entrance signposted as well so everyone can explore this beautiful area of Bath.
Once down by the water's edge, I was greeted by the view of the Grande Parade, and its magnificent buildings. Sadly, during my visit back in 2017 there was some scaffolding around one of the buildings due to maintenance work; however, the view is still amazing.
Thanks to the still water I was able to capture an undisturbed reflection of the buildings, combined with the sunny clear sky this allowed for the perfect photograph of The Grande Parade and River Avon.
Bath Abbey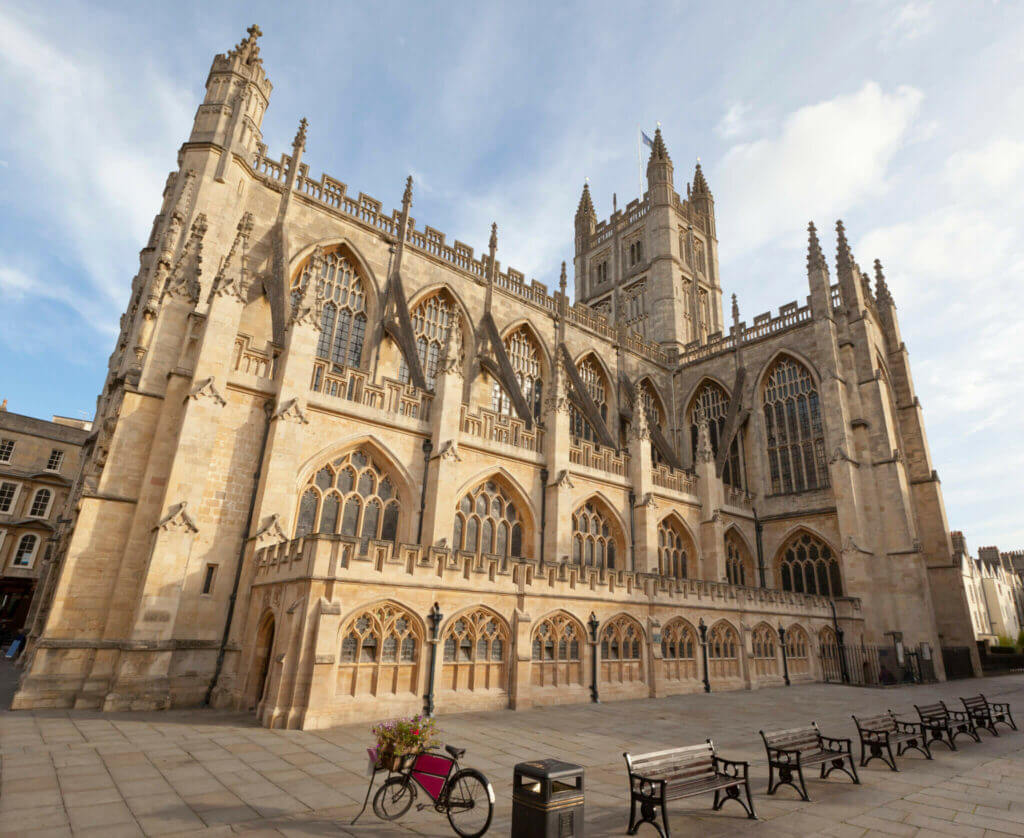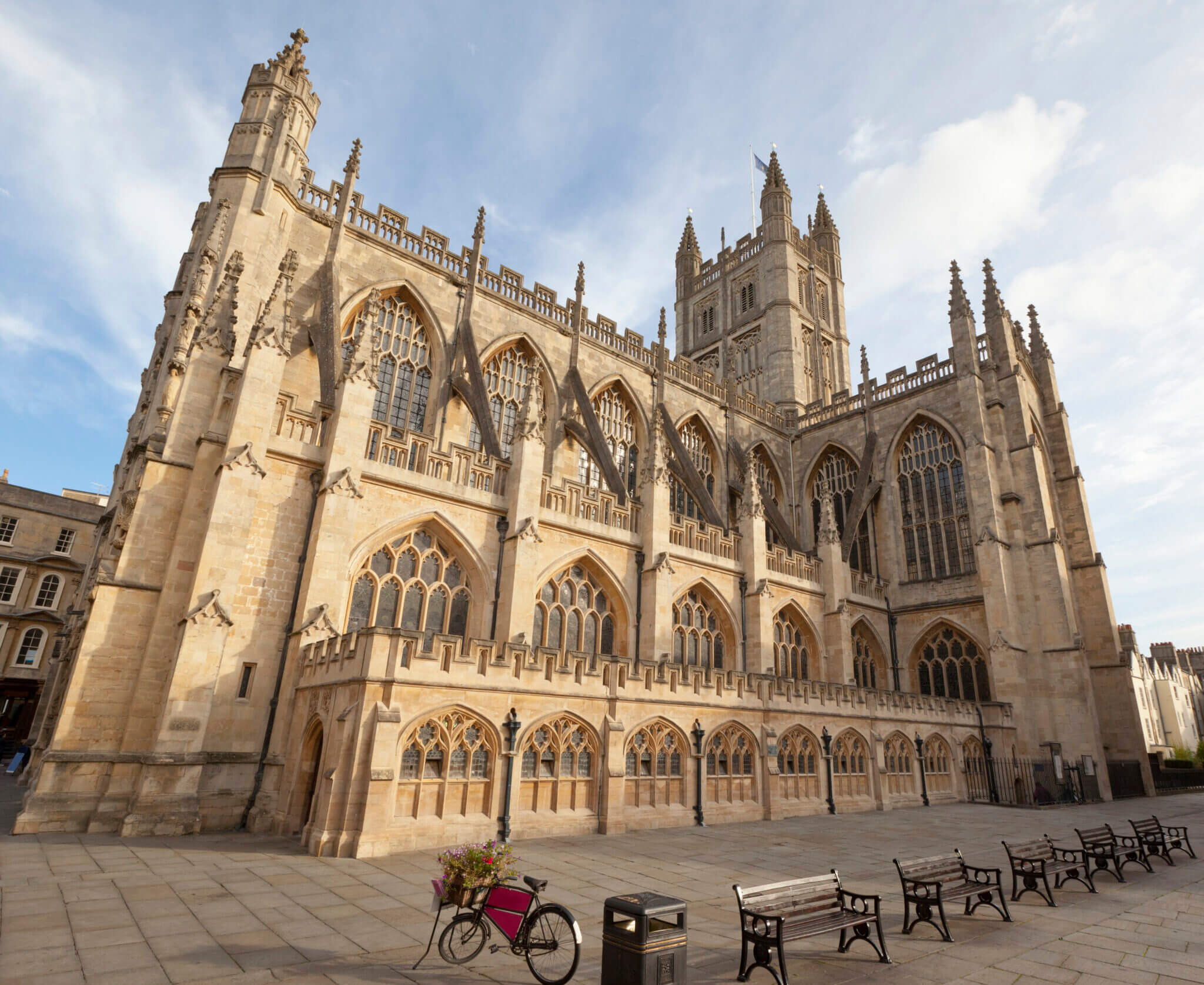 Next, I made a quick stop off at The Abbey Church of Saint Peter and Saint Paul aka Bath Abbey. The abbey is open most days to the public as a place of worship, with services scheduled throughout the day.
I had opted to visit Bath on university graduation day, so the abbey was closed to the public due to the graduation ceremony taking place. I recommend checking the opening times on the Bath Abbey website here before visiting.
The Royal Crescent, Bath

One of the most iconic places in Bath is the Royal Crescent; a row of 30 terraced buildings (originally houses) laid out in a crescent shape.
Built in 1774, this is a beautiful example of Georgian architecture. If budget allows, you could opt to stay at The Royal Crescent Hotel & Spa a or visit the hotel's restaurant for some afternoon tea (staying at £41 per person). 
But otherwise, the Royal Crescent makes for a great photospot and is definitely one of the more unique places to visit in England.
St Michael's Church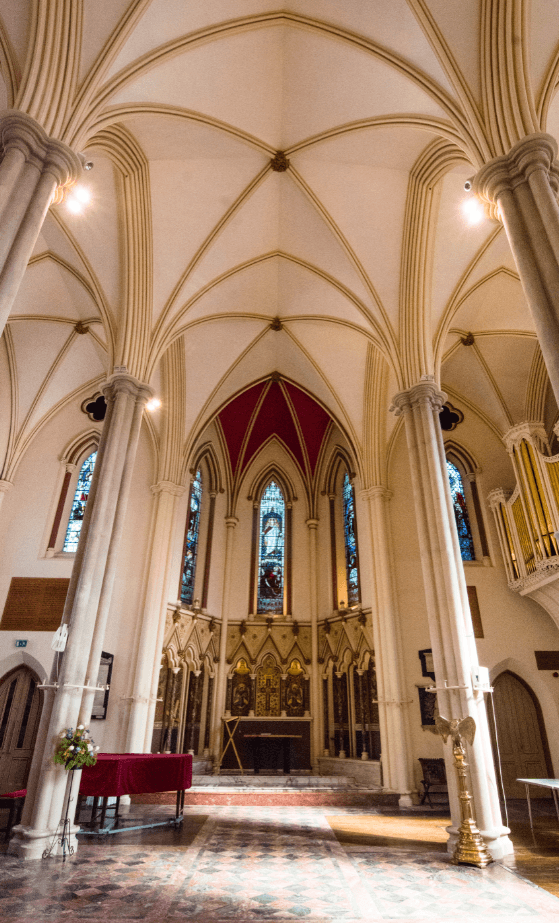 Built in the mid-1700s, the church is a beautiful example of Georgian architecture. The church is open to the public, with free entry; however, donations are welcome.
There's a cafe inside, so if you're feeling peckish this is a good place to get some food while supporting the church. The inside of the church is beautiful with stain glass windows, and red and gold decor.
The Bath Assembly Rooms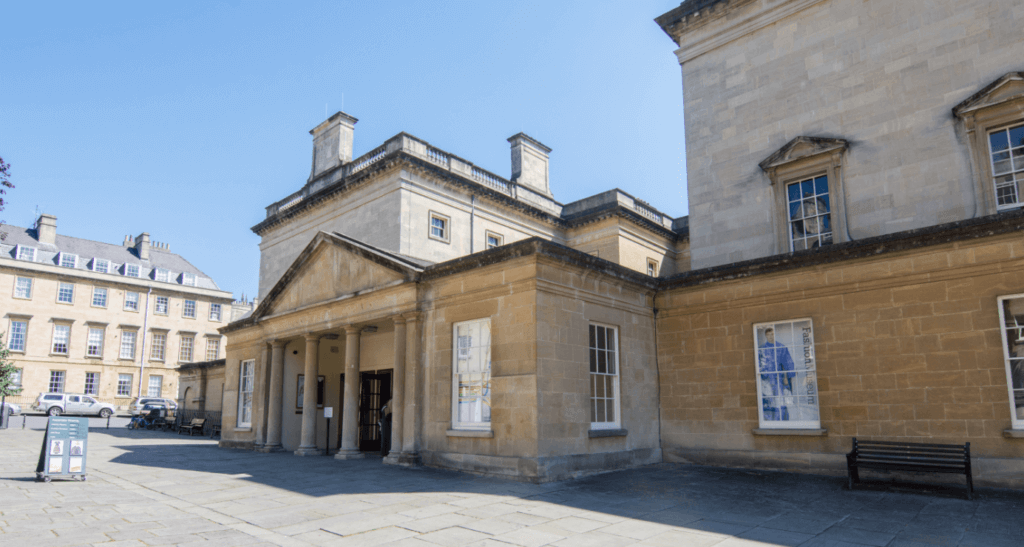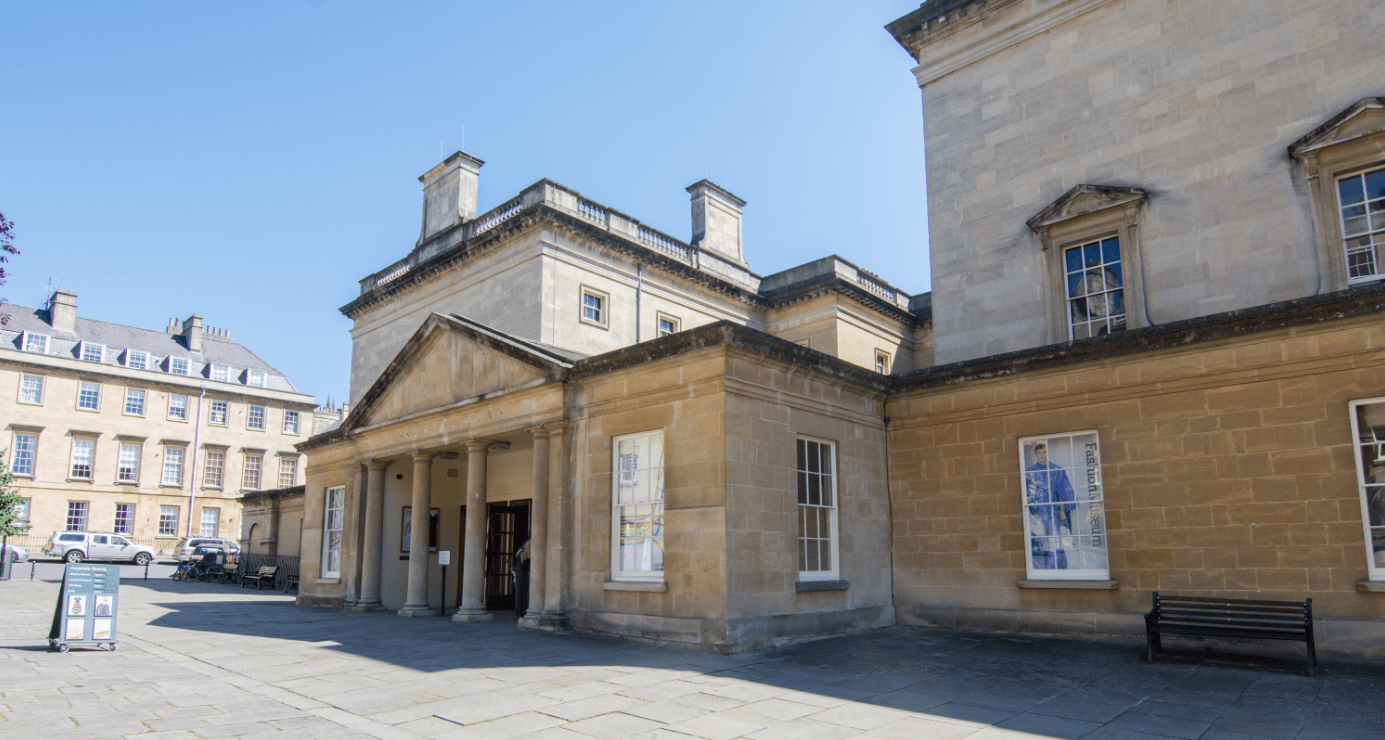 The Bath Assembly Rooms: Built in 1779, The Bath Assembly rooms are a collection of elegant rooms that were used for things such as music and dancing.
These days, the assembly rooms are partially open to the public, with a fashion museum and cafe. The fashion museum is open daily from 10:30 am until 5:00 pm. T
ickets for the museum can be purchased online at https://www.fashionmuseum.co.uk/tickets-prices.
Royal Victoria Park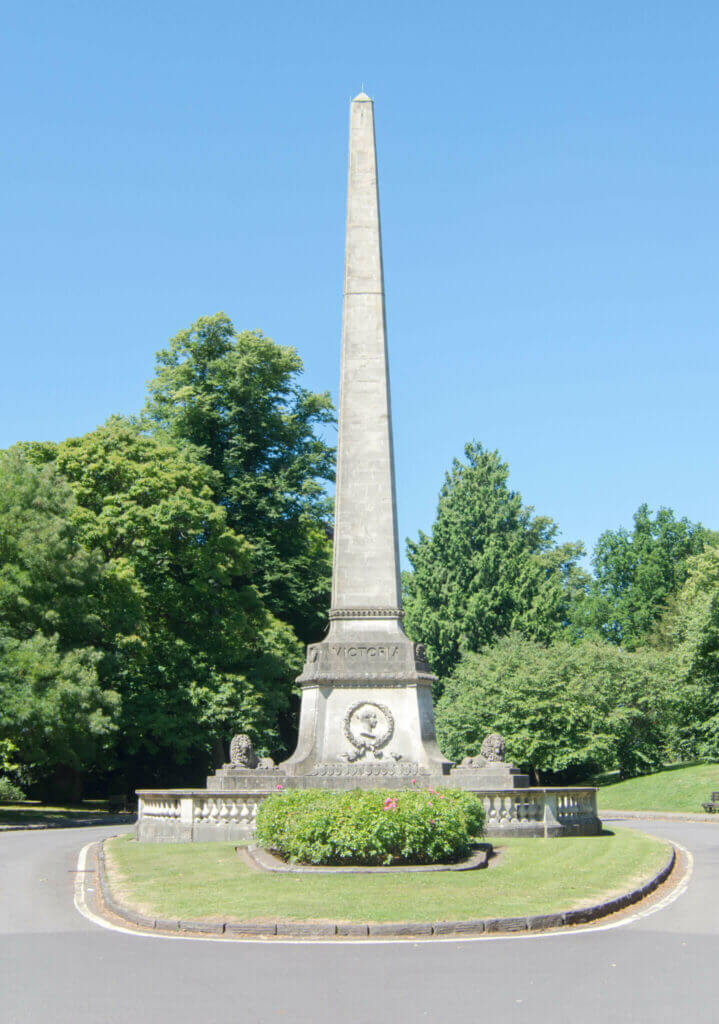 Next, I took a stroll through the Royal Victoria Park. The park was opened in 1830 by the then 11-year-old Princess Victoria and was the first park to be opened in her name.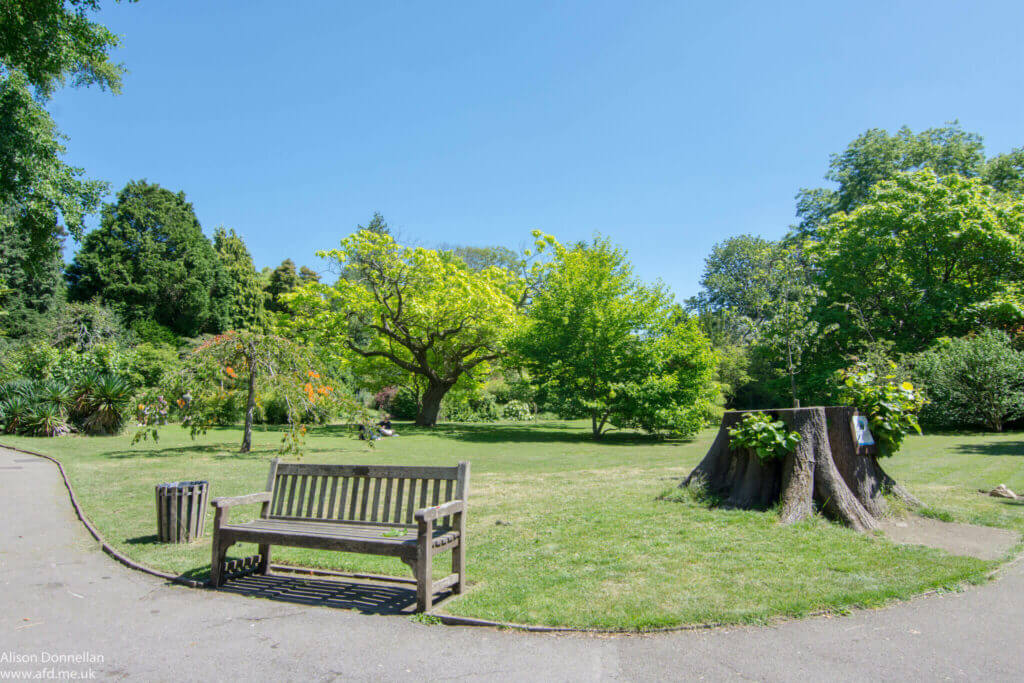 The park offers a peaceful tranquillity away from the busier areas of the city and makes a nice area for an afternoon picnic on a summers day. It's also a nice place to walk, letting you enjoy nature while away from the busy city centre.
The park has benches dotted around so if you have limited mobility, you can find places to sit and rest for a while before heading off to do other things in Bath. If you're a wheelchair-user or on a mobility scooter, you'll be glad to hear most of the park has a tarmaq/concrete path going through making it easy to access.
Shopping in Bath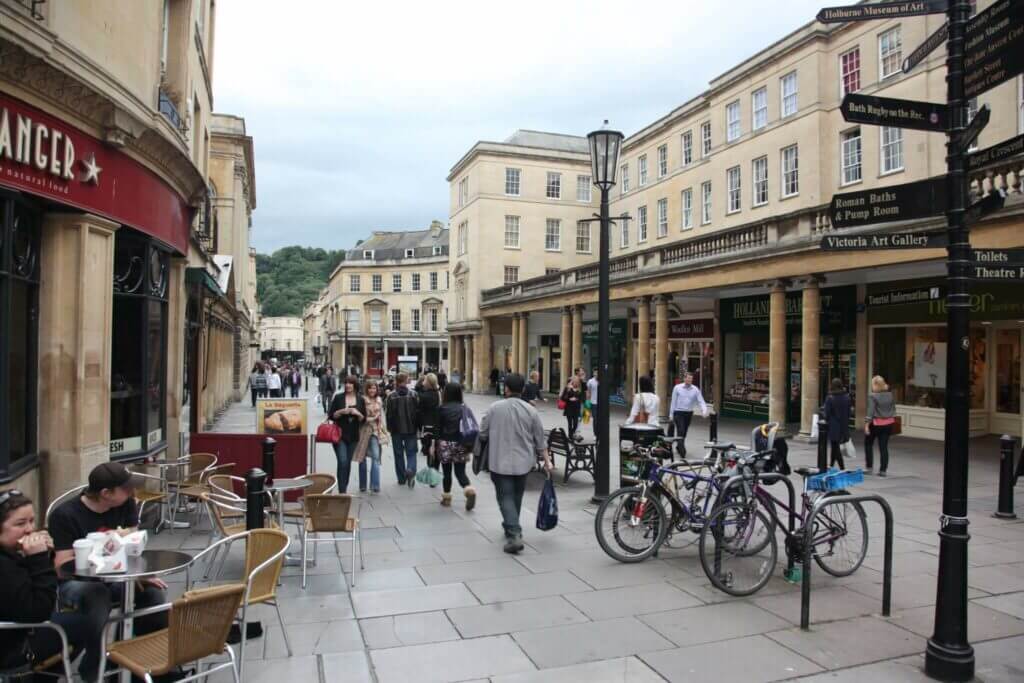 Bath offers a wide variety of modern and contemporary shops, which makes it the perfect place for shopping. Whether you're looking for a designer brand or a smaller local shop, Bath has something for everyone.
Throughout the year, there are dozens of markets held in Bath. Some of these are permament, such as Walcot Artisan Quarter Shopping Area which features a range of stalls from local artisans and is defintely worth visiting. Here, you'll also find St swithins Church where is where Jane Austen's parents were married and where her dads buried.
In September, there's The Great Bath Feast which is a food festival featuring food from the South west of England.
At Christmas, there's Bath Christmas Market which you must visit. It hosts hundreds of different christmas shops, and a range of christmas food including German sausages.
Old Bond Street, Bath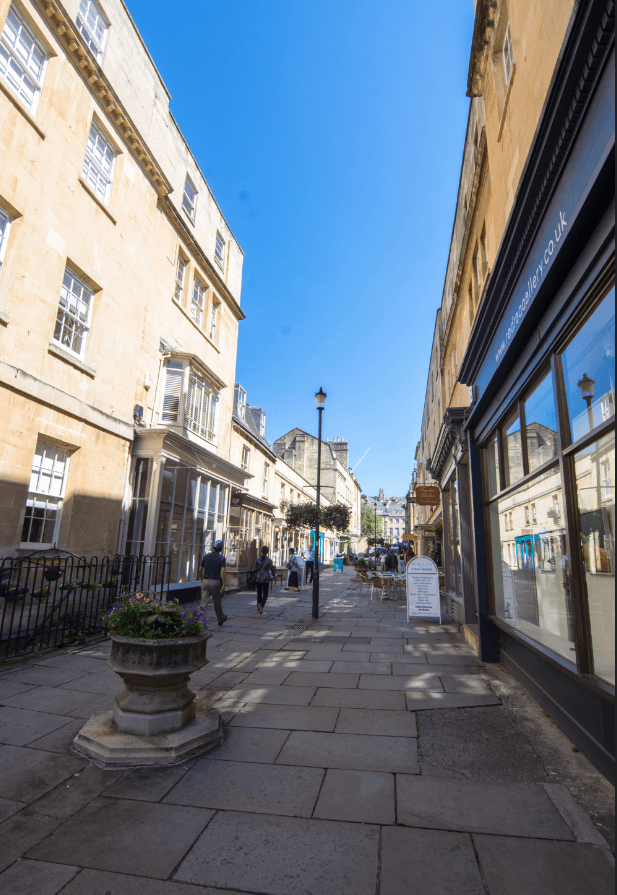 Designer fashion stores include Ted Baker, Radley, Harvey Nichols. But if you're looking for a bargain, there is a Primark. If you are a book lover then be sure to check out "Topping & Company Booksellers of Bath" and "Mr B's Emporium Of Reading Delights". For foodies, there's "Charlotte Brunswick Chocolates", "The Fine Cheese Co. Bath" and "The Bertinet Bakery".
How to get to Bath & Parking
Due to limited parking and traffic, I recommend travelling to Bath by public transport. Direct trains from London to Bath Spa train station take about 1 hour 30 minutes.
Trains can be expensive but booking trains in advance (up to 3 months before travel) can help save money. For budget travellers, I recommend using the Megabus. Megabus tickets start from £1 plus a 50p booking fee.
If you do decide to drive to Bath, sites such as Parkopedia.com or the Bath & North East Somerset Council website allow you to find information on car parks, on-street car parking etc.
Disabled Parking: If you're disabled and have a disabled parking badge then you'll be happy to hear that Bath does have some free parking available.
Free disabled parking includes; on-street parking in pay and display zones, resident and business permitted areas, bath park and ride and by the entrance to Charlotte Street Car park. Free disabled parking is not available in car parks. For more information on disabled parking visit Bath & North East Somerset Council website here
Where to stay in Bath
If you wish to stay in Bath, then it is best to stay central as most attractions are within walking distance. Most accommodation in the centre will set you back about £100 ($135/€115) a night.
If you have a high budget and want somewhere extravagant while experiencing the historical side of Bath then there is The Royal Crescent Hotel & Spa with rooms starting at £360 a night.
For budget travellers, there are hostels such as The Bath YMCA. Mid-priced places at around £100 a night are normally B&Bs and there is a lot to pick from such as Henrietta House, and Brocks Guest house.
Below are some of the most population hotels in Bath. I receive commissions for bookings made using the links below. This helps cover the running costs of Alisonfay.com.
[tp_hotels_selections_discount_shortcodes city="6990″ title="" paginate=true off_title=false type_selections="popularity" number_results="20″ subid="2″ city_label="" type_selections_label="Popularity" link_without_dates=true]
If you found this guide helpful, please share it on Pinterest