There are so many great places to visit in Europe this spring!
Whether you're interested in the culture, the people, or the food, there's bound to be somewhere on this list that'll make a great European holiday destination.
Whether you're interested in immersing yourself in the culture of a new city, meeting new people and making friends, or indulging in the local cuisine, there's sure to be somewhere on this list that will be perfect for you.
From the picturesque cities of Rome and Seville, with their stunning architecture and rich cultural history, to the bustling streets of London and Amsterdam, with their vibrant nightlife and fashionable shopping districts, there's something to suit every taste and budget.
So why not plan your next European adventure today and discover all that this incredible continent has to offer?
Visit London, England
London is one of those destinations that's considered a must-visit for many travellers. April's weather here ranges from rainy and cold to foggy and warm, but no matter which time of year you visit there are tons of amazing places to check out.
London hosts numerous world-class attractions such as Buckingham Palace, Westminster Abbey, and St. Paul's Cathedral. When you visit England's capital, be sure to catch a performance at Drury Lane Theatre. If you love shopping, then make sure to pop along Oxford Street and check out the shops.
If you're looking for somewhere to enjoy a view over this amazing city then I highly recommend visiting The Sky Garden. Tickets are free, but you can opt to dine while visiting. Either way, you'll get great views of this great European destination.
Visit Bruges, Belgium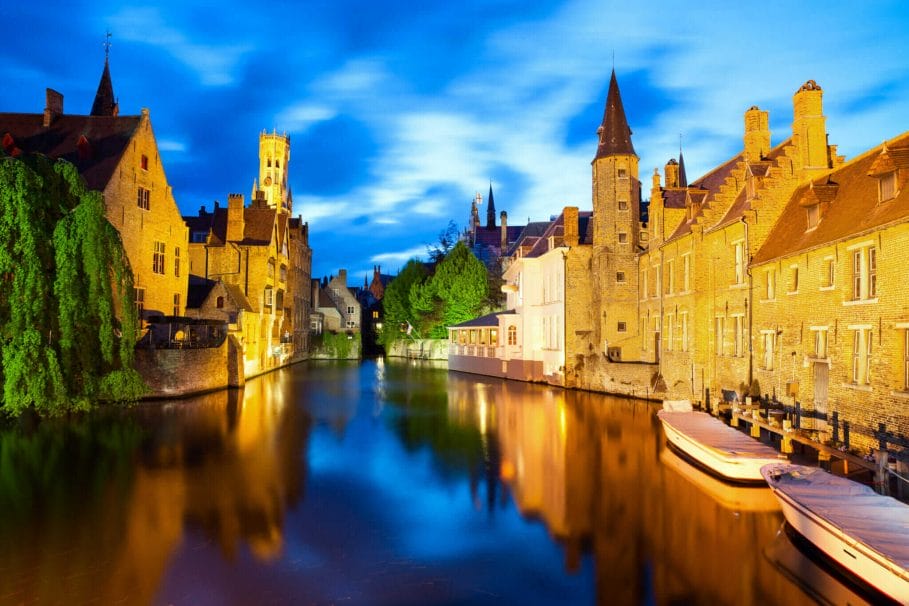 The beautiful city of Bruges, also known as the Venice of The North, is a great destination for travellers who want to get off-the-beaten-path. The architecture here is astounding and you'll find that it can be quite easy to immerse yourself in local culture.
April is a great time to visit because many tourists have not made their way here yet, leaving you plenty of room for exploring. You'll still want to pack your rain jacket though – as with anywhere, springtime weather is far from predictable, and with an average temperature of 4.5°C (40.1°F), you'll definitely want to pack some warm clothing. But besides being a colder time of year, this is a great European destination for your next spring holiday.
Visit Nice, France
Nice is one of the best places to visit in France. Less than 2 hours away from Paris by train, it offers an escape away from the busy streets and offers beautiful beaches for you to enjoy a relaxing holiday.
You can find everything from an idyllic beach complete with boathouses and a boardwalk all along the coast, to spots with wild caves perfect for exploring when you want a break from sunbathing. Its old town is filled with Mediterranean-style buildings and cobblestone streets, with a range of shops and restaurants for you to enjoy.
Although it isn't as commonly visited as other European destinations, it's still home to some of France's most famous sights, including Place Massena and Notre Dame du Port. Come April, you can look forward to nice weather that never gets too hot, with temperatures averaging around 73 degrees Fahrenheit. You can also enjoy tons of fresh produce that grows locally during springtime—just make sure you order your crêpes fresh from street vendors!
Visit Budapest, Hungary
One of my favourite cities to visit in all of Europe is Budapest. April is a great time to visit before the city becomes too crowded with tourists. The weather is cooler, which makes it easier to explore the city on foot.
Budapest is perfect for travelers who enjoy history and culture. There's tons of culture and history throughout the city such as Budavári Palota (Buda Castle) and Esztergom Basilica. There's also the Holocaust memorial center and Raoul Wallenberg Holocaust Memorial Park which are both 100% worth visiting. You can also see the shoes on the Danube bank, which were installed in 2005 to honor the Jews that were shot alongside the Danube River during World War 2.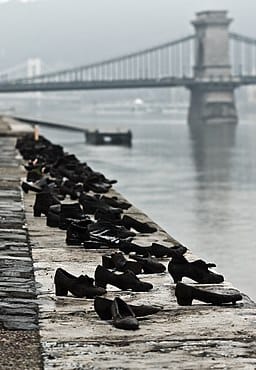 There are also outdoor activities like hiking on Szilasligeti National Park's limestone outcroppings. If you have more time, explore Hungary's Lake Balaton region with water sports or take an easy hike through Hortobágy National Park.
If visiting famous landmarks isn't your thing, try strolling down Török Street Market where you can pick up traditional souvenirs and gifts without dealing with crowds. Or why not spend an afternoon exploring bookstores, coffee shops, bakeries and cafés around town;?
You could also check out the Hungarian Baths located throughout the city, to relax and enjoy the thermal water. The Széchenyi Baths were my favourite, so if you're limited on time I recommend visiting this bath in particular.
Visit Rome, Italy
Rome is a great choice for spring vacations. The city's warm temperatures make it a great destination for those who aren't can't wait until summer to enjoy some sunshine without it being too hot to enjoy wandering around the city.
Rome offers plenty of opportunities for outdoor activities—and if you visit Rome during late spring or early summer, you'll be able to take advantage of long days. April is one of Rome's sunniest months, with an average high temperature of around 79 degrees Fahrenheit.
The city boasts some of Italy's most well-known landmarks, including St. Peter's Basilica and The Coliseum. Be sure to hit up its picturesque piazzas (like Piazza Navona) for great gelato or take a stroll around Villa Borghese Park where you can find fountains, sculptures and an obelisk commemorating Cleopatra's Needle
Visit Amsterdam, The Netherlands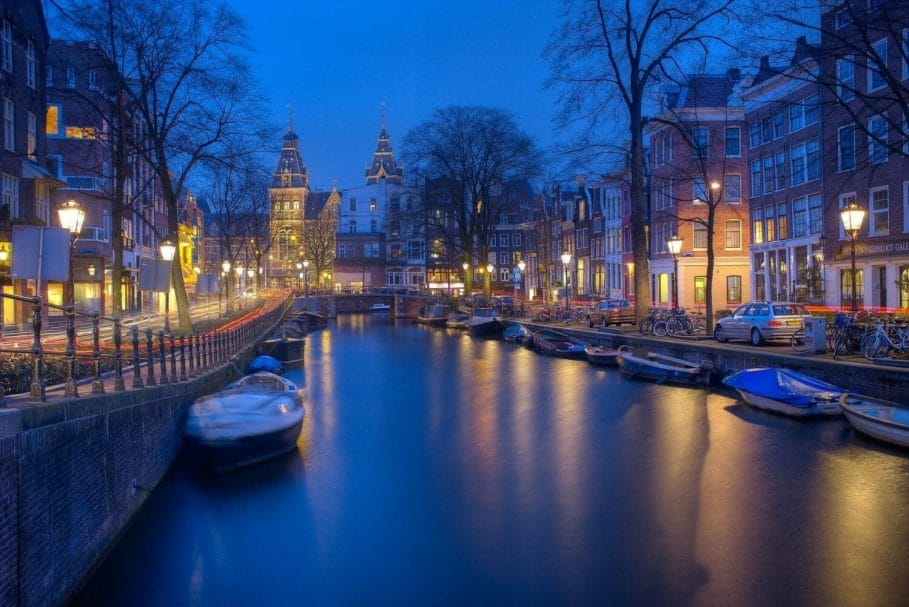 Just over an hour's train ride from Brussels, you'll find Amsterdam—the best destination for exploring springtime in Europe.
During spring, you'll be able to visit the Tullip Festival that takes place every year. Plus be sure to check out other top attractions like Anne Frank House and Rembrandt House Museum while you're visiting Amsterdam. You could also take a short train ride to the nearby city of Utrecht, which offers a more chilled out calmer pace and also has beautiful canals plus great food – including the best fries I've ever had in The Netherlands.
Visit Glasgow, Scotland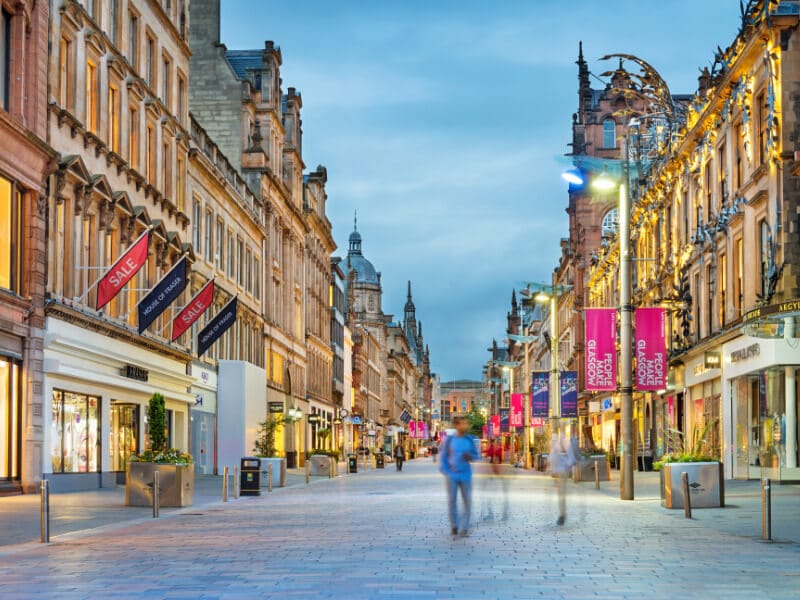 Glasgow is one of Scotland's largest cities, and also one of its most Glasgow, Scotland is a unique destination that offers plenty of shopping, dining and nightlife. Visitors can enjoy everything from traditional pubs and whisky tastings to great views of historic landmarks.
While it'll be quite chilly during spring, Glasgow still makes a great European vacation destination. Just make sure to wrap up warm, and pack plenty of layers. You'll easily be able to escape the cold by visiting one of the many live music venues or taking a tour of the Cathedral.
Visit Krakow, Poland
Nestled in Southern Poland near the Carpathian Mountains, Krakow has played an important role throughout its history as a centre for commerce and culture.
It is an excellent destination for spring travel with its historic sites and natural beauty. The city comes alive with festivals throughout spring—especially Easter when ornate decorations adorn every corner of town!
While visiting Krakow, I highly recommend taking a tour of the Auschwitz-Birkenau Memorial and Museum so you can learn more about the Holocaust, and pay your respects to those that lost their lives here. I highly recommend taking a guided tour, with an authorised guide. This will help ensure that you're not only getting a high-quality educational tour but ensure that the museum's rules are followed – so that you are respectful to the victims of the Holocaust.
Visit Dubrovnik, Croatia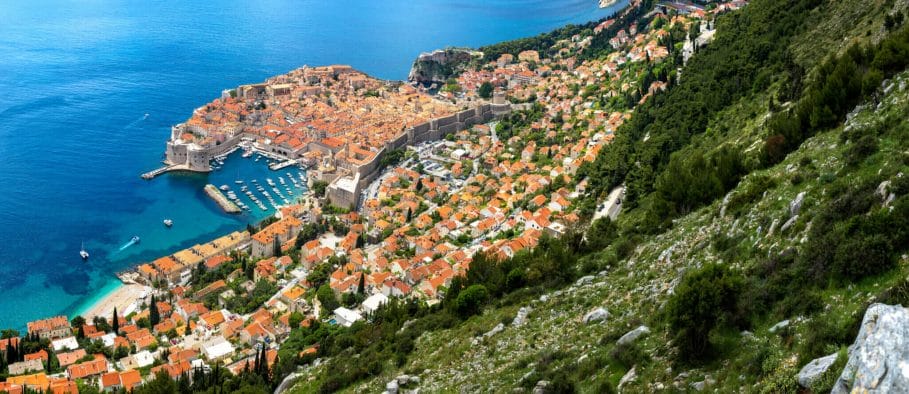 This coastal Croatian city is probably best known for its gorgeous seaside promenade, which was famously featured in Game of Thrones as King's Landing. You'll be able to see a range of film set locations such as The Red Keep, Jesuit Staircase where the "Walk of Shame" was filmed and the filming location of the Purple Wedding.
And although it may be somewhat overshadowed by other cities on Croatia's coastline (like Split and Hvar), don't let that stop you from visiting! After all, it's only fitting to celebrate with an afternoon stroll along with one of Croatia's most picturesque boulevards—especially when getting a drink at one of Dubrovnik's many waterfront cafes while overlooking both Split and Hvar sounds perfectly lovely.
Visit Dublin, Ireland
Dublin is one of my favourite places to visit during the spring. There's a range of great bars and fantastic restaurants.
Dublin hosts popular festivals like St. Patrick's Day and March's Irish Music Weekend, featuring fun activities like pub crawls and live music concerts.
While you're here, make sure to check out Kilmainham Gaol (Gaol is pronounced Jail) which was one of the best historical places I visited during my stay in Ireland. You can book a guided tour on their website, and learn all about the gaol and its history.
If you're looking for something more unusual, make sure to visit St. Michan's church where you can stroke a mummy's finger for good luck.
Visit Tenerife, Canary Islands
Tenerife is a popular destination for European vacationers because of its warm climate, great beaches, nightlife and shops.
Tenerife is also home to one of Spain's most famous landmarks, Mount Teide which is a UNESCO World Heritage Site that has been declared a biosphere reserve. If you love stargazing, I highly recommend taking a tour that goes up Mount Teide at night that'll allow you to view the beautiful night sky with minimal light pollution.
There are tons of all-inclusive family-friendly, and couple-friendly hotels available, making this a great place to chill out and not worry about food. Companies such as Tui, Last Minute and On The Beach have a range of all-inclusive, and half-board holidays available from under £200 per person.
Visit Ljubljana, Slovenia
Easily accessible from Germany and Italy, as well as other countries in Central and Eastern Europe (and affordable), Slovenia's capital is an ideal location for those looking to explore Central European culture on a budget.
During spring you'll be able to enjoy mild temperatures so you can easily wander around the city, and take in its history and nature. While visiting Ljubljana I recommend taking a tour that visits Lake Bled or enjoying a walk through Tivoli Park, home to over 100 different species of trees and plants.
You could also take a tour of Ljubjana Castle, which allows you to ride the funicular railway (a type of cable railway) up to the castle and enjoy views from the tower.
You could also check out the Cathedral of St. Nicholas, which is built in neo-Gothic style and is considered one of Ljubljana's most stunning buildings.
Visit Athens, Greece
Athens is a wonderful destination for spring travelers. The weather is mild, but it can still be quite warm, and there are plenty of outdoor activities available.
Athens is an incredible destination. It's one of Europe's oldest cities, with ruins that span thousands of years.
If you enjoy learning about history, then you'll love Athens. Plus, it also has some amazing beaches on the Mediterranean Sea (and lots of great seafood!) – making it a fantastic destination no matter what time of year you visit!
Visit The Lake District, England
The Lake District is one of England's most scenic areas and is home to some of its most breathtaking scenery. April marks springtime in The Lake District, with snowmelt revealing vast swathes of deep-green grass and sheep beginning to fatten themselves up for their summer grazing.
Pack your hiking boots if you head here; as there are plenty of hikes allowing you to explore the lakes and the beautiful scenery surrounding them. The Lake District is one of my favorite landscape photography destinations in the UK. I highly recommend packing your camera, and reading up on some photography tips before you head off.
Visit Seville, Spain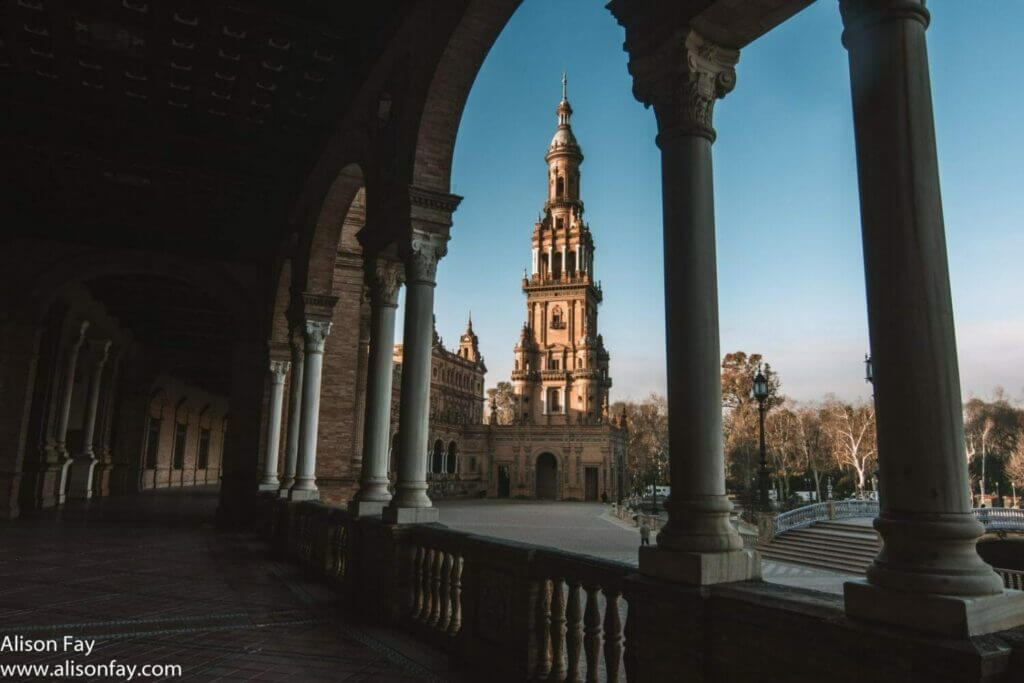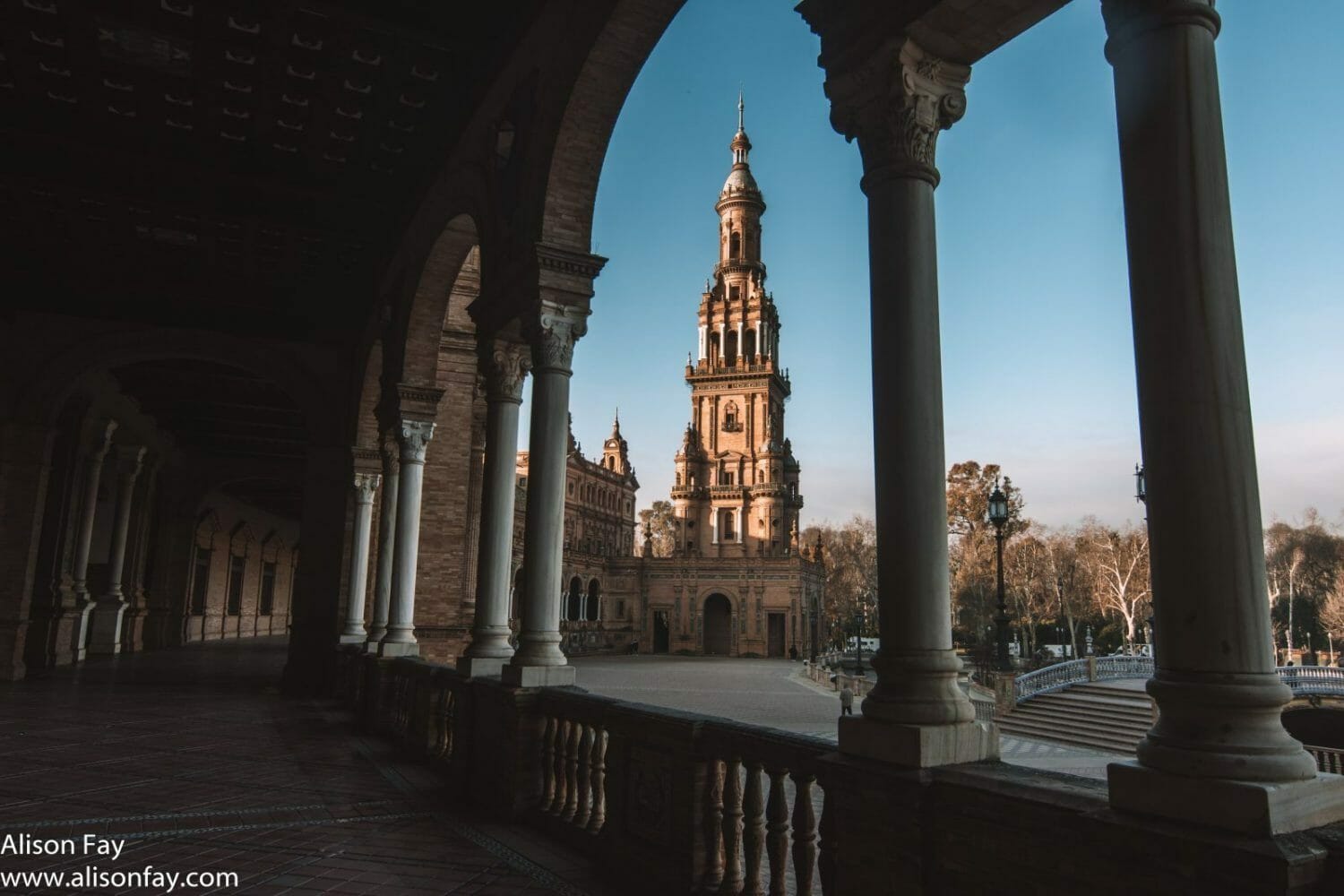 This Andalusian city is one of my favorite places in all of Spain. It's a bustling destination with amazing food, friendly locals, and old Moorish architecture. Seville can get quite busy, so I really recommend visiting during the Spring, before Europe's Easter Holidays. This will help with avoiding long queueing times for popular destinations such as The Royal Alcázars. Plus it's easier to get photos of Seville's beautiful architecture without people in them when it's quieter.
Seville is also famous for its Feria de Abril (April Fair), which is a three-week celebration that attracts millions of people each year. During this fair, you can enjoy flamenco shows, concerts by internationally renowned musicians, cockfights, soccer games—and plenty of tapas.