Somerset is a beautiful county located within the West Country, in South-West England. With tons to offer from historical buildings to delicious cheese, to its beautiful beaches, Somerset is a great place to visit this summer.
Explore Cheddar Village
If you love Cheddar Cheese, then visiting Cheddar – where the cheese originated from – is a must. Cheese has been created in Cheddar since the 12th century and is still matured in the caves located within the gorge. While visiting, make sure to taste some of the cave-aged cheddar cheese from either of the cheese stores found within teh village; The Original Cheddar Cheese Co and The Cheddar Gorge Cheese Company.
But cheese aside, Cheddar has a lot more to offer. If you love nature, then make sure to visit Cheddar Gorge and Caves. You can drive through the Gorge, and enjoy the views as you drive around the spiralling roads, or stop off and climb up to the top of the gorge to get a vast view over Cheddar, and across Somerset. One of the easier to find paths is the National Trust Dryway Entrance, there is limited free parking available on the roadside. This area also gives access to Black Rock Nature Reserve, which I recommend also checking out if you have time. Sadly these places are not easily accessible if you have a disability that limits your mobility.
National Trust Dryway Entrance location:

Another good spot to walk up is The Lippiatt & Lynch Lane. This walk gives you access to the lookout tower, that is also accessible via Jacobs Ladder but unlike Jacob's Ladder, access is free via Lippiat & Lynch Lane. This spot gives you a view across Cheddar Village and you may be able to climb the Lookout Tower.
If you enjoy history, then I recommend doing the historic walk around the village. This walk covers different historic sights such as the Cheddar Saxon/Medieval Palaces, the Former Paper Mill, Historic Churches and more. There's also a few historic pubs included on the walk so plenty of chances to sit down, and enjoy a pint of Cider. The Historic Walk route is available on the Cheddar walks website.
If you'd like to eat within the area, there are plenty of cafés, pubs and fish & chip shops. If you don't quite fancy British food, Rasoi is an Indian restaurant that serves really good Indian food.
Visit Wells Cathedral
While one of the smallest cities in England, Wells has tons to offer. There's tons of stunning architecture and historic buildings for you to visit, such as Wells Cathedral. Wells Cathedral is a gothic style, Anglican cathedral, built between 1175 and 1490 as a dedication to St Andrew the Apostle, and is the seat of the Bishop for Bath and Wells. The Cathedral has free guided tours for visitors taking place Monday to Saturday throughout the year. Free weekly walking tours covering stained glass, stone carvings and embroidery, take place on Saturdays & Wednesday mornings from April through to October. They also offer tailored tours for people with disabilities, including sensory tours. You need to book these in advance. For more information on the free walking tours, and how to book the accessible tours, visit the Wells Cathedral website here.
Accessibility wise, the Cathedral does try to cater to those of us with disabilities, although there are some restrictions due to the age of the building. They do have some level floor access, but some floors can be uneven. The Cathedral does have some wheelchairs available for hire if needed. For more information on accessibility, check their accessibility page here.
Another great place to visit is the Bishop's Palace, the hope of the Bishop and Bath and Wells for over 800 years. Visitors to the palace can access the 14-acres of beautiful gardens, the Bishop's private Chapel and the ruins of the Great Hall. Admission fees do apply, but if you have a disability you can take a carer in for free. Just remember to bring along proof of disability such as a letter from a doctor, or a disability-related benefit letter, as it might be required. For the current prices, visit their site here. The Bishop's Palace does have a certain level of accessibility, and accessible toilets are available. But as with the Cathedral, the building is old so there can be some limitations, for more accessibility information go here.
Wells also has a farmers market, offering local produce from Somerset farmers, that takes place twice a week on Wednesdays and Saturdays, from 9 am to 2:30 pm (3 pm from July and August). The market was judged as the best farmers market in the southwest in 2014 and also won a gold award in the Taste of the West Hospitality & Retail Awards. The Farmers Market takes place in Market Place, by the Town Hall.
Watch the sunset at Deer Leap
Deer Leap gives some amazing views across Somerset, towards Glastonbury Tor and even as far as the hills of Exmoor national park if the weather is clear enough. Deer Leap is located in the Ebbor Gorge National Nature Reserve, between Cheddar and Wells. This makes it a great spot to visit at sunset after you've been exploring in Cheddar or Wells. You will need a car to get to it, as it's not accessible via public transport. There is a car park, and while the walks within the national park itself aren't accessible to wheelchair users, you can get some nice views across Somerset from the car park itself. Make sure you navigate to the Deerleap Carpark as this is the one that gives you the views, not the Ebbor Gorge National Trust Car Park. There is no charge for car parking (as of June 2019).
Map for Deerleap Car Park:
Climb up to Glastonbury Tor & explore Glastonbury Abbey
You've most likely heard of the Glastonbury Festival, which takes place nearby in the village of Pilton. Glastonbury itself is a charming town, known for its historical sites such as Glastonbury Tor and Glastonbury Abbey.
Glastonbury Tor is the name of the hill, that St Michael's Tower is located on top of. The climb to the top of The Tor is quite steep and does require some level of fitness but it really is worth doing if you're able to do so. Once at the top, you can see across the Somerset Levels, and as far as Steep Holm (an island in the Bristol Channel between Wales and England). Visiting the Tor at sunrise or sunset can make the experience even more enjoyable, and can help ensure you get some great photos. If you're just getting into photography, make sure to check out my beginner photography guide to ensure you're getting the most out of your camera.
Glastonbury Abbey is the site of the remains of an ancient monastery. Originally built in the 7th century, the Abbey is said to be the final resting place of King Arthur. During your visit to the abbey, you can check out the museum, explore the 36 acres of parkland and its wildlife, and enjoy some lunch in the café. You can also take part in a medication & prayer walk, or enjoy one of the free tours (subject to availability). Due to the age of the site, accessibility might be limited in some places. There is step-free access to the ticket office, and ramp access to the museum. There are plenty of paths throughout the abbey made from a hardbound grit, but some parts are only accessible by grass. The abbey does offer free carer entry for visitors with disabilities. For more access information, including photographs, make sure to visit the Glastonbury Abbey website.
Tickets are available to book online, with discounts available for over 60s, students, children, and families plus the free carer ticket for people with disabilities. There are events carried out throughout the year at the abbey, which you need to book tickets for in advance through their website here.
If you're looking for somewhere to stay in Somerset, Glastonbury has tons of quaint hotels and BnBs to offer, such as the 8 Owls B&B. Wheelchair accessible accommodation is limited within Glastonbury, so I advise booking well in advance and looking further afield to places such as Highbridge or Weston-super-mare if you require accessible accommodation.
Visit the beautiful city of Bath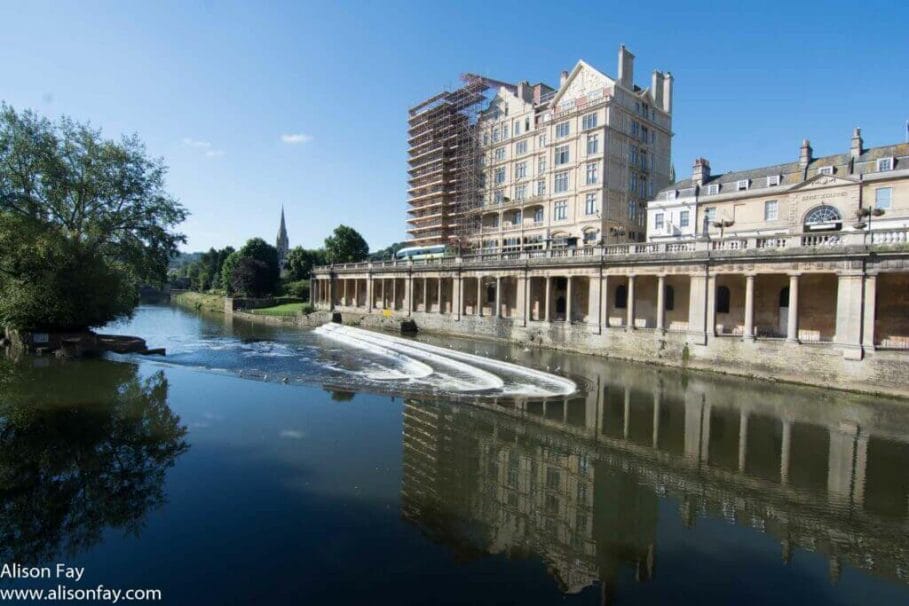 Bath is a beautiful city full of historic architecture, and a World Heritage site. The city is mainly known for its Roman Baths and Georgian architecture, as well as its Gothic churches such as Bath Abbey. Bath was also home to the famous author, Jane Austen. If you're a Jane Austen fan then I highly recommend visiting the Jane Austen Centre and Regency Tea Room afterwards for afternoon tea.
I also recommend visiting the Grande Parade, for its beautiful architecture, view of the River Avon and Pulteney Bridge; an unusual bridge, as it is one of the few throughout the world to have shops on the bridge itself. If you head towards Pulteney Bridge, you can then cross over the bridge and go down to the riverside. There are two entrances to the riverside, one with steps, and one with wheelchair access. I'd recommend using the wheelchair accessible entrance if you have any mobility-related issues, as the steps are quite awkward.
Other places to check out in Bath include Royal Victoria Park, The Royal Crescent, The Bath Assembly room and more. For more detail on what to see & do in Bath, check out my guide to One Day in Bath.
Visit the seaside town of Burnham-on-Sea
Burnham-on-Sea is a small seaside town located between Bridgwater and Weston-Super-mare, off Junction 22 of the M5. The town is popular with tourists, visiting for a traditional British seaside holiday. While visiting Burnham-on-sea, take a stroll on the beach towards the Low Lighthouse. Built-in 1832, the 9 legged wooden Lighthouse is still active and has become a popular photography spot. If you're into photography, this is a must-visit photo spot while travelling through Somerset. The beach has some step-free access via ramps, however, there is not currently a beach wheelchair available to hire so getting over and might be difficult.
From the beach, you can see across the Bristol Chanel, towards Hinkley point power station near Bridgwater and on a clear day, as far as Cardiff, in Wales. While visiting the beach, why not also visit Burnham-on-Sea's Pier, which is the shortest pier in England? On the pier, you will find an amusement arcade and a restaurant that sells traditional British seaside food such as candy floss and fish & chips.
Burnham-on-Sea's high street has plenty of shops, restaurants and cafés available for you to enjoy. If you are looking for cheap eat, there is a Weatherspoons located on the seafront, for Italian you could consider La Vela which does authentic Italian food. When it comes to Indian food I recommend the Chandi and for Chinese food, there's Taste of the Orient. For Pizza, there's Del Mondo Pizza and for Kebab I recommend Kebab Kitchen. If you're looking for breakfast, there are a lot of places to pick from such as BOS Cafe and more which are recommended in this guide on the best breakfast cafes in Burnham-on-sea.
You can also enjoy a game of golf at the Burnham and Berrow Golf Club. or visit Brean Down. Brean Down is part of the Mendip Hills and forms a rocky formation with a WW2 Fort at the end. It's located in the nearby village, Brean about a 10-minute drive from Burnham-on-Sea. The area is a Site of Special Scientific Interest due to its natural history, and a Scheduled Ancient Monument because of the archaeological remains in the area. Climbing up to the top of Brean Down can be quite a challenge, as it is quite a steep climb. You have two access options, either stairs or via a more even partially-tarmacked path. I
f you are in a wheelchair, you may be able to get to the top via the pathway, as it is wide enough and level enough for a wheelchair to roll over. However, the path is quite steep so it can take quite a lot of effort to roll up and you may need someone with you if your chair isn't electric. Then once at the top, the paths become more uneven and rocky. The area is owned by the National Trust, which has an off-terrain mobility scooter available for visitors to hire, subject to availability.
Visit the Grand Pier in Weston-Super-Mare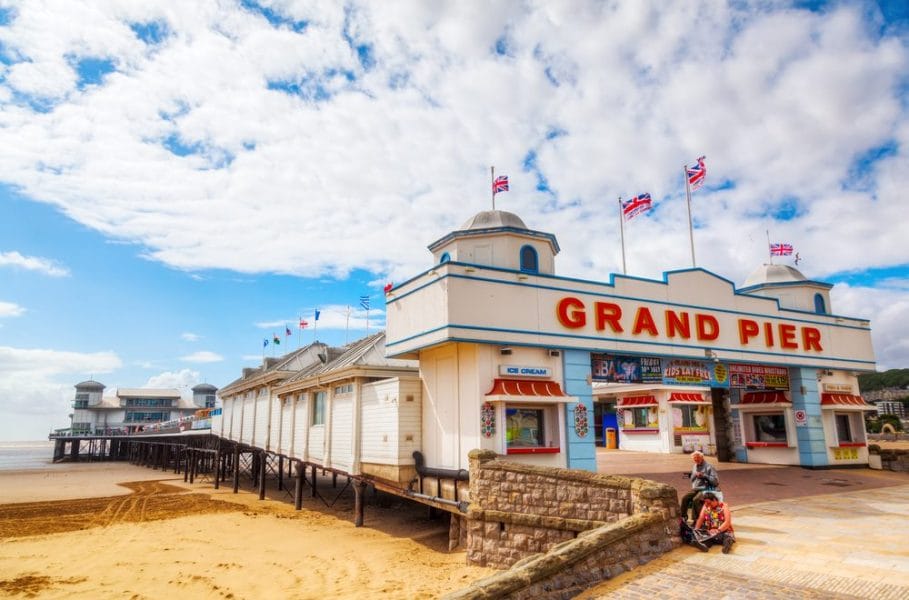 Weston-super-mare is another traditional British seaside town that is located about 20 minutes from Burnham-on-Sea by car or train. Weston-super-mare is mainly known for its Grand Pier. The pier was originally opened in 1904, but the pavilion was destroyed in a fire back in 2008. The current structure re-opened in October 2010. The pier has a selection of theme park rides, including a rollercoaster and a selection of arcade games. There's also a museum – the museum of memories, which covers things like sweets, toys, breakfast cereals from the yesteryears.
The Pier is open every day (except Christmas Day) from 10 am daily, rides open at 12:30 pm. There is a £1 entry fee to go on the pier, and disabled people who have a carer can gain free access (the carer must bring proof). They also have an "essential companions scheme", where you can apply for a card that will allow a carer free access to the pier. The pavilion and function rooms are accessible throughout, and there are accessible toilets available. For more accessibility information visit their website here.
Besides the Pier, Weston-super-mare has a lot more to offer. While not take a stroll on the beach? or visit the Helicopter museum? The Helicopter Museums opening times vary depending on the time of year, throughout August they're open daily but be sure to check their website here for opening times before making any plans. The museum is accessible, with wheelchair access to all areas. There's a discount available for carers. You could also visit Steep Holm, a little island in the Bristol Channel that is accessible via ferry a few times a week. To find out more information or to book a ferry, visit the Steepholm website.
If you'd like to stay in Weston-super-mare, there are plenty of hotels with a sea view, such as The Sandringham Hotel or the Mentone Hotel.
Walk the Somerset Coastal Path from Minehead
The Somerset Coastal Path is a walking route from Minehead to West Bay, along England's south coast. This 130-mile path showcases some of England's most stunning coast, including beaches, natural parks and views across Exmoor National Park. It also goes through several charming villages and towns, such as Minehead, Porlock and Lynmouth. The coastal scenery is breathtakingly beautiful all year round, but especially during autumn when leaves change colour. If you're walking with kids, they'll love spotting wildlife along the way. I highly recommend bringing a camera, to capture the beautiful scenery along the way.
Suggested route: If you head to Porklock by bus, you can then walk back through Porlock to Minehead. Once at Minehead you can enjoy the beach, grab a bite to eat or find a nearby hotel to rest up. Check out Secret Somerset's Guide to Minehead, to discover what this Somerset Seaside town has to offer.
Ride on a steam train with the West Somerset Railway
.
A trip to Somerset isn't complete without visiting the West Somerset Railway. You can either choose to ride on the steam train, attend one of their events or just watch the steam trains chug past. Watching, and photographing the trains is an enjoyable day out. Most station platforms are somewhat accessible so those with limited mobility or using wheelchairs can still enjoy seeing the trains. Make sure to check the timetables before you head off so you can make sure you'll be in the right spot for when the train comes past. If you are wanting to capture photos of the trains, then make sure to check out my photography guides.
If you want to ride on the trains, make sure to book online to save some money. Discounts on the standard tickets are available for disabled people, seniors, young people, families and children under 3 go free. These discounts are not available for special events. The trains are somewhat accessible, if you're a wheelchair user you can access the train via a ramp. You will need to use the guard's carriage though, and the doors between carriages are quite narrow making it impossible for a wheelchair to fit through. If you're travelling in a group, with a lot of wheelchair users there are special carriages available that can accommodate 10 or 6 wheelchair users depending on the carriage. To arrange this, make sure to contact the West Somerset Railway well in advance. You can find more accessibility information here.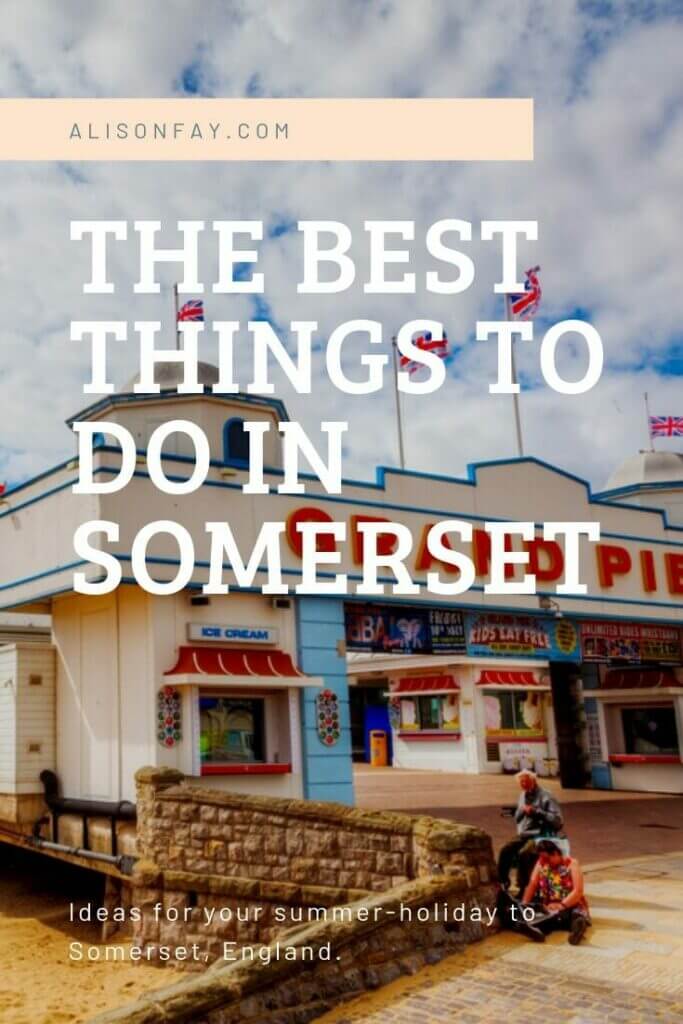 Photo Credits:
Hello I'm Nik, Steps leading to Glastonbury Tor, https://unsplash.com/photos/c6SVX0AWGv4
Wells Cathedral, https://www.shutterstock.com/image-photo/magnificent-wells-cathedral-somerset-149859461?
Weston-super-mare Grand Pier https://www.shutterstock.com/image-photo/westonsupermare-july-07-2015-grand-pier-301211783?
Prior park, https://www.shutterstock.com/image-photo/autumn-prior-park-landscape-garden-somerset-749597785?src=WC0oTEy-S-ZMF58CnLKY0Q-1-1